We are pleased to share that we will be attending WEFTEC® September 23-25, 2019 at McCormick Place in Chicago, Illinois, Booth #4241. Before we get ready to take off to the world's largest annual water quality technical conference and exhibition, we want to help you prepare to attend too.
Why Chemicals Matter for Wastewater Treatment
From screening and filtering processes to oxidizing ponds and lagoons, chemicals are an essential component of wastewater treatment. When compared to municipal drinking water treatment, wastewater treatment requires more aggressive usage and larger amounts of chemicals. This is why proper and safe storage of chemicals for this process is a critical consideration.
For additional information, check out our eBook, The Complete Chemical Storage Guide for Wastewater Treatment. It highlights how you can build effective storage solutions for chemicals commonly used in the wastewater treatment process. In our eBook, we outline five steps of the wastewater treatment process, common chemicals involved in each process step, and appropriate storage solutions.
Discover the Newest Innovations and Solutions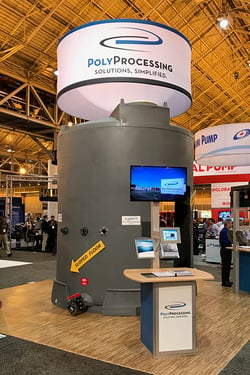 Our chemical tank specialists will be on-site to answer any of your questions and show you the latest chemical storage innovations and solutions. We'll even have a couple of our tanks on site so you can view our Crosslinked Polyethylene Tanks (XLPE) first hand. With greater performance and strength over HDPE tanks, the latest XLPE is the material of choice for chemical storage.
We will be featuring our Sloped Bottom IMFO Tank which is the leading polyethylene full-drain tank on the market. Not only does it offer a true 100% full drain every time but it can save your company costs in tank upkeep and employee safety over the long-haul. You can even walk through the tank and see it from the inside out. We will also have a SAFE-Tank in our booth for you to view.
If you plan on attending WEFTEC, we invite you to visit our booth #4241 to schedule a demonstration with one of our chemical tank specialists, learn about our innovative materials, and see the latest in tank construction.
You can also download the WEFTEC App which includes Poly Processing as an exhibitor. Downloading the WEF Events App is easy. IOS and Android: Search your app store for "WEF Events" Download the app and then search for Poly Processing Company.