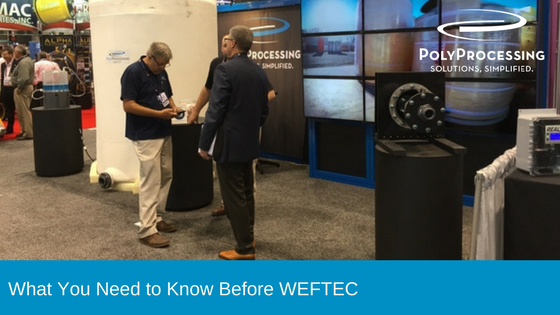 We are pleased to share that we will be attending WEFTEC®, October 1-3, 2018 at the New Orleans Ernest N. Morial Convention Center. Before we get ready to take off to the world's largest annual water quality technical conference and exhibition, we want to help you prepare to attend too.
Why Chemicals Matter for Wastewater Treatment
From screening and filtering processes to oxidizing ponds and lagoons, chemicals are an essential component of wastewater treatment. And, when compared to municipal drinking water treatment, wastewater treatment requires more aggressive usage and larger amounts of chemicals. This is why proper and safe storage of chemicals for this process is a critical consideration.
What You Need to Know Before WEFTEC
We published an eBook, The Complete Chemical Storage Guide for Wastewater Treatment, which highlights how you can build effective storage solutions for chemicals commonly used in the wastewater treatment process. In this guide, we outline five steps of the wastewater treatment process, common chemicals involved in each process step, and appropriate storage solutions.
Here are the topics we'll cover:
The Roles of Chemicals in the Wastewater Plant
Starting with the Chemical-Engineered storage tank for longer life and cost effectiveness
Process for Wastewater Chemicals:
Sodium Hypochlorite
Sulfuric Acid
Ferric Chloride, Aluminum Chloride, and Polymers
Sodium Hydroxide
Hydrochloric Acid
How to Build the Premier Storage System for Your Wastewater Application
Access more information on each of these topics by downloading your complimentary copy today.
If you plan on attending WEFTEC, we invite you to visit our booth
#3539
to schedule a demonstration with one of our chemical tank specialist, learn about our innovative materials, and see the latest in tank construction.