Bulk Tank Specifications That Save Project Time and Money (Clone)
Municipal projects require detailed specifications for anything purchased as a capital expense. At Poly Processing Company, we've teamed up with national engineering firms and municipalities to develop industry leading pre-written engineering specifications for our three most popular polyethylene chemical tanks: the SAFE-Tank®, the vertical tank with IMFO® and the upright vertical storage tank.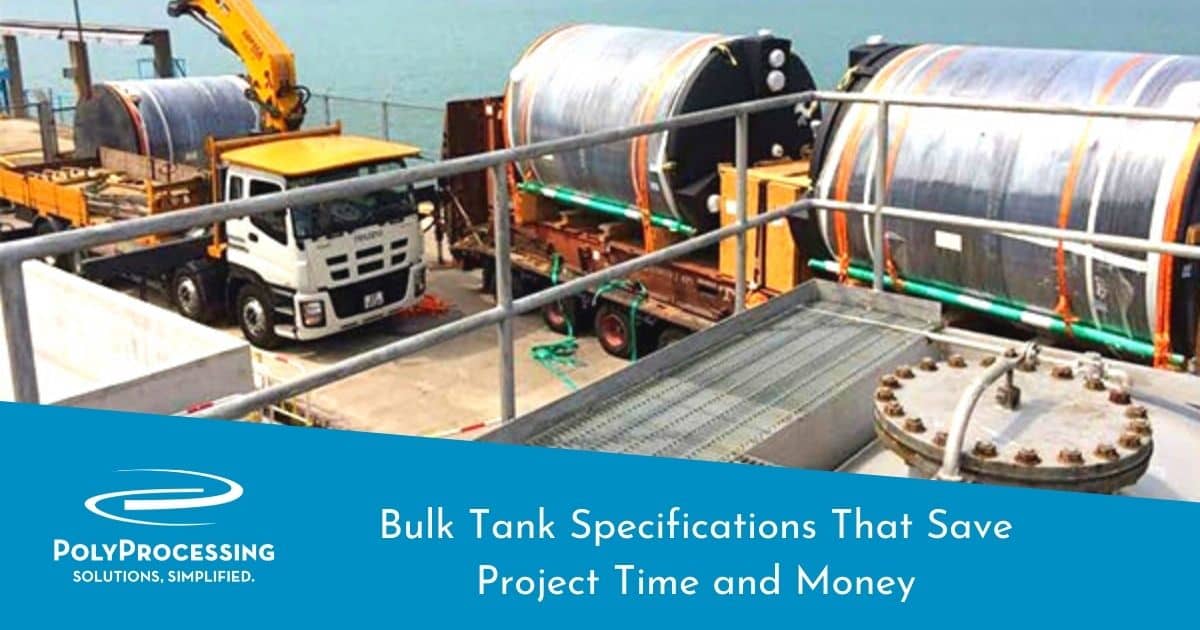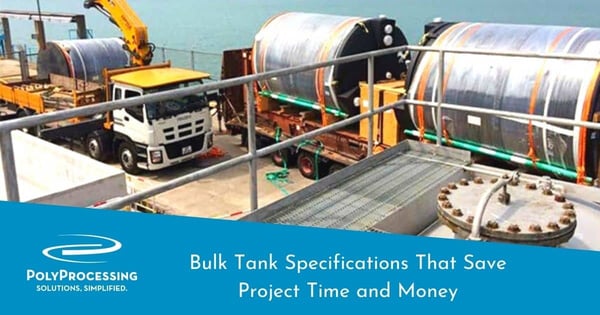 Poly Processing's engineering specifications can save you time and money the next time you need to design a chemical storage tank system. Our engineering specifications are available in an editable file format so that values, sizes, and nomenclature can be customized for the criteria of your specific project.
Here's how to make the most of Poly Processing engineering specifications.
Tank Engineering Specifications That Improve Your Project

We designed our industry leading specification pages with help from engineering experts, so you can be confident that your tank specifications are accurate and meet referenced requirement and performance specifications. The performance specifications can also help you understand what type of polyethylene tank best meets your needs.

If you've got a bidding process you are dealing with, our tank engineering specifications are especially valuable. Using an accurate set of specifications from the start can make the process go much more smoothly, because it puts everyone on the same page at Square One.
How to Use Our Polyethylene Tank Engineering Specifications
To begin, you'll need to determine what type of tank system best suits your particular need or application. Poly Processing offers a wide variety of tank designs to meet your specific application and chemicals. Let's take a look at some of our most popular tank options.
Vertical Tanks
Our vertical storage tank is a standard cylindrical, upright tank. Vertical tanks are an ideal choice when you already have secondary containment in place. This flat-bottom, vertical tank is available in sizes ranging from 30 to 15,500 gallons.
Download the vertical tank engineering specifications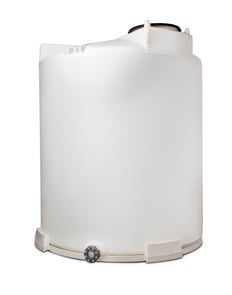 Vertical Tank with IMFO
The vertical tank with the Integrally Molded Flanged Outlet® (IMFO) System features a full-discharge solution in a vertical tank design. These chemical storage tanks are available in flat-bottom or slope-bottom designs. Storing highly oxidizing chemicals? Add the antioxidant OR-1000™ system for additional protection and useful life that can't be beat. Vertical IMFO tanks range from 200 to 15,500 gallons and our Sloped Bottom IMFO tanks range from 3,950 to 15,000 gallons.
Download the vertical tank with IMFO engineering specifications
SAFE-Tank
Need containment but don't have much space? Our most popular tank, the SAFE-Tank storage system, is a crosslinked polyethylene tank-within-a-tank that provides a minimum of 110% containment—without the footprint of a concrete berm. The double-wall SAFE-Tank has the square footage of a standard vertical tank and is available in sizes ranging from 55 to 8,700 gallons.
To maintain containment integrity between the chemical storage tank and the piping, Poly Processing has developed the innovative Enhanced Bellows Transition Fitting for the SAFE-Tank. This fitting is the only product on the market to ensure double-wall containment in transition.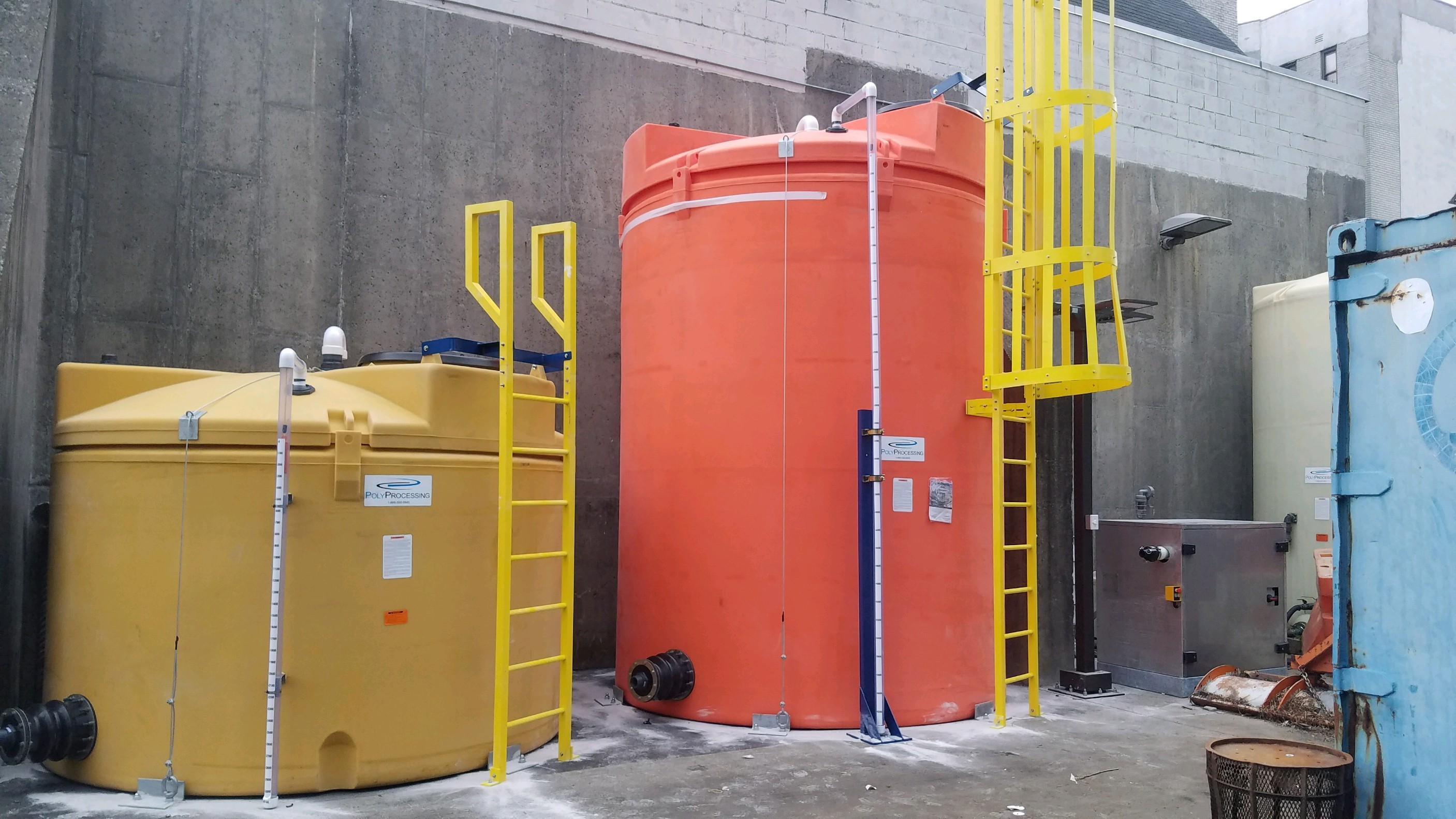 Download the SAFE-Tank engineering specifications
Customizing Your Engineering Specification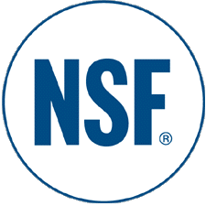 After you download the engineering specification, customize the parameters for your particular project. Our specifications sheets can convert to either NSF-certified (by default) or non-NSF certified versions. If NSF isn't applicable to your project, just remove the NSF listings.
Depending on the chemicals you're storing, you may need to select your tanks based on exact specifications, such as OSHA or EPA requirements. Use our specifications as a baseline for making the necessary edits so that you get the exact specification that you require.
Meet Your Specification Development Team
At Poly Processing, we have a dedicated Specification Development and Review Team. We like to be involved in the specification process as early as possible to bring value to the job—and to help the engineer, contractor, and customer save time and money.
If you're looking for expert help developing specification language for a polyethylene tank, contact our Specification Development and Review Team. Our chemical storage tank experts are always ready to provide recommendations for your particular project.
Tech Talk Podcast Episodes
Tank Configurator

Find the recommended tank and system components for your chemical storage challenge.
Configure a Tank Package