NSF/ANSI/CAN 61: Potable Water vs. Chemical Certification (Clone)
Poly Processing is committed to ensuring that our polyethylene chemical storage systems are NSF/ANSI/CAN 61 certified. In our previous article on NSF, we looked at NSF/ANSI/CAN 61 and what it means to be certified. There can be some confusion about whether tanks or tank systems are certified to NSF/ANSI/CAN 61 and which certification is valid for which tank.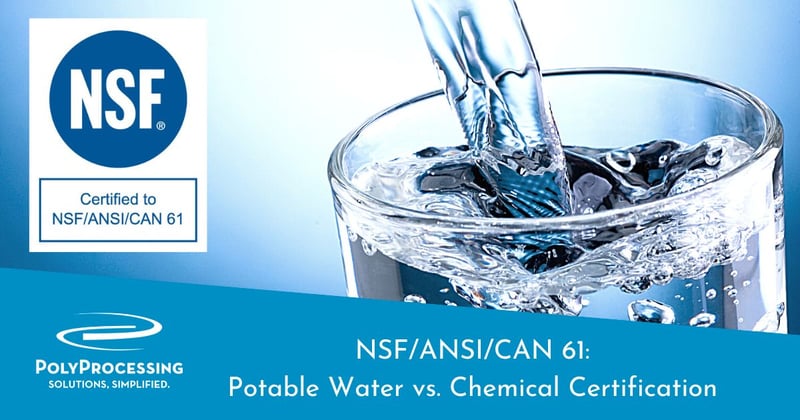 For 20 years and counting, Poly Processing's NSF/ANSI/CAN 61 certification has helped us remain at the forefront of the chemical storage industry. Working with NSF in several key ways, we have achieved a robust certification, industry recognition, and a leadership position in the marketplace.
At a time when NSF certification for chemical storage tanks was still fairly new, we paved the way in the industry by looking to NSF for certification. NSF has written a case study on this key partnership which is on their website. We invite you to click on the link and read the case study.
Let's take a look at the difference between NSF/ANSI/CAN 61 Certification for chemical storage and potable water storage.
Tanks Are Tested and Certified for Chemical Storage
Poly Processing's tanks are tested and certified under NSF/ANSI/CAN 61 for chemical storage end use. For these tests, NSF exposes the tanks to chemicals certified to NSF/ANSI/CAN 60.
The tanks undergo an exposure period dictated by the NSF/ANSI/CAN 61 standard. Once the exposure time is completed, the chemical that was exposed to the tank material is analyzed for the presence of chemical compounds that may have leached from the tank itself. If there are no detectable leachants or the leachants are below pass-fail criteria, then the tank passes the test.
This testing is performed with the most aggressive chemicals that would be stored in a crosslinked polyethylene chemical storage tank. Testing to the most extreme scenario in this way gives NSF the ability to predict the performance of other chemicals that may be exposed to the tank.
Tanks Are Tested and Certified for Potable Water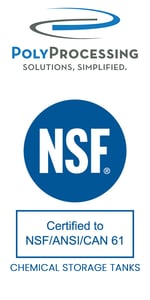 Some manufacturers will imply that their storage tank systems are NSF certified for both chemicals and potable water. If those tanks aren't tested and listed for potable water storage as well as chemical storage, then that's not the case.
In order to certify our tanks for potable water, Poly Processing sends our vertical storage tanks to NSF for testing. During this testing, the tanks are filled with pH 5, 8, and 10 exposure waters that are formulated to simulate a variety of potable water conditions.
These tests evaluate whether potentially harmful levels of chemical compounds from the tank itself are leaching into the water that is being stored. NSF uses pH 5 and pH 10 exposure waters to test for metals extraction and pH 8 exposure water for testing organics.
Chemicals Approved for Use with PPC's Tanks
It's important to note that each tank manufacturer must specify the chemicals each model is certified to store. We have the NSF approved chemicals listed on our website. Click this link to go to our NSF page - Poly Processing's tanks have been certified under NSF/ANSI/CAN 61: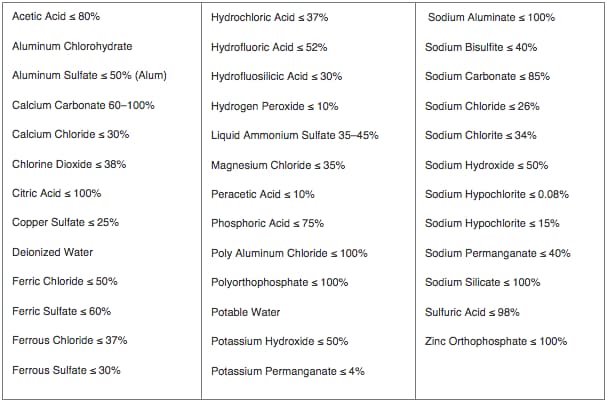 As you can see, Poly Processing is committed to providing an entire tank system that has been approved for chemical storage end use under NSF/ANSI/CAN 61. That's why we partner with companies that have gone through NSF testing for fittings and accessories. We want to deliver an entirely NSF certified tank system.
Read the NSF Case Study, "Poly Processing Looks to NSF for Chemical Storage Tank Certification." It is on the nsf.org website. Click here to read it now.
To find out more about NSF/ANSI/CAN 61 Certification, get your copy of our eBook.
Tech Talk Podcast Episodes
Tank Configurator

Find the recommended tank and system components for your chemical storage challenge.
Configure a Tank Package