Join Us at WEFTEC 2023 Conference & Exhibition
Poly Processing Company invites you to visit us at booth #2820 at WEFTEC 2023, October 2-4 in Chicago, IL.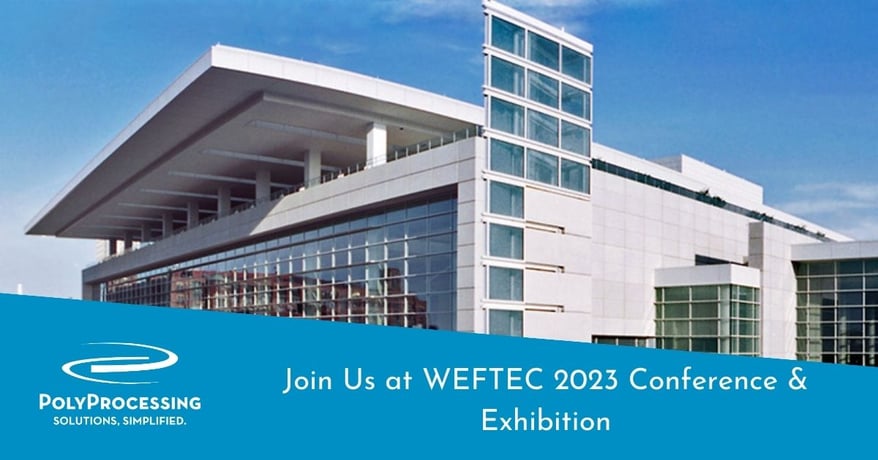 During the WEFTEC 2023 conference, you can schedule a demonstration with one of our Chemical Tank Specialists to learn about the latest innovative materials and engineering in tank construction.
You'll be able to experience the power of Crosslinked Polyethylene Tanks (XLPE), with five times the strength and performance of HDPE tanks. The latest XLPE is the material of choice for high performance chemical storage.

Explore how your application could benefit from a Sloped Bottom or Vertical tank with a full drain.
View our Sloped-Bottom Integrally Molded Flanged Outlet (IMFO)Tank® in person. Discover how the IMFO's unique full-discharge design gives you the most use of your chemical and reduces safety risks to your personnel. The IMFO Tank is completely unique to Poly Processing, and it's tremendously popular with our customers.

Discover Poly Processing's SAFE-Tank®.

Poly Processing's SAFE-Tank is a "tank-within-a-tank" system that keeps contaminants from entering the interstitial area. These tanks provide secondary containment to avoid the damaging of equipment or property, loss of chemical, or injury to employees in the event of a spill.
Learn how to safely and simply pipe a double-wall tank.

The Bellows Transition Fitting is the industry's only fully contained double-wall transition fitting that allows for full tank and pipe containment. The fitting has flexibility built in and is designed to protect your chemical tank investment and personnel.
Check out our tank mockup and see in person how the Bellows Transition Fitting is installed in a tank, from both the outside and the inside of a chemical storage tank. Learn how to safely and simply pipe a double-wall tank.

Discover our updated oxidative resistant resin technology.

Our next generation OR-1000 tank system stands up to sodium hypochlorite and other aggressive oxidizers to increase your tank's longevity even further. The OR-1000 in combination with the latest XLPE takes chemical storage to a new level of performance.

Learn about other Poly products that benefit your business.
Check out our fitting boards and see all the types of fittings that can be used in a Poly Processing chemical storage solution. Also watch our popular drop test demonstration videos and brand-new videos. We will also be displaying our latest leak detection equipment and technology.
Poly Processing has combined decades of expertise with customer input to deliver the industry's leading innovations. From specialized tank systems, to scrubbers, to fittings and accessories that deliver a margin of safety to you and your workforce.
We look forward to sharing our latest innovations with you! In the meantime, check out our WEFTEC 2023 landing page.
Email marketing@polyprocessing.com to schedule a demonstration.
Listen to our short WEFTEC 2023 podcast. Click on the play button below:
Tech Talk Podcast Episodes
Tank Configurator

Find the recommended tank and system components for your chemical storage challenge.
Configure a Tank Package