4 Things to Know About the Butterfly Valve
Poly Processing
The butterfly valve, a lightweight but strong shutoff valve great for IMFO® drains, is easy to install and available in different materials and sizes. One of the many fittings available through Poly Processing, the butterfly valve can be a nice option for your chemical storage tank system.
Here are four things to know about the Poly Processing butterfly valve.
Where The Butterfly Valve Is Used
The butterfly valve is most commonly used at the IMFO® connection. It can seal off the chemical prior to the flex allowing maintenance or inspection. They are generally used for handling large flows of liquids, including slurries, but should not be used for throttling for extended periods of time. As you can see in the video below, it is bolted directly to the flat area of the IMFO®, which is only two inches deep. Because the butterfly valve is slim, it takes up much less depth and weight than a ball valve. This is especially beneficial when maintaining the value of the IMFO® full tank drain.
Butterfly Valves As Mechanical Fittings
The butterfly valve can also be used on mechanical fittings by using a flange adapter. A mechanical fitting is bolted to the sidewall of a tank with bolts, rather than molded into the tank itself like the IMFO® drain.
The flange adapter is attached to a nipple, then the butterfly valve is applied, then another flange, resulting in two 150lb flanges sandwiching the butterfly valve.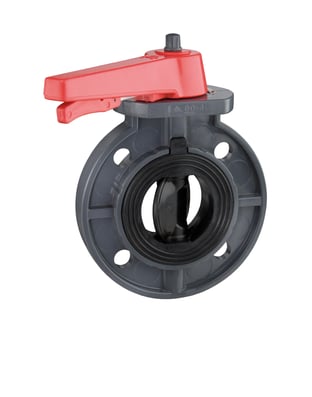 Materials and Sizes Available for Butterfly Valves
The butterfly valve is available with several different specifications, depending on your particular storage system's needs. The butterfly valve comes in sizes from 2-6 inches, and can be made with the standard PVC, or CPVC or polypropylene. It is sealed with EPDM, Viton® or Viton® GF (when NSF61 system certification is required with Viton). Bolts used on the butterfly valve can be made from 316 stainless steel, titanium, C-276 or Alloy 400. As with all tanks and fittings, the material used is often dictated by the chemical being stored. Keep in mind a benefit of the integrally molded flange (IMFO®) is that the bolts are all outside the tank, however, and not wet from chemical contact.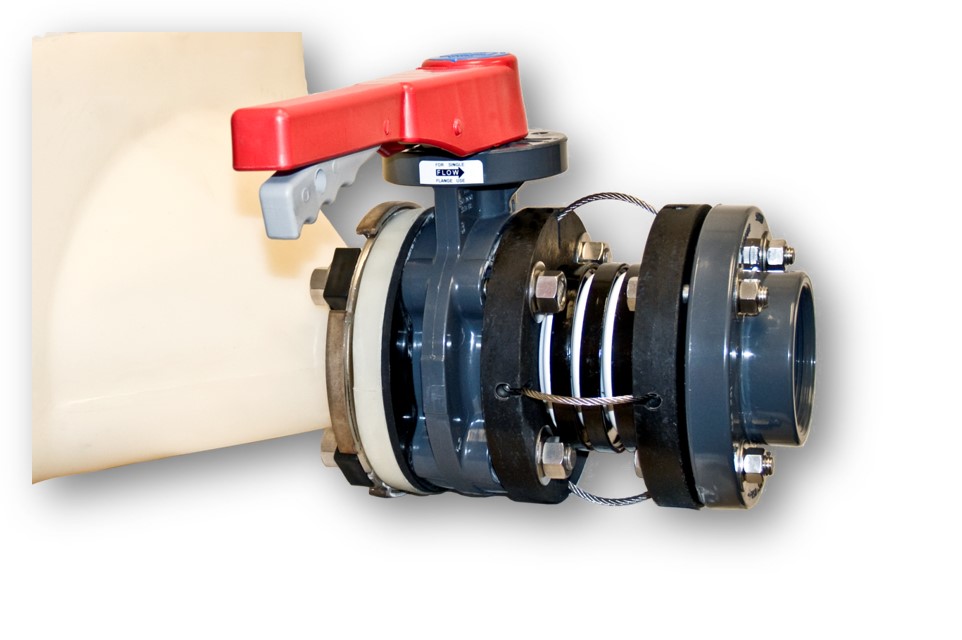 How to Install The Butterfly Valve
Installing any piece of a chemical storage system is a careful and methodical process. One of the first things to remember when installing a butterfly valve is that you must to keep the tank steady. These valves can be bulky, because even though they are slim they are hardy, so they can weigh up to 7 pounds, depending on the size of the butterfly valve you need. For a complete installation demonstration, view the video below.
For more information on choosing the proper valves for your chemical storage system, contact a chemical storage expert today.
Tech Talk Podcast Episodes
Tank Configurator

Find the recommended tank and system components for your chemical storage challenge.
Configure a Tank Package