Can I Use Handrails with a Polyethylene Tank?
Poly Processing
Various types of chemical storage systems have handrails along the top of the tank, but Poly Processing tanks don't. Polyethylene tanks can't support handrails, and the tanks shouldn't be walked on. The domed surface can be very slippery, and the plastic can become brittle over time and possibly crack under a person's weight. So how do you safely inspect manways, check gauges, and service level sensors or mixers?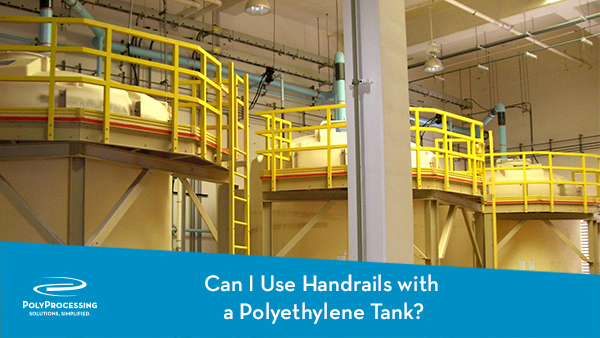 Poly Processing offers several ladder options to give you easy access to the dome. Our tank ladders meet OSHA requirements and are available in heights from 6 to 20 feet. The ladders can be installed with various safety options, including cages and fall protection harnesses.
If ladders are required for extensive work on the tank, they can be equipped with a 2' x 2' platform so that you can stand for a longer duration without balancing on the rungs.
In some circumstances, you might need to reach gauges or perform maintenance on level sensors or mixers. In these cases, a second ladder can be installed to provide access to level sensors or other accessories.
We're here to help you get the most out of your tank, including the kind of access you need. Our Tank Ladder Guide helps you confidently determine the right ladder options for the chemicals you're storing.
When Handrails Are Required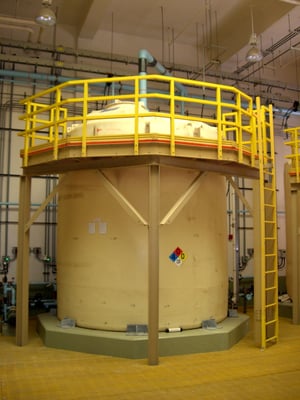 In some instances, municipalities or corporate policy require handrails to be installed around the top of the tank. While it's unsafe to install handrails directly on a polyethylene tank, there is a handrail solution you can use to access the dome. Poly Processing can help you with a ladder design and assist in the recommendation of a third party engineer / company to design and manufacture platforms with handrails that wrap around the edge of your tank.
These platforms can't be bolted directly into the tank, because Polyethylene expands and contracts under temperature and pressure changes. So the platform must be supported from the ground and connected to the tank with some sort of flexible brackets or slotted braces.
This gives the tank freedom to expand and contract, while also providing the stability you need on the platform. The raised platform lets you get to the manway easily and do your work at the top of the chemical storage tank—without damaging the tank or risking injury.
Raised platforms need to be engineered and designed specifically for your application. Once again, if you don't have an engineer to design the platform and handrails, we can assist in providing recommended third party companies to help.
Learn more about designing safe ladders for your application—download our Tank Ladder Guide.
Tech Talk Podcast Episodes
Tank Configurator

Find the recommended tank and system components for your chemical storage challenge.
Configure a Tank Package