Chemical Storage Tank Fittings Made Easy
Poly Processing
Selecting the proper fittings to make sure your poly chemical storage tank functions at optimum levels and to extend the life of the tank is often a confusing and frustrating process. It's very much like the best intentions of a home improvement project. You start the project, head out to the hardware store to gather all of the parts and materials you need, only to discover that you picked up the wrong part right in the middle of the project.
While finding the right fittings for a chemical storage tank can be tricky, we make it easy to determine what fittings to use and where to place them on the tank.
Poly Processing's Smart Fit Guide: End Fitting Frustration
To make selecting the proper fittings for your chemical storage system easier and less aggravating, Poly Processing offers you a Smart Fit Guide.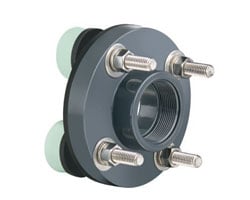 In the Smart Fit Guide, the tank is broken down into sub-sections:
Sidewall of the tank
Dome-sloped sections
Dome-flat surface areas
Within the Smart Fit Guide a fitting matrix will tell you if a specific fitting will work for the tank system and your application. If the fitting doesn't work, an option is suggested.
In addition, using the Smart Fit Guide, creating a chemical storage tank system estimate of cost is made easy. With the fittings package plus your poly tank size and shape, you are able to estimate the cost of your tank project. In addition, we supply drawings with recommended fitting locations based upon prior tank system installations to help pinpoint your storage tank specifications.
For more information about designing a chemical storage system with the right fittings, download the Smart Fit Guide, or contact a Poly Processing Tank Specialist.
Tech Talk Podcast Episodes
Tank Configurator

Find the recommended tank and system components for your chemical storage challenge.
Configure a Tank Package