Here's Your Comprehensive Chemical Storage Resource Library
Poly Processing
As you're researching and designing a chemical storage solution for your facility, the one thing you need more than anything else is information. The right information, plenty of it, and right where you can easily get it.
Poly Processing realizes how critical it is for customers like you to have quick and easy access to the information you need. That's why we've invested so much of our own resources into building and curating the industry's best chemical storage knowledge library.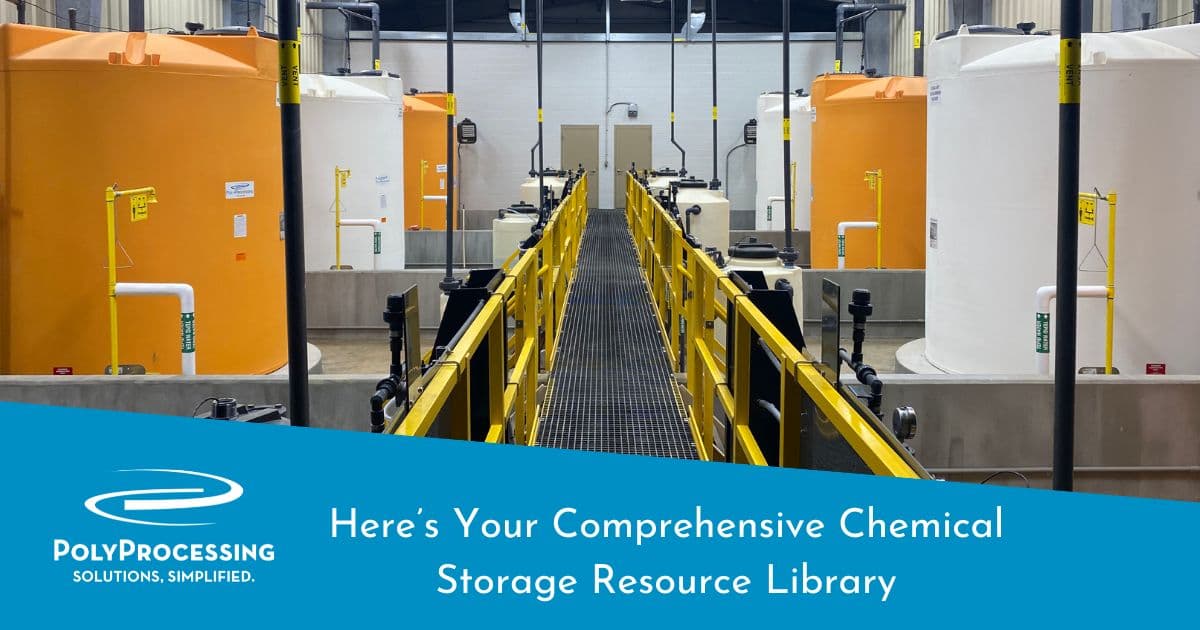 Poly Processing's Knowledge Library is easy to use and provides a full suite of resources to help you as a customer. Our chemical tank library includes drawings, chemical resistance information, in-depth articles, industry leading innovations, specifications, videos, and much more.
Let's take a quick tour of the resources available at your fingertips.
Technical Drawings
Many chemical tank manufacturers provide a basic set of drawings online for download. In our library, you won't find only simple drawings. We provide drawings for all of our systems. You can even download seismic systems, or concrete pads for IMFO® Tanks. You'll find drawings for each of our tanks, fittings, and accessories.
You'll find drawings for a product on each product page.
Chemical Resistance Information
Our Chemical Resistance Guide helps you understand the compatibility of specific chemicals with our polyethylene tanks and accessories. The chemical resistance guide is a handy and important resource to help you ensure that your chemical storage solution is designed for a long life and reliable service.
Poly Processing also provides chemical position statements for some of the more widely used chemicals to help you understand the best types of equipment for the chemicals you're storing.
Chemical Tank Specifications
View and download engineering specifications on three of our product offerings. Poly Processing detailed specifications are designed to give you all of the technical information you need to know as you make your chemical storage decisions.
Videos
The Poly Processing video library boasts a collection of informative videos to help you understand how to store chemicals safely, and how to make smart purchasing decisions. Learn about the following topics:
Cross-linked polyethylene vs. other materials
Manufacturing and testing
Poly Processing innovations
Installation and support
Fittings and accessories
Don't miss our video on polyethylene chemical storage tank drop tests — it's as impressive as it is entertaining.
How-to Guides
We think it's important for you to be fully informed about the chemical storage decisions you make, both during and after the purchasing process. Our how-to guides are essential resources to ensure you get the most value and longevity out of your chemical tank.
…And More!
Browse our website and you'll find even more valuable resources. Our blog provides hundreds of in-depth articles about our products, the industry, and current issues. The innovations hub features the full breadth of industry-leading products that only Poly Processing offers. And the Markets section features valuable information about the markets we serve.
Poly Processing's library of knowledge is a one-stop shop for all of your chemical storage system needs. If you're purchasing a chemical storage tank, you can do a quick search on the Poly Processing website and know within minutes everything you need to design the right tank for your application — the specific gravity of your chemical, what type of tank you need, the right type of fitting and gaskets, the warranty, and even lead time.
You don't need to hop around between online resources to understand your chemical storage needs, and you don't need to deal with multiple vendors or service providers. Everything resides on the Poly Processing site. We make it simple to design your tank, because it's all in one place.
We sometimes joke that we're the Library of Congress for chemical storage systems, because you won't find a more complete chemical storage resource library anywhere else.
Tech Talk Podcast Episodes
Tank Configurator

Find the recommended tank and system components for your chemical storage challenge.
Configure a Tank Package