Anytime a chemical storage tank is located outside, it's exposed to harmful elements, such as sun, wind, and rain. Poly Processing recommends taking special considerations to protect the life of your storage tank, especially from damaging ultraviolet rays.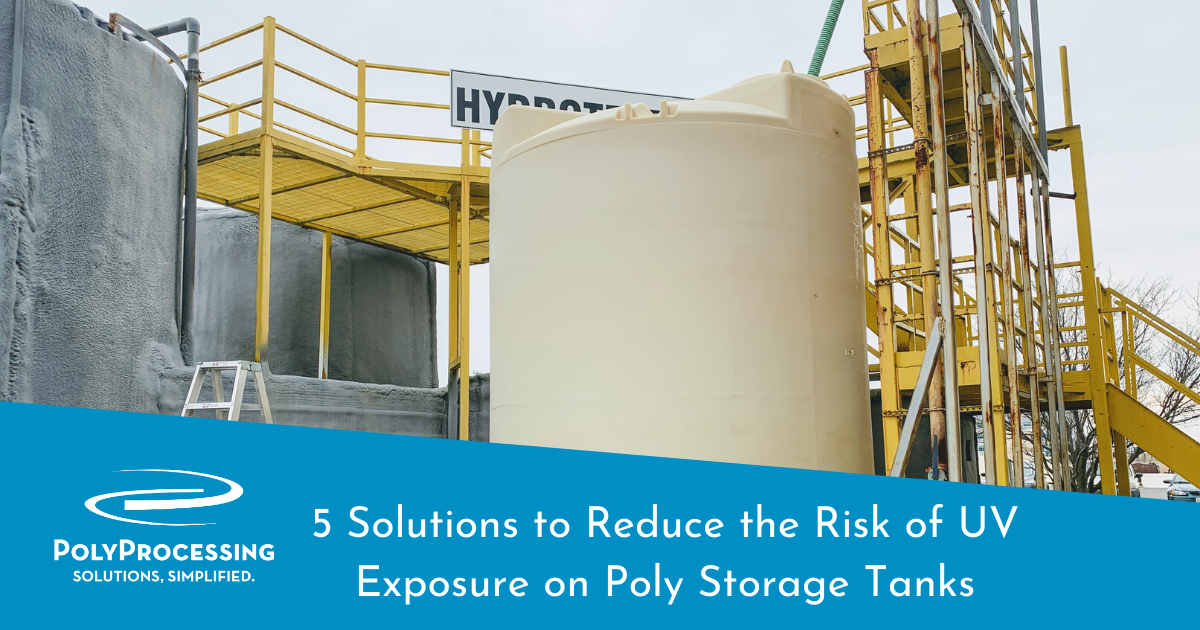 Let's explore solutions you can implement to protect polyethylene chemical storage tanks from damage due to UV exposure.
How Ultraviolet Exposure Affects Polyethylene Storage Tanks
When polyethylene tanks are manufactured, bonds form between atoms on polyethylene molecules. The molecular chains become linked together in a vast network, which gives the material its durability and strength. UV light attacks these molecular bonds.
Extended exposure to sunlight radiation and ultraviolet rays results in weathering of polyethylene storage tanks. Without proper protection, UV light causes a compound breakdown of the polyethylene elements, making the polyethylene tank brittle. This can cause micro cracks, leading to leaks and potential failure of the chemical storage tank.
Exposure to UV light is a problem for any plastic product used in outdoor applications where long term performance is essential. However, some polymers are more resistant to serious degradation than others. Crosslinked polyethylene (XLPE) chains can provide more protection than linear polyethylene. Poly Processing's XLPE chemical tanks in most cases aren't susceptible to the serious side reactions of linear polyethylene, such as potential catastrophic failure and unzipping.
Download our Carbon Black & Plastics technical bulletin for more information about the impact of ultraviolet light on various resins.
Reduce the Risk of UV Damage to Your Polyethylene Tank
Some methods can help minimize the effects of UV exposure. There are several solutions you can choose from to minimize tank damage from UV light.
Place tanks indoors. Moving your polyethylene storage tanks indoors gives the best protection from harmful UV rays. If you choose this approach, make sure the doors to the building are large enough to get the tanks in and out. We've seen customers who had to remove sections of their roof to remove old tanks.
Store tanks in a lean-to or covered area. A covered area without side walls allows you to keep your tanks outside, while sheltering them from UV exposure. This solution allows you to easily move tanks in and out, plumb the tanks, and install containment barriers.
Carbon Black XLPE resin. Carbon Black is a nearly pure, elemental carbon. When used as a resin in the molding of the polyethylene tank, it acts as an absorber of UV light. Adding carbon Black is a simple, inexpensive solution. UV energy is absorbed, transformed into heat, and dissipated throughout the tank. While Carbon Black polyethylene tanks tend to have slightly higher temperatures than light-colored tanks, the difference is normally nominal. Carbon Black is the preferred pigment of many of our customers especially when storing harsh chemicals outdoors.
Paint the tank. Painting your polyethylene tank also adds UV protection. An acrylic house paint, that expands and contracts with the tank, is recommended. Refer to our Technical Bulletin on surface preparation for painting tanks.
Insulation coating and paint. Poly Processing can apply a thin layer of insulation and a coat of mastic type paint to help control heat absorption.
Additional Impacts of UV on Polyethylene Tanks
The impact of UV exposure on a polyethylene tank can be influenced by several factors, including:

Cycle times
How frequently the tank is emptied and filled
The number of sidewall fittings
Microcracks will tend to form where the tank is the weakest, at the tank fittings. You can minimize the number of sidewall fittings and reduce the potential for microcracks by choosing Poly Processing's Integrated Integrally Molded Flanged Outlet® (IMFO®) System. With IMFO chemical storage tank solutions, the flange is molded into the tank itself, eliminating sidewall fittings.
For questions regarding outdoor polyethylene storage tanks, or for a custom storage tank system solution, contact a Poly Processing storage tank specialist.