Does Your Tank Supplier Have a Nationwide Field Service Team?
Before you purchase a chemical storage tank, it's important to know what kind of service to expect from the manufacturer — immediately and for years to come. You might have installation and startup needs, but you may also have questions about retrofitting a tank or installing new tanks.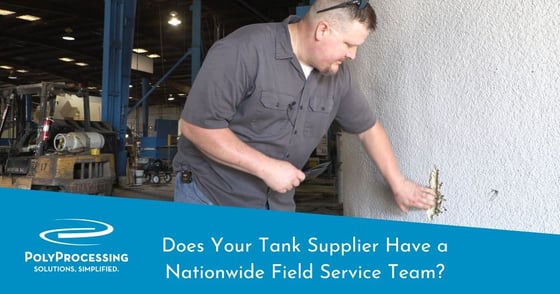 Many tank manufacturers don't have a field service team or service department. Instead, they hire a local fix-it professional who isn't familiar with their storage systems. Other times, you might have to find a service technician yourself. Poly Processing has our own on-site nationwide field service team that can service your PPC chemical storage tank at your facility.
Let's take a look at the types of on-site service our dedicated technicians are doing on a daily basis.
PPC Tank Installations and Startups
Proper installation is the first key to a successful and long-lasting operation. The first thing our factory certified service team does is examine the tank site. The installation site inspection ensures that the tank is properly installed according to industry standards. Sidewall fittings, venting, and proper bracketing are checked to make sure the risk of tank failure is minimized, and the tank's useful life is optimized.
Every tank installation is unique. Chemical storage systems and installations can vary greatly, based on considerations such as:
The chemicals being stored
The location of the tank and surrounding environmental factors such as exposure to wind, sun, or location in an earthquake area
How the tank is filled
Whatever the factors at your facility, our field service team will ensure that your installation is optimized for maximum longevity.
Service of Existing PPC Tanks
Our factory trained technicians can respond to tank issues that may arise, whether or not they are covered by warranty. We regularly respond to customer requests about tank maintenance, repairs, and fitting placement.
The technicians can address specific warranty questions as well — for example, is the tank leaking or compromised? Does the tank need to be replaced?
Being proactive about these questions will help you extend the life of your tank and your investment and help in keeping your personnel safe.
Inspecting and Evaluating Older PPC Tanks
As your chemical tank gets older, the Poly Processing factory certified service team can help reduce expenses by possibly extending the useful life of your tank. For example:
Installing new fittings and gaskets
Testing of tank samples can provide a good indicator of the tank's integrity
Ensuring the tank is compatible with new chemicals being stored
Evaluating retrofits as your storage needs evolve
Inspecting and evaluating the tank and the site can save you money on contractor costs when you make changes.
Professional Help with Your Scheduled PPC Tank Inspections
We recommend having a professional perform an in-depth tank inspection. Here's an overview of a few of the inspection and testing procedures our field service technicians perform on your chemical storage tanks:
Comprehensive visual inspection. A close inspection of the chemical tank's exterior for cracks or crazing caused by UV degradation and other stressors.
Testing the tank material itself. One of the best ways to test the actual polyethylene of the storage tank is to take a sample for impact and gel testing. This can provide a good indicator of the tank's integrity.
Inspecting fittings, gaskets, venting and more. Even if the structure of the tank itself seems secure, it's important to inspect the fittings and attachments for signs of wear. Often, a field service representative can replace a fitting or gasket onsite. The technician can also inspect Poly Processing supplied restraints, ladders, and other PPC supplied system accessories.
Poly Processing Provides Service Training
Poly Processing holds periodic field service training seminars for service personnel. We cover basic tank inspections and repairs and can factory train your service team. Topics include
Installing and repairing fittings
Insulation foam repair
Tank damage inspection and repair
Annual tank inspections
To see some examples of our factory training, check out these service training videos:
You can view all of our other videos in our video library.
Have service questions about a Poly Processing tank? Contact the Poly Processing field service team for expert onsite tank inspection, evaluation, and service of PPC tank systems.
Tech Talk Podcast Episodes
Tank Configurator

Find the recommended tank and system components for your chemical storage challenge.
Configure a Tank Package