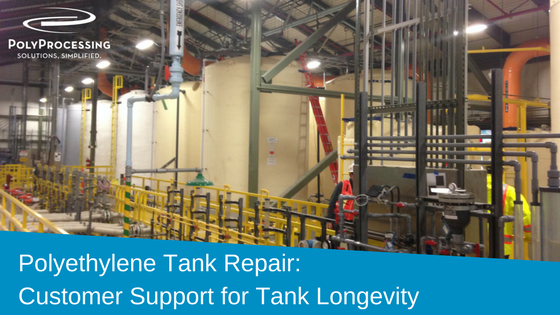 There are many issues or situations that will come up as you look to install or repair a chemical storage tank. Need to know how to properly retrofit a tank to store a different chemical? Looking at installing a new tank? Concerned about your 15-year-old polyethylene tank? Do the sidewall fittings, venting, and brackets of your tank ensure safe operation and long tank life? For the answers to your chemical storage tank questions, call the Poly Processing customer support team.
Our customer support team responds to chemical storage tank concerns regarding three main areas.
Installations and Startups
Proper installation is the first key to a successful and long-lasting operation. The first thing our customer service team does is examine the tank site. The installation site is inspected to ensure the tank is properly installed according to industry standards. Sidewall fittings, venting, and proper bracketing are inspected to make sure the risk of tank failure is minimized, and the tank's useful life is optimized. Many customers wish to avoid pipe support sidewall penetrations and design their own supports, which require inspection.
Every installation is unique. Chemical storage tank systems and installations can vary greatly based on the chemicals being stored, the location of the tank and surrounding environmental factors such as exposure to wind, sun, or location in an earthquake area, and how the tank is filled.
Service of Existing Tanks
This involves response to any and all tank issues that may arise, covered by warranty or not. We're regularly responding to customers' phone calls and email requests regarding tank maintenance and repairs such as fitting replacement and overall tank performance.
Specific warranty questions are answered as well. Is the tank leaking or compromised? Does the tank need to be replaced? Being proactive about these questions you encouter will help you extend the life of your tank and your investment.
Inspection and Evaluation of Older Tanks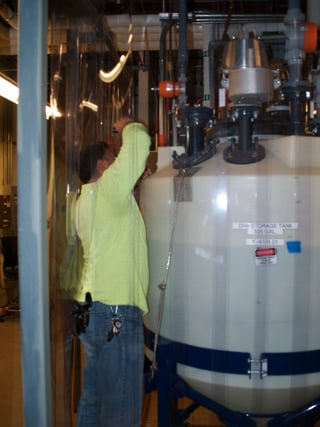 Calling the Poly Processing customer support team can reduce the expenses the tank owner may encounter by extending the life of the tank beyond 15 years. New fittings and gaskets can be installed. Tank samples can be tested to ensure the integrity is still intact. If you're changing the chemical being stored, Poly Processing Field Service can ensure that your tank is compatible and correctly fitted for the new chemical.
Perhaps the tank is designed for a 1-inch outlet, but you need 4 inches? We can help you solve this. Also, the inspection and evaluation of the tank and the site can save you money on contractor costs needed to make the changes.
Have questions about a tank you're considering installing, warranty issues about an existing Poly Processing tank, or concerns about use or retrofitting an older tank? Reach out to our customer support team and get your questions answered.
Contact the Poly Processing Customer Support team for expert onsite tank inspection, evaluation, and service.