Determining Proper Fitting Positions on Polyethylene Tanks
Poly Processing's tanks are manufactured in the United States and are able to accommodate a wide variety of fittings and locations of fittings. This flexibility allows for proper inputs and venting, ensuring a safe and effective solution for a given chemical and longer tank life as well. A common point of confusion that we hear from customers is: Which fittings can I use on my tank, and where can they be installed? We've tried to simplify the answer to that question by considering each area of the tank and the corresponding compatible fittings.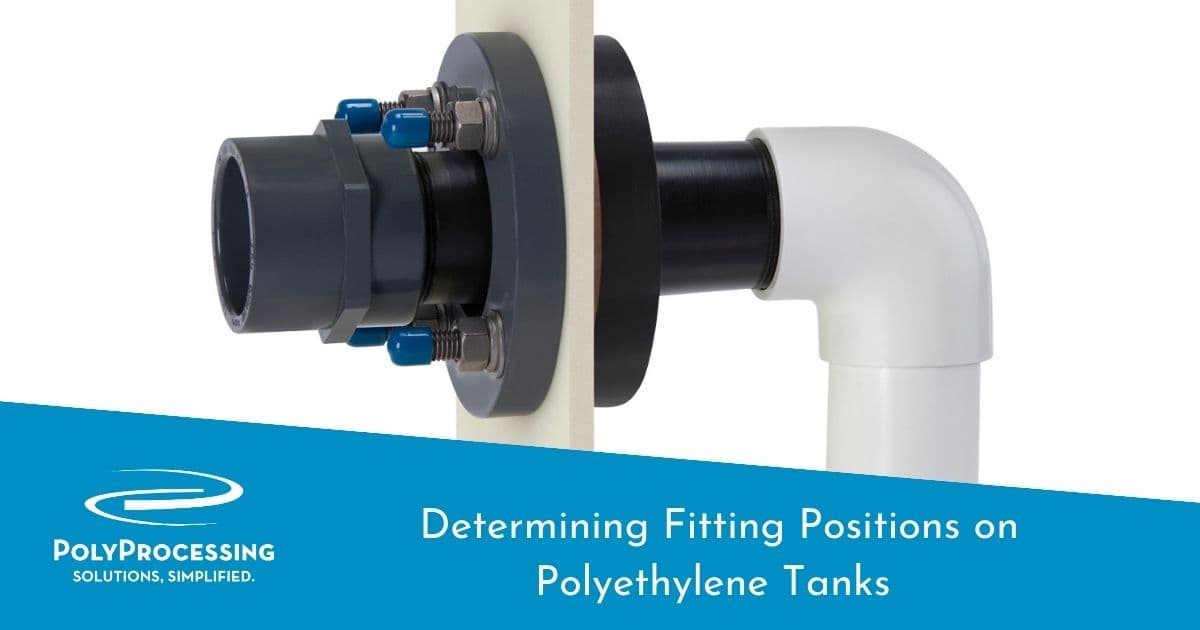 Let's take a look at the fittings for polyethylene tanks that can be installed in various areas of the tank.
There are several different types of fittings available for your tank: Ball dome self-aligning, bulkhead, bolted flange, B.O.S.S. Fitting®, made vertical fitting. Only certain fittings can be added to parts of the tank depending on the surface area shape and size.
Top dead center – UBDs both flange and bulkhead style, Made Vertical fitting, and in some cases a bulkhead or standard flange can be used. To determine this, we recommend you work with our inside sales team to design the proper fitting configuration.
Curved dome sections - Limited to UBDs both flange and bulkhead style and Made Vertical fitting. See the guide below to determine the maximum size fitting based on the curvature of the dome.
Flat dome locations – 5 types of fittings can be added here. Flanges, Bulkheads, Spooling fittings, UBDs & Made Verticals.
Sidewall – A few types of fittings can be used on the sidewall. Bolted Flange, Bolted Spool, the B.O.S.S. Fitting® and Bulkhead fittings.
The proper installation of the various chemical tank fittings is important to prevent leaks during installation and in the future, and to ensure safe tank installation and operation. This is true for linear polyethylene or crosslinked polyethylene. Here is an outline of installation best practices for the various fittings of Poly Processing chemical storage tanks.
IMFO® Flange Fitting Assembly
Poly Processing assembles and hydro-tests the IMFO® (Integrally Molded Flanged Outlet) to ensure a proper seal. DO NOT disassemble the factory installation. If a field replacement is required, follow the enlarged view picture in the Installation Technical Bulletin as a guide. When storing, transporting, and installing the tank, it's important to protect the IMFO® flanged nozzle from damage. When storing, the tank can be positioned upright with adequate blocking, or laid on its side and chocked to prevent rolling.
B.O.S.S. Fitting® Assembly
Refer to the B.O.S.S. Fitting® Assembly manual in the Installation Technical Bulletin for drill bit sizes, installation steps, and torque wrench tightening settings. It's vital to conduct a 24-hour hydro test before filling the tank with chemicals to test the gasket seals and fittings.
Bulkhead Fittings
Here are the installation steps for Bulkhead Fittings:
Slide the gasket over the body of the fitting.
From inside the tank, insert fitting body into hole in tank sidewall.
Lubricate threads on fitting body with thread sealant and install large nut on the outside of the tank.
Hand tighten plus 1/4 turn with a wrench. Most Bulkhead fittings use left hand threads.
Do not allow fitting body to slip or spin when tightening to prevent the gasket from creeping between the fitting and the tank wall.
Inspect gasket for creep. If found, loosen nut and perform steps 4 & 5 again.
When installing a pipe or flange adapter into the BHF, do not allow BHF to slip and do not over tighten.
Finally, as with all the fittings, hydro test the tank for a minimum of 24 hours before placing into chemical service.
Below is a short video illustrating bulkhead fitting tightening.
Bolted Flange Fittings
Refer to the Bolted Flange Fittings link of the Installation manual for installation steps, and refer to the video below for proper torque tightening of the bolts. It's important not to over tighten bolts to avoid damage to the flange and gasket. As with all the fittings, conduct a 24-hour hydro test before filling the tank with chemicals to test the gasket seals and fittings.
Stainless Steel Fittings
Follow the installation steps outlined for both Coupler and Full Nipple Stainless Steel fittings. Drill bit sizes and wrench torque settings are specified for correct installation.
Self-Aligning Universal Ball Dome Fittings
The Self-Aligning Universal Ball Dome fittings are designed for use only on tank domes.
DO NOT USE ON THE SIDEWALL OF THE TANK!
There are two styles of Ball Dome fittings:
Bulkhead Fitting Style
Bolted Flange Style
NEVER stand on tank dome when installing dome fittings. The surfaces are also flexible and slippery, and a fall could easily result. Use portable ladders, scaffolding, or personnel lifts with proper fall protection. PPC recommends only trained and licensed personnel access the top of a tank to insure the safety of all personnel.
Refer to the Installation Technical Bulletin under Self-Aligning Universal Ball Dome Fittings for complete installation steps.
Bellows Transition Fitting
Poly Processing's SAFE-Tank® is a "tank-within-a-tank", double wall chemical tank system that keeps contaminants from entering the interstitial area. These double wall tanks provide secondary containment to avoid the damaging of equipment or property, loss of chemical, or injury to employees in the event of a spill.
For this reason, proper installation and following each and every step outlined in the Installation Technical Bulletin and installation videos for the bellows transition fitting is crucial.
An additional WARNING regarding the importance of the Bellows Transition Fitting that is worth repeating:
The SAFE-Tank® system is designed to provide a minimum of 110% secondary containment. Once the transition fitting is installed, a leak in the inner tank will result in product collection between the inner and outer tank. If this product is not drained off prior to breaking the seals of the transition fitting, serious property damage, injury or death may occur. Great care must be taken to protect people and property when working with a transition fitting.
Each one of these storage tank fittings includes detailed installation instructions when we ship the storage tank. In addition, for more information, detailed installation instructions for each fitting are outlined in the Poly Processing Storage Tank Installation, Operation, and Maintenance Manual.
To determine what size fittings are available based on the area of installation, download our reference chart or contact a chemical storage expert if you have any questions.
Tech Talk Podcast Episodes
Tank Configurator

Find the recommended tank and system components for your chemical storage challenge.
Configure a Tank Package