What's the Difference Between NSF and FDA Approval for Chemical Tanks?
Poly Processing
It's easy to get confused between NSF certification, FDA approval, and FDA requirements. Which terms do you need to be familiar with, and what should you expect from your chemical storage tank? These are good questions, and it's important to understand the differences between NSF and FDA as you prepare to purchase a storage system.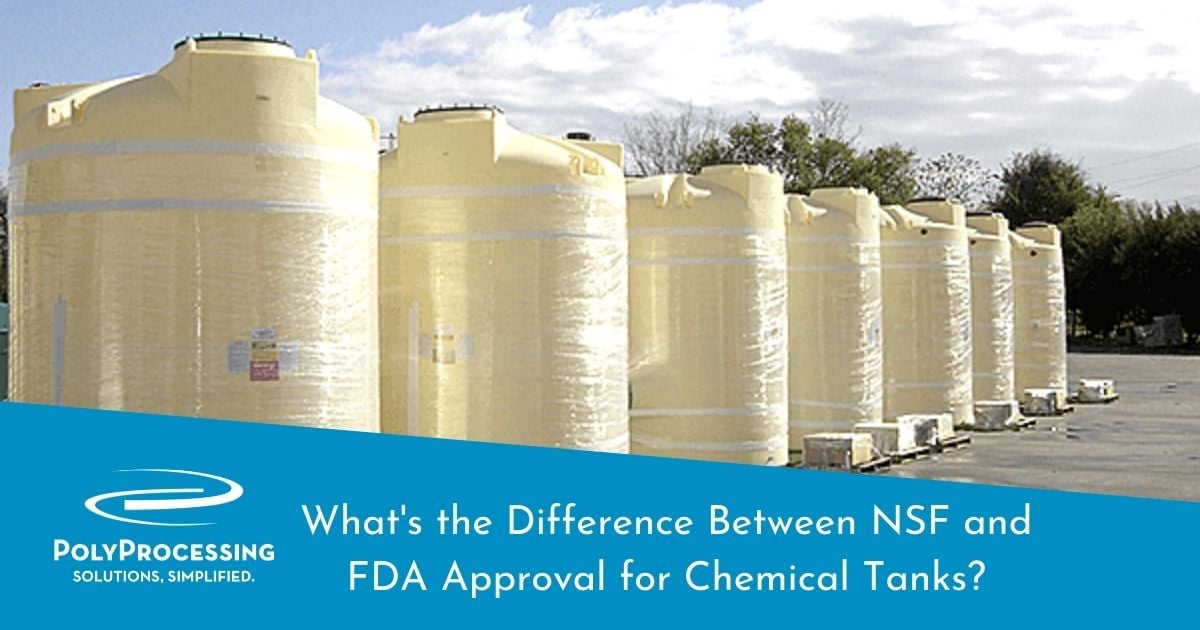 NSF and FDA
NSF is the National Sanitation Foundation (not to be confused with the National Science Foundation!), a global independent public health and environmental organization. Together with the American National Standards Institute (ANSI), the organization established a standard called NSF/ANSI Standard 61 (NSF-61). If you manufacture, sell or distribute water treatment or distribution products in North America, your products typically must be certified to NSF-61.
FDA is the Food and Drug Administration. This federal agency is responsible for protecting and promoting public health by controlling and supervising food safety, tobacco products, dietary supplements, medications and more.
Poly Processing chemical storage tanks are not FDA-approved. In fact, no chemical tank can claim to be FDA-approved, because the approval only refers to food and drugs. If a tank manufacturer makes that claim, steer clear from them—either they don't know what they're talking about, or they're pulling the wool over your eyes.
However, machinery that is used in food processing must comply with FDA requirements. So when you're looking for a storage solution, be sure to ask if the tanks are FDA-compliant, or if they meet FDA requirements. Our chemical storage tanks are FDA-compliant and meet all FDA requirements.
The Food and Drug Administration and Code of Federal Regulations (CFR) specify the guidelines for food and beverage storage under Title 21, parts 176-177. These regulations outline the acceptable resins, additives, and tank composition guidelines. Poly Processing offers resins compliant with FDA/CFR Title 21, parts 176-177 specifications. You can review the resin technical data sheets for details.
NSF-Certified Tank Systems
We have NSF-61 Certification for 38 of the most popular water treatment chemicals on our XLPE tank systems. Our certifications also cover XLPE tanks with the OR-1000™ system, our engineered antioxidant barrier. Poly tanks are certified for both potable water and chemical storage.
OR-1000 resin and all associated fittings have been tested and certified by NSF. The OR-1000 system simply increases the life of a crosslinked polyethylene tank in oxidizing chemical applications, giving you a greater cost effective solution.
OR-1000 is an ideal solution to extend the life of your XLPE tank when storing oxidizing chemicals. The technology behind the system takes the guesswork out of choosing the right storage tank solution, and it reduces the risks and maintenance costs of an FRP tank or a high-density linear polyethylene tank. The value, longevity, strength, and durability of the OR-1000 system can handle almost any chemical and stand the test of time.
Our crosslinked polyethylene resin and all associated fittings have been tested and certified by NSF. Poly Processing offers our NSF certified system solutions from all three production facilities.
Poly Processing Tanks in the Food Industry
Stainless steel has long been the tank material of choice for storage in the food and beverage industry. Historically, businesses have been hesitant to choose polyethylene storage solutions, believing the porous resins would allow leaching and bacterial growth. But with advanced resin technology, polyethylene offers FDA/CFR compliant storage with cost savings advantages for food and beverage operations.
Food and beverage industry leaders enjoy the economical advantages and one-piece seamless construction Poly Processing polyethylene storage tanks offer.
Our Poly tanks are currently used in the food and drug industries for applications such as:
Wine and Beer storage and fermenting
Clean-in-place for food and beverage industry
Condiment storage and processing
Brining
Salt storage
Cheese processing
pH adjustment for water treatment
Drinking water
Ingredient mixing and batching
Backup storage when supply chains are tight
Are you looking for a cost-effective, one-piece, NSF-certified or FDA/CFR-compliant storage solution for your food or beverage operation?
Tech Talk Podcast Episodes
Tank Configurator

Find the recommended tank and system components for your chemical storage challenge.
Configure a Tank Package