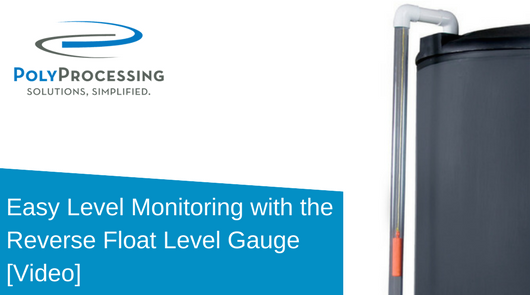 It is important to know how much chemical is in your storage tank. Not only does the liquid level tell you when to order more chemical, but certain chemicals have to be stored at specific levels to maintain their properties.
The Poly Processing Reverse Float Level Gauge makes it easy to monitor the levels in your chemical storage tanks. The gauge is installed on the outside of the system for easy monitoring, while allowing the chemical to remain entirely inside of the tank. If the gauge pipe cracks or breaks, there's no danger of the chemical siphoning out of the tank.
Watch this quick video to see how the reverse float level gauge works.
Why Use a Reverse Level Gauge?
A level gauge of any kind monitors the liquid level of the chemical in the polyethylene tank. There are several types of gauges, and Poly Processing works with many types of level indicators, including clear tube level gauges and ultrasonic level gauges. But in almost all cases, we recommend our reverse float gauge for its simplicity and ease of maintenance.
How the Reverse Float Level Gauge Works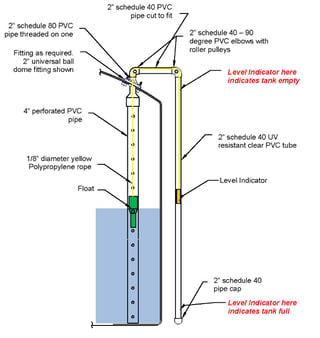 The reverse level gauge uses a pulley system with polypropylene rope, nylon rollers inside of PVC elbows, clear pipe, and a level indicator.
The reverse float level gauge consists of a float inside the tank, which is attached to a rope. The rope travels through a clear vertical pipe on the outside of the tank. A level indicator is attached to the end of the rope. As the tank is filled, the chemical lifts the float and the outside indicator lowers. The lower the indicator goes, the higher the level of the chemical in the tank. The system can be used with any chemical.
The external components are dry-fit together for easy assembly and replacement. Maintenance is simple, and pieces can be replaced easily.
Benefits of the Reverse Float Level Gauge
While the level indicator isn't intended for precise monitoring or metering, it reliably provides a basic indication of your chemical storage tank's capacity. It also provides additional benefits, including:
No stains on the clear pipe from chemicals or UV attack

No siphoning of the tank if pipe breaks because there is no chemical in the pipe

No chemical burns or chemical spurts on operators

Reverse calibration tape can be added for tank capacity

Provides mechanical verification of ultrasonic or other electronic level sensor

Standard or free-standing pipe supports are available
Talk to a
chemical storage tank expert
today to learn more about the Reverse Float Level Gauge.