PolyBase: A High Performance Tank Pad System for IMFO® Tanks
Poly Processing's stronger-than-ever chemical tank pad, PolyBase, is engineered to handle more pressure and larger tanks. We have two types of PolyBase available: rotationally molded PolyBase systems for our IMFO® Tanks, and an innovative structural Polyurethane foam-based IMFO PolyBase option.
The structural foam-based PolyBase outperforms our rotationally molded line of pads, supporting a broader spectrum of chemical storage applications and tank sizes. It is available for our IMFO Tanks as well as our slope-bottom IMFO Tanks.
Tough Materials for a Tough Pad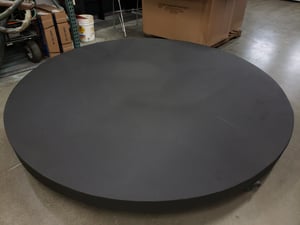 A rotationally molded PolyBase pad is rated at 12psi, and the polyurethane foam PolyBase is rated at up to 48 psi—providing four times the service factor as our standard plastic PolyBase.
The foam PolyBase includes 4mm plywood underlayment which contains a 4lb core of polyurethane support foam, while a polyurea coating provides weather and moisture protection. The moisture-proof and chemical-resistant barrier eliminates corrosive properties that can lead to corrosion under insulation (CUI).
The polyurethane foam PolyBase is compatible with nearly every chemical that our cross-linked polyethylene tanks can handle—including the heavy and corrosive chemical, sulfuric acid.
The foam PolyBase gives you the following advantages in your chemical storage application:
Portable/non-permanent—Place the PolyBase anywhere you need to, without installing a permanent structure. You can move the PolyBase wherever you move the tank.


Time savings—The PolyBase is a set-in-place product. No major construction is needed for installation.


Turnkey—Ships with the tank and is factory-fitted before it leaves our facility. You can offload the PolyBase and set it into place and then simply place the tank on top of it.


Cost-effective—Save money over permanent concrete structures that require earthwork, engineering and costly concrete work.


Total support—Seamless design ensures that the entire tank bottom is fully supported. No high or low spots to cause premature issues with the tank floor.


Chemically resistant—The PolyBase is engineered to be chemically resistant with the product you're storing.


Easy setup and installation—The PolyBase is delivered with the tank. It's light enough to move and set in place without heavy equipment.
Tougher Than a Tractor
Our foam PolyBase is virtually indestructible. We performed destructive testing on the PolyBase to verify that they would hold up under the most rigorous conditions. We started with impact testing the PolyBase with a 5-pound sledge hammer. The PolyBase was unaffected during this test.
We then performed two drop tests—one with a flat fall and one that impacted the edge of the PolyBase. These tests show that the foam PolyBase will withstand handling and installation in the toughest situations.
Finally, we performed a crush test to determine the strength of the PolyBase under significant stress. We drove a tractor over the PolyBase, exerting approximately 8500 pounds per square foot. Although there was a temporary deformation on the sidewall, the PolyBase came back to its original shape and passed this punishing test.
Don't believe it? Watch the video!
Tank Pads That Support Your Needs
Many PolyBase systems are installed in the field and are providing ideal support and performance. If your chemical storage application calls for a large IMFO Tank or a highly corrosive chemical, the PolyBase system may be a great solution.
Tech Talk Podcast Episodes
Tank Configurator

Find the recommended tank and system components for your chemical storage challenge.
Configure a Tank Package