How to Insulate a Polyethylene Tank to Regulate Chemical Temperature
Maintaining the proper temperature of a chemical inside a high density crosslinked polyethylene tank can be critical for safe and effective storage. For example, sodium hydroxide and caustic soda need to maintain temperature to prevent crystallization at lower temperatures.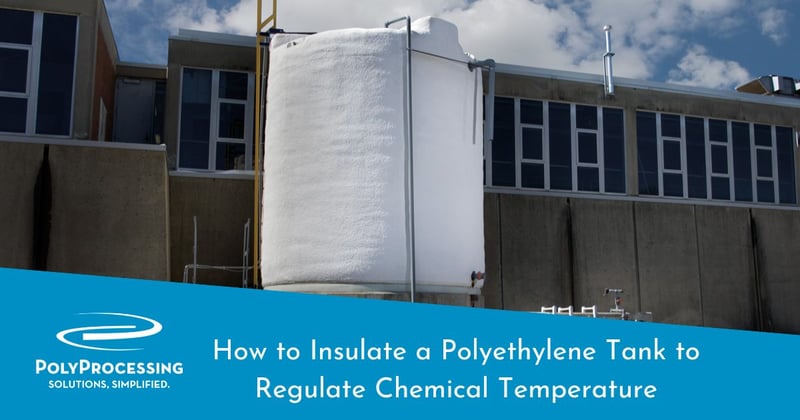 For polyethylene chemical storage tanks, heating pads and insulation can maintain the specific temperature of the chemical you're storing—even when your chemical tank is exposed to low air temperatures.
To give you one of the most reliable temperature control systems in the industry, Poly Processing provides a state-of-the-art heating controller for your chemical storage tank.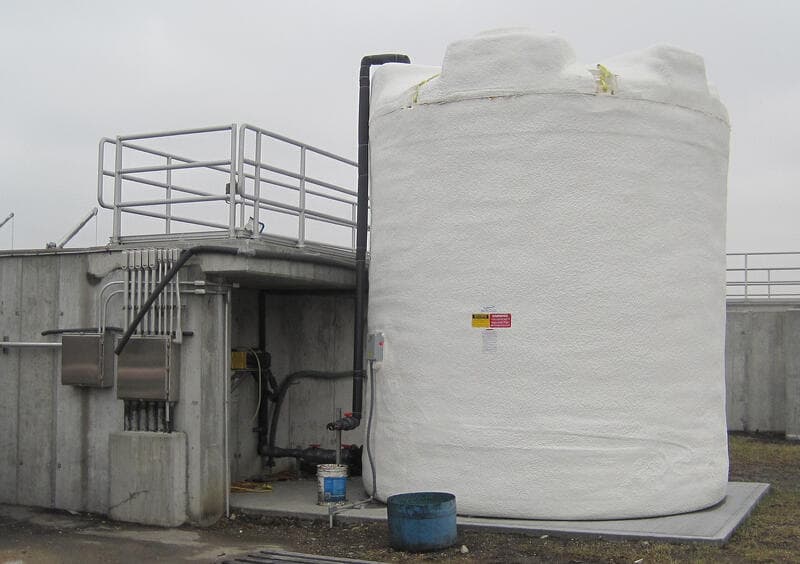 Our chemical tank heating system consists of tank heating pads and a temperature controller with a thermostat. The quantity and size of the silicone heating pads depends on the size of the chemical tank, the required chemical temperature, and ambient environmental conditions.
Poly Processing Company, along with our heat maintenance system suppliers, has designed a Digital 2XTC Tank Heating Controller for all of our upright tanks including our vertical tank, IMFO tanks, SAFE-Tanks, cone bottom tanks, and even our horizontal tanks. The heat pads and controller are normally installed at our factory to ensure the system is properly connected and ready to be wired in when it gets to the user site.
We have oversized the SAFE-Tank Heater Systems compared to our standard single-wall tanks. This calculates for the interstitial space as well. The rest of the tank heating controller and product features are the same as our single-wall system.
The SAFE-Tank System is a double wall tank that safely stores a wide variety of chemicals without an expensive permanent containment, such as a concrete basin or vessel. This makes it easier to change industrial applications at any time without the expense of additional chemical containment structures.
Let's take a look at the Digital 2XTC Tank Heating Controller.
The Digital 2XTC Tank Heating Controller
The 2XTC Tank Heating Controller is one of the most complete and versatile tank heating controllers in existence. It is specifically designed for heating systems that need process temperature control with high limit temperature protection. And as a digital controller, it provides significant advantages over standard analog boxes.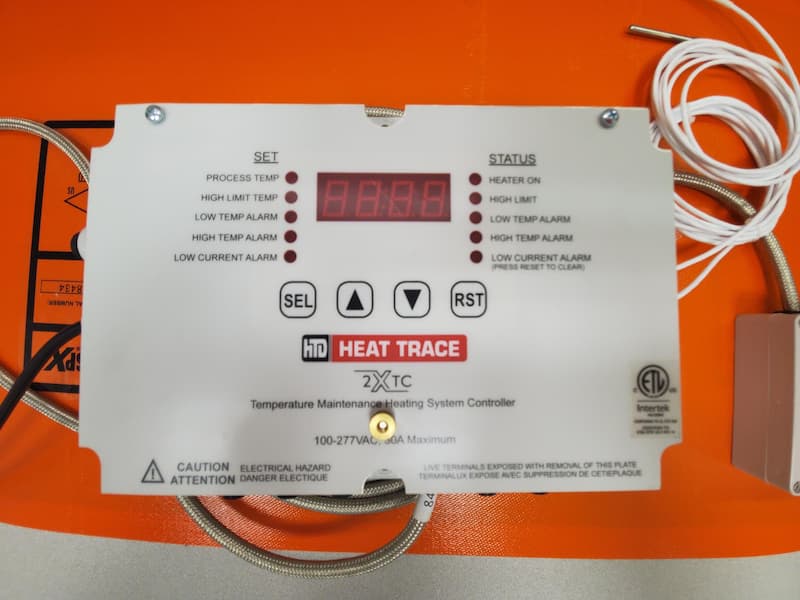 SPX Tank Heating Systems are designed for chemical temperature maintenance on Poly Processing's polyethylene storage tanks. SPX Tank Heating Systems maintain the desired product temperature, not to exceed 100F. Each heating system consists of tank heating pads and a temperature controller. The controller comes in a NEMA 4X / IP66 polycarbonate enclosure so that it can be safely used indoors or outdoors.
The heating controller is convenient to monitor, whether you're up close or away from the chemical storage tank. High-visibility LED lights indicate the process sensor temperature, over-limit sensor temperature, and heater current using a simple settings menu. Alarms and system status can be paired with remote monitoring systems, so you can monitor the temperature or current to make sure they haven't gone out of acceptable range. Two controllers may be used for larger tanks or for redundant systems if necessary.
Download the SPX Tank Heating System installation, operation, and maintenance manual
Product Features
The 2XTC heating controller comes with industry-leading features that other systems don't match, including:
Process temperature control with high-limit protection
100-277 VAC, 50/60 HZ, 30A
Use with up to 6 SPX heating pads
Simple operation and customizable presets
High temperature, low temperature, and low current alarms
Alarm contact for communication with customer systems (NO or NC, selectable)
NEMA 4X, IP66, polycarbonate enclosure
4-20mA retransmission output
Two RTDs (resistance temperature detectors/thermometer)
cETLus-approved for use in the USA and Canada
The Digital Advantage
The 2XTC is a digital heating controller, which provides important advantages over other double wall tanks that are still using analog controllers:
Digital temperature reading replaces hard-to-read analog dials.
High and low temperature limits can be reset in seconds by pushing a couple buttons. No need to unscrew and replace control dials with preset locks.
4-20mA retransmission output allows you to use remote monitoring.
A single digital box can handle either 120V or 240V. Analog systems require a different box for each.
The control system is on the outside of the containment tank.
Frequently Asked Questions
Here are a few frequently asked questions that we hear from customers around setting up a temperature control system for polyethylene chemical storage tanks.
What is the insulation R-value (measure of thermal resistance)? The tank insulation used in heating systems has an R-value of 6.3 per inch.
How thick is the insulation? Insulation is a standard 2" thick with an R-value of 6.3. Keep this addition to the diameter of the tank in mind when determining placement of the tank, shipping, and any restraints or fittings that may be impacted.
How do you determine the correct delta T of a system? First determine the lowest temperature that you could experience in the environment where the tank is stored. Next take the delta T number and subtract that lowest temperature. If the result is higher than the delta T rating for the tank, then your tank is not adequate to handle the ambient temperature and you need to move up to a higher delta T rated system.
How do you determine wattage of the heating system? To determine the wattage of the tank heating system, note the name and quantity of the heating pads. The SPX Pad® SPX210 produces 210 watts while the SPX Pad® SPX420 produces 420 watts. Multiply the number of pads by the wattage to determine total heating wattage.
How do you determine the amperage draw of the heating system? Unless a system has been modified, typically all systems are based on a 110 to 120-voltage supply. Amperage draw can be determined by dividing the total watts by the voltage supply. Here's an example. If the system you have has three SPX Pad® SPX210 heating pads, you would multiply the watts per pad (210) by 3 pads for a 630-watt system. Then, divide the total wattage of the system by the 110-volt supply, giving you a 5.73-amp system.
When it comes to protecting your stored chemicals in a Poly tank system, from low temperatures and overheating, it's hard to do better than the digital heating controller that Poly Processing provides. HTD Heat Trace's 2XTC is one of the best controllers in the industry, giving you peace of mind that your chemicals are within the proper temperature range.
Get more information on the 2XTC controller and tank heating system — download the spec sheet or talk to a Poly Processing tank specialist with your questions.
Tech Talk Podcast Episodes
Tank Configurator

Find the recommended tank and system components for your chemical storage challenge.
Configure a Tank Package