Anti-oxidants for polyethylene storage tanks are important because, inherently, all poly tanks can become compromised when exposed to highly oxidizing chemicals. Over time, any type of normal polyethylene material exposed to oxidizing chemicals will become brittle. Cracks and leaks may develop at the weaker points of the tank and around the fittings.
Plastics contain plasticizers, which are intended to keep the materials flexible. This material becomes "used up" over time and can deteriorate due to oxygen. Thus, it's important for an anti-oxidant system to fight against oxidative attacks. All resins have anti-oxidants built into them and as tanks are curing, the resin is being oxidized. Once a tank is made and pulled out of a mold, the anti-oxidants are mostly consumed.
OR-1000: Four Times the Antioxidant Power
Knowing the challenges listed above, Poly Processing set out to develop products to extend the life of our customers' tanks. We knew that when storing highly oxidizing chemicals such as sulfuric acid and sodium hypochlorite, a special chemical storage system is required.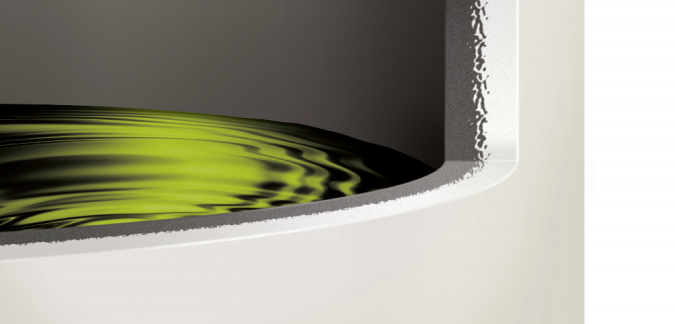 OR-1000™ adds a barrier between the oxidizing chemical and the structural shell of the XLPE. The wetted, interior surface of an OR-1000™ system is engineered with a medium-density polyethylene, specially designed to resist oxidation.
The medium-density polyethylene is used as a carrier for the special anti-oxidant package that protects the interior surface of the tank.
The result is the best of both worlds when storing highly-oxidizing chemicals: the superior strength and durability of high-density crosslinked polyethylene (exterior surface) is seamlessly bonded (covalent bond) with a medium density polyethylene (interior surface). This provides four times the resistance to oxidative attacks compared to standard polyethylene while extending the life of the XLPE exterior surface and therefore the entire system.
What Chemicals are Highly Oxidizing?
Sodium Hypochlorite

Sodium hypochlorite is a highly-oxidizing chemical used in thousands of applications. It is one of the most common chemicals used in water treatment to eliminate bacteria and viruses from drinking water supplies.
By no means is sodium hypochlorite's usage limited to public works. Any environment that requires sanitation -- from industrial to food processing – may find it to be beneficial. As an aggressive oxidizer, it can even be used in manufacturing paper products to bleach and oxidize fibers.
Sulfuric Acid

Sulfuric acid is a highly oxidizing chemical used in a wide variety of industrial applications. It's commonly utilized in water and wastewater treatment and in the manufacturing of chemicals, fertilizers, and car batteries. Sulfuric acid inherently releases high amounts of heat and presents unique storage challenges with its high oxidation and heavy weight.
Are you storing a highly oxidizing chemical? Download our OR-1000™ guide to read about our chemical storage solution or contact a Poly Processing representative directly to learn more.