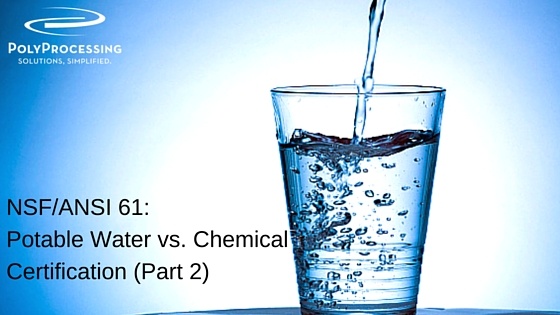 In this blog we discuss the different certification tests that NSF performs for chemical storage tanks as well as potable water storage tanks.
Poly Processing is committed to ensuring that our polyethylene chemical storage systems are NSF/ANSI 61 certified. In the first part of our series on NSF, we looked at NSF/ANSI 61 and what it meant to be certified. Some customers may be confused about whether their tanks or tank systems are certified to NSF/ANSI 61 and which certification is valid for their tank.
Let's take a look at the difference between NSF/ANSI 61 Certification for chemical storage and potable water storage.
Tanks Are Tested and Certified for Potable Water
Some manufacturers will imply that their storage tank systems are NSF certified for both chemicals and potable water. If those tanks aren't tested and listed for potable water storage as well as chemical storage, then that is not the case.
In order to certify our tanks for potable water, Poly Processing sends our vertical storage tanks to NSF for testing. During this testing, the tanks are filled with pH 5, 8, and 10 exposure waters that are formulated to simulate a variety of potable water conditions
These tests evaluate whether potentially harmful levels of chemical compounds from the tank itself are leaching into the water that is being stored. NSF uses pH 5 and pH 10 exposure waters to test for metals extraction and pH 8 exposure water for testing organics.
Tanks Are Tested and Certified for Chemical Storage
In addition to the potable water testing, PPC's tanks are tested and certified under NSF/ANSI 61 for chemical storage end use. For these tests, NSF exposes the tanks to chemicals certified to NSF/ANSI 60.
The tanks undergo an exposure period dictated by the NSF/ANSI 61. Once the exposure time is completed, the chemical that was exposed to the tank material is analyzed for the presence of chemical compounds that may have leached from the tank itself. If there are no detectable leachants or the leachants are below pass-fail criteria, then the tank passes the test. This testing is performed on the most aggressive chemicals that would be stored in the tank. Testing to the "worst-case scenario" in this way gives NSF the ability to predict the performance of other chemicals when exposed to the tank.
Chemicals Approved for Use with PPC's Tanks
It's important to note that each tank manufacturer must specify the chemicals each model is certified to store. Here's a look at the various chemicals with which Poly Processing's tanks have been certified under NSF/ANSI 61: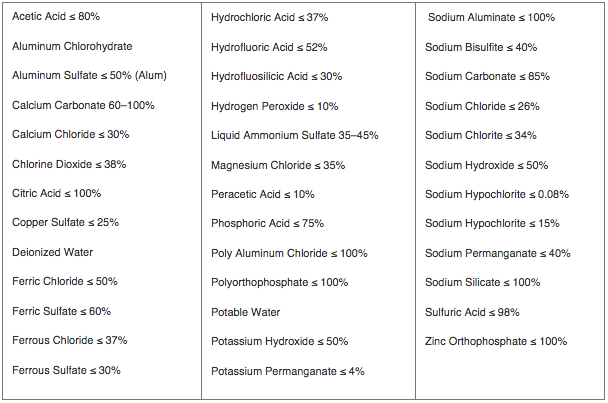 http://www.polyprocessing.com/innovations/nsf-ansi-61-standards-certified/
As you can see, Poly Processing is committed to providing an entire tank system that has been approved for chemical storage end use under NSF/ANSI 61. That's why we partner with companies that have gone through NSF testing for fittings and accessories. We want to deliver an entirely NSF certified tank system.
In part three we'll look at how NSF requirements are adopted and regulated by state drinking water agencies and how NSF/ANSI 61 might affect you.
To find out more about NSF/ANSI 61 Certification, get your copy of our eBook.