Oil and Gas Chemicals — Do You Have the Proper Tank System?
Poly Processing
The oil and gas industry is one of the largest revenue sectors in the world, generating over $3 trillion each year. The United States is one of the top producers of oil, making it a critical industry to the country's economy. Oilfields depend upon chemical solutions to ensure they continue steady oil production — especially as the oilfields age.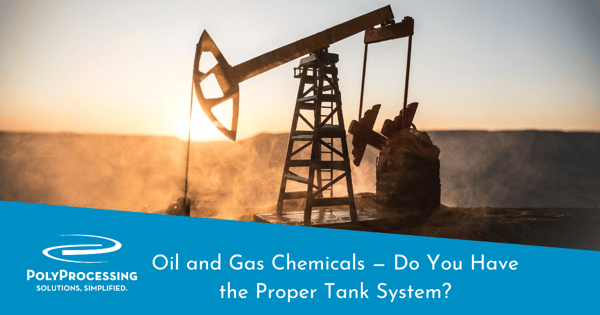 Various types of chemicals are used to drill, complete, and produce oil and gas wells. Among others, these chemicals include:
Acetic acid

Boric acid

Calcium chloride

Formic acid

Phosphoric acid
Modern production methods and environmental constraints demand chemical solutions. And as oilfields age, the need for chemicals to ensure steady production increases.
Poly Processing has been designing and manufacturing crosslinked polyethylene tank systems for chemical storage in the oil and gas market for over 45 years. As experts with technical knowledge of these chemicals, the oil and gas industry has trusted Poly Processing to provide chemical storage solutions they can rely on.
The Challenges of Chemical Storage
The chemicals used in the oil and gas industry are extremely hazardous, and they call for a storage system that protects workers and prevents dangerous chemical reactions.
The tanks should be cleaned according to a regular maintenance cycle. If you don't have a proper full-drain system, your employees may need to enter the tank and clean it by hand. That poses the risk of physically contacting or inhaling hazardous chemicals in a confined space. A full-drain system minimizes this risk because employees are able to safely clean the tank using a pressure washer or an installed spray ball in most cases without entering the tank.
To get a full drain, many companies install fittings at the bottom of their tanks' sidewalls, in the knuckle radius of the tank. This is a curved surface, which means the tank isn't completely flush with the fitting. Eventually, leaks can develop. Other companies install the outlet fittings just above the knuckle radius, which doesn't allow a full drain.
In addition, installed fittings have multiple components, which can provide more opportunities for leaks.
A Safer Chemical Tank for the Oil and Gas Industry
Poly Processing's full-drain IMFO® System is an ideal storage solution for the oil and gas industry.
Our innovative Integrally Molded Flanged Outlet® (IMFO) system is a chemical storage tank with a drain fitting that's a molded part of the tank itself. There are no metallic or plastic inserts, mechanical fittings, or multiple components to the fitting. The flange is molded while the tank is processing. It's created from the same material as the tank, as a single piece, making it a stress-free part of the tank.
With the IMFO tank, you get a full-drain solution that preserves the integrity of the tank for years. Full-tank drainage makes it easier to clean and maintain your chemical storage system in the following ways:
Minimizing residual chemicals. Full-drain tanks help eliminate remnants of older chemicals that are left behind, preventing contamination of the new batch of chemicals.
Easier and safer tank cleaning. A proper full-drain system means employees don't need to enter a tank and risk contact with hazardous chemicals in the confined space.
Eliminating free radicals. When certain chemicals are stored over time, salts and metals fall out of the chemical and collect at the bottom of the tank. If you don't have full-tank drainage, new chemicals that are placed in your tank will mix with the salts and heavy metals and create free radicals. These free radicals attack the interior surface of the tank, which can cause damage and compromise the integrity of your chemical storage system.
Preserving structural integrity. With full-drain systems, you don't need to drill holes in the tank to add side-manways or fittings. Drilling holes creates an opportunity for structural damage, and potential for deterioration of gaskets and fittings.
To learn more about the details and advantages of molded full drains, download our IMFO Guide today.
Tech Talk Podcast Episodes
Tank Configurator

Find the recommended tank and system components for your chemical storage challenge.
Configure a Tank Package