Maintaining the proper temperature of a chemical is often critical to safe storage. For example, sodium hydroxide at a 50 percent concentration will start to crystallize at or below temperatures of 60 degrees. For polyethylene chemical storage tanks, heating pads and insulation can maintain the specific temperature of the chemical you're storing—even when your chemical tank is exposed to low air temperatures.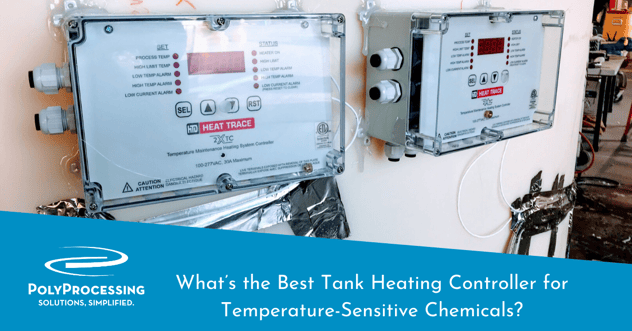 Poly Processing's chemical tank heating system is comprised of tank heating pads and a temperature controller with thermostat. The quantity and size of the silicone heating pads depends on the size of the tank, the required chemical temperature, and ambient environmental conditions.
To give you the most reliable temperature control in the industry, Poly Processing has just introduced a state-of-the-art heating controller for your chemical storage tank.
The Digital 2XTC Tank Heating Controller
The 2XTC Tank Heating Controller, by HTD Heat Trace, is the most complete and versatile tank heating controller in existence. It is specifically designed for heating systems that need process temperature control with high limit temperature protection. And as a digital controller, it provides significant advantages over standard analog boxes.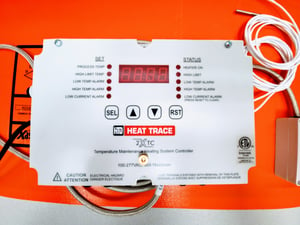 SPX Tank Heating Systems are specifically designed for temperature maintenance on
Poly Processing's polyethylene tanks. SPX Tank Heating Systems maintain the desired
product temperature, not to exceed 100F. Each heating system consists of tank heating
pad(s) and a temperature controller. The controller comes in a NEMA4X/IP66 polycarbonate enclosure so that it can be safely used indoors or outdoors.
The heating controller is convenient to monitor, whether you're up close or away from the chemical storage tank. High-visibility LED lights indicate the process sensor temperature, over-limit sensor temperature, and heater current using a simple Settings menu. Alarms and system status can be paired with remote monitoring systems, so you'll always know if the temperature or current has gone out of acceptable range. Two controllers may be used for larger tanks or for redundant systems if necessary.
Please reference the SPX Tank Heating System installation, operation and maintenance manual here.
Product Features
The 2XTC heating controller comes with industry-leading features that other systems don't match, including:
Process temperature control with high-limit protection
100-277 VAC, 50/60 HZ, 30A
Use with up to 6 SPX heating pads
Simple operation and customizable presets
High temperature, low temperature, and low current alarms
Alarm contact for communication with customer systems (NO or NC, selectable)
NEMA4X, IP66, polycarbonate enclosure
4-20mA retransmission output
Two RTDs
cETLus-approved for use in the USA and Canada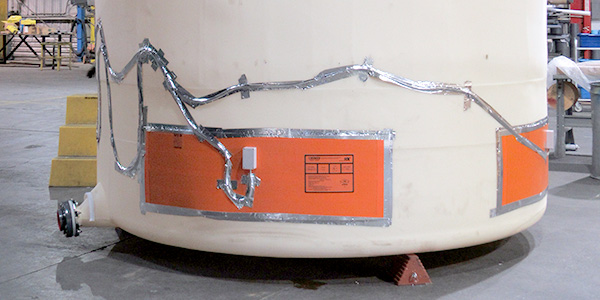 The Digital Advantage
The 2XTC is a digital heating controller, which provides important advantages over other tanks that are still using analog controllers:
Digital temperature reading replaces hard-to-read analog dials.
High and low temperature limits can be reset in seconds by pushing a couple buttons. No need to unscrew and replace control dials with preset locks.
4-20mA retransmission output allows you to use remote monitoring.
A single digital box can handle either 120V or 240V. Analog systems require a different box for each.
When it comes to protecting your stored chemicals from low temperatures and over-heating, you can't do better than the digital heating controller that Poly Processing provides. HTD Heat Trace's 2XTC is the best controller in the industry, giving you peace of mind that your chemicals are always within the proper temperature range.