Crosslinked Polyethylene Pharmaceutical Chemical Storage Tanks Outperform Stainless Steel
Poly Processing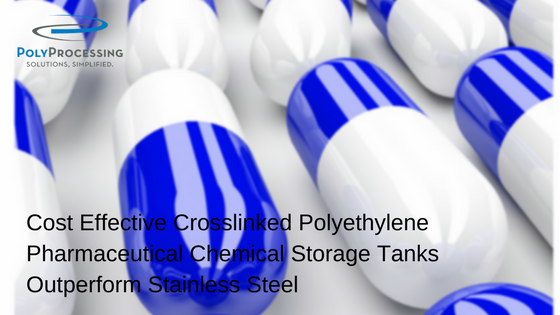 The pharmaceutical industry has a history of using stainless steel storage tanks due to the belief that the resins in a polyethylene storage tank would allow leaching and bacterial growth with pharmaceutical products. But stainless steel tanks have drawbacks. Because they can contain chemical attack points, the tanks require expensive coatings and ongoing maintenance and inspection. Seams and welding spots are especially prone to compromise.
Thanks to advanced resin technologies, high-density crosslinked polyethylene (XLPE) tanks offer cost-saving advantages that are compliant with the FDA. These resins make Poly Processing Company one of the most trusted tank design and manufacturing companies for the pharmaceutical industry.
XLPE Tanks for Pharma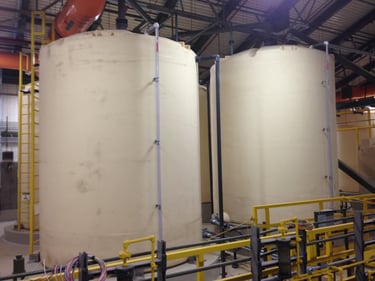 The most important priority for pharmaceutical storage tanks is to keep stored chemicals debris-free and clean, and to prevent absorption into the tank. Our exclusive OR-1000™ system with XLPE tanks prevents bacterial growth because there aren't any small areas inside the tank where bacteria could grow. During the manufacturing process, the crosslinking of the polymer chain essentially makes the XLPE tank one giant molecule—there are no seams or weak spots.
The OR-1000 system adds a protective barrier on the inner surface of the XLPE tank, which is molecularly bound together with the polyethylene. The result is a cost-effective solution, and the OR-1000 treatment requires very little ongoing maintenance or inspection.
Pharmaceutical companies across the nation are using Poly Processing tanks for the following applications:
Pre-production storage
Post-production storage
Product mixing
Wastewater treatment
Recommended Tank Configurations
There are several possible tank solutions available for pharmaceutical storage, but the two most popular solutions are:
A vertical tank with an Integrally Molded Flanged Outlet (IMFO) system. This is ideal when a single-wall system will suffice.
A SAFE-Tank, for double-wall containment, which proves helpful when secondary containment is required but space is tight.
Both systems are compliant with FDA regulations and both are available from all three of our manufacturing facilities in Louisiana, California, and Virginia.
Using the IMFO System for Pharma Product Storage
Poly Processing's Integrally Molded Flanged Outlet (IMFO) system gives you a complete full drain of the stored chemicals. The IMFO is molded while the tank is processing, at the lowest point of the tank sidewall, making it a stress-free part of the tank. The flange is molded from the same material as the tank and allows excellent clean-in-place (CIP) access without needing confined space entry.
IMFO tanks are cleaned using a high-pressure sprayer or spray nozzle from the top of the tank, alleviating the need for personnel to enter the tank. For normal usage, we recommend cleaning the tanks annually, but they can be cleaned more often as necessary.
Dual-Containment Tanks for Pharmaceutical Storage
Our "tank within a tank," or SAFE-Tank storage tank, gives you peace of mind and reliable environmental care. With the SAFE-Tank, there's no need to build large, high-maintenance concrete containment areas. The all-in-one design features a protected containment area that safely isolates pharmaceutical products from contamination, protects your employees, and protects you from environmental remediation—all within the footprint of a standard vertical tank.
We normally equip the tanks with stainless steel fittings, based on your needs. You can also attach double-contained piping to the SAFE-Tank.
Wastewater Treatment Storage
Every large pharma manufacturer needs to have a wastewater treatment plant before they release into the sewer. The chemicals you store for wastewater treatment play a major role in determining what kind of storage tank you should use.
Download our white paper, The Complete Chemical Storage Guide for Wastewater Treatment for comprehensive information on making the right choice for your needs.
No matter what your application requires, a high-density crosslinked polyethylene tank could meet and exceed your needs in the pharmaceutical industry.
Contact a chemical storage tank system expert today to get your questions answered.
Tech Talk Podcast Episodes
Tank Configurator

Find the recommended tank and system components for your chemical storage challenge.
Configure a Tank Package