Need a Polyethylene Chemical Tank Fast? How to Get a Quick Turnaround.
Poly Processing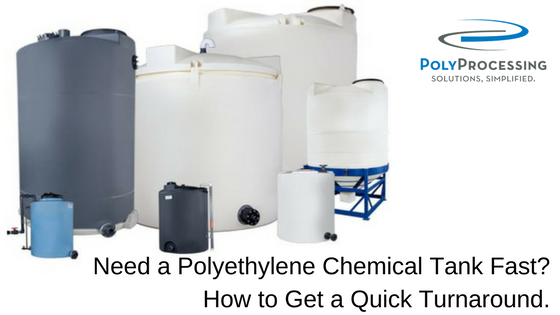 Need a new chemical tank right away? We're no strangers to fulfilling tank orders with quick turnaround times. We've helped companies who need a storage tank fast, for all sorts of reasons—another linear or FRP tank has failed and they need to replace it immediately, or they forgot to place an order and they're in a rush to get a tank right now.
Whatever the case, we can work with you to deliver a new tank as quickly as possible.
How Quickly Can Poly Processing Deliver a Tank?
The details of the tank system itself will determine how quickly we can manufacture and deliver it. Several factors are at play—for example:
Does the tank need drawings?
Will it require heat pads or other special accessories?
What type of assembly is required—are there fittings, fill lines, reverse floats, etc?
Normally, we can deliver polyethylene chemical tank orders within 8-10 weeks, which is among the fastest fulfillment times in the industry. Steel tanks can take months, and fiberglass tanks typically take a 3-4 months from order to delivery.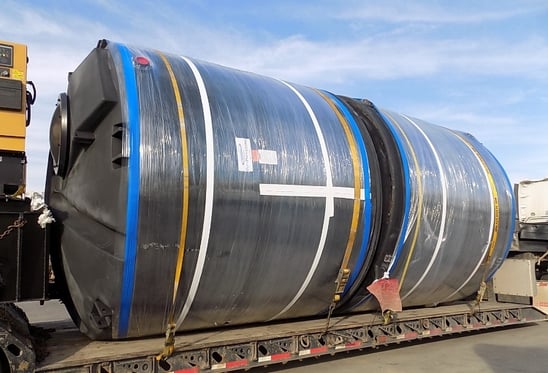 If you need to expedite the order for an even quicker delivery, we can often address that on a case-by-case basis. Our operations department will look at each situation before we take the order to let you know exactly what to expect and what will be needed to fulfill your order.
In some cases, we may already have a tank in stock that can serve your needs. This option can be the best solution in an emergency. Since an inventory tank won't need to go through production, it can ship almost immediately.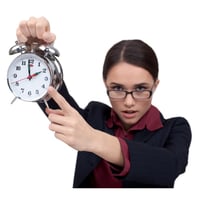 How to Order a Chemical Tank for Quick Turnaround
It's easy to place a quick turnaround order on a chemical storage tank. You can easily request a quote online or configure a tank by submitting a request on our website. We'd also suggest following up with a phone call at 866-PolyXLPE to ensure we have all the information required. Be sure you know the chemical application the tank will be used in.
For more on how to configure your polyethylene storage tank system, contact a chemical storage tank expert today.
Tech Talk Podcast Episodes
Tank Configurator

Find the recommended tank and system components for your chemical storage challenge.
Configure a Tank Package