Six Essential Resources for Chemical Storage Success
Poly Processing
When companies come to Poly Processing, they aren't just looking for the best chemical storage tank options. Our customers also trust us for some of the most reliable information in the industry. We're dedicated to helping you store your materials safely and effectively.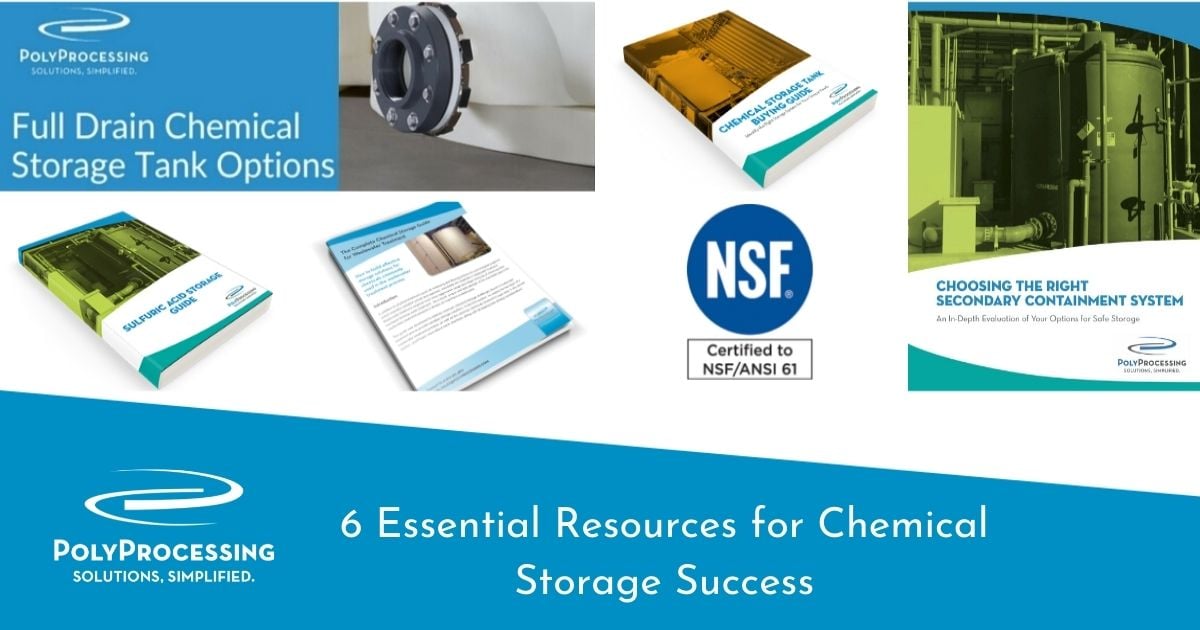 To help you get the most out of your chemical storage system, we've published a series of six ebooks on chemical storage. Together, the series covers a breadth and depth of chemical storage issues that draw on our five decades in the industry.
Here's what you'll find in each Poly Processing chemical storage ebook.
Chemical Storage Tank Buying Guide
Identify the right storage system for your unique needs.
Proper tank design is crucial to successful safe chemical storage. Poly Processing has over 50 years in the chemical storage industry. We not only offer the tank materials and technologies you need, but we also offer the advice that's integral to choosing the right tank, tank materials, fittings and accessories that will give you the greatest useful life possible.
Because we offer so many options, it's vital to design the proper tank configuration for the safety of your employees, the protection of the environment, and the return on your investment. Many companies come to us thinking they have a specific chemical storage tank already picked out. As they begin talking with our sales team, they realize that the tank they had in mind won't meet their needs.
This tank buying guide will walk you through aspects of tank design that you should consider throughout the purchasing process.
Full Discharge Chemical Storage Tank Options
Discover the value that a true full discharge can offer your chemical storage system and what options you have when choosing a full discharge for your polyethylene tank.
Proper chemical storage involves the ability to completely discharge a tank of all the contained chemicals as part of a regular maintenance and cleaning routine. Sometimes, fully discharging the tank is easier said than done. Space constraints, incorrect fitting placement, or dealing with hazardous chemicals can all create chemical evacuation challenges.
These challenges might lead someone to ignore regular tank maintenance. Here's why full tank discharge is important and how having a full tank discharge system can help to reduce maintenance time.
NSF/ANSI 61 Certification Decoded
Ensure your chemical storage tank system meets NSF/ANSI 61 certification.
In most cases, each component of a public water treatment system is subject to meeting certain criteria. The most important standard may be NSF/ANSI 61 certification. However, many people are confused about what it is and what it covers.
This ebook introduces you to NSF/ANSI 61 and provides details for ensuring your chemical storage tank system meets the proper requirements.
Choosing the Right Secondary Containment System
Secondary containment is an important safeguard that helps plant operators mitigate the risks associated with chemical spills. The system normally consists of a primary container, which is surrounded by a secondary container or a wall. If the primary container fails and a chemical leaks, the secondary system prevents the chemical from spilling out beyond the barrier.
Secondary containment systems can prevent costly damage to equipment and physical risk to employees and nearby residents. Poly Processing offers complete containment solutions that are built to handle your specific application.
In this ebook, we'll walk you through the different secondary containment systems available, and help you understand which one is the best choice for your containment needs.
Sulfuric Acid Storage Guide
If you're one of the many manufacturers who handle sulfuric acid, you know how important it is to store it safely. Mishandling this highly corrosive chemical could cause severe damage to your workforce and to the surrounding environment.
With so many variables to consider, where do you begin to research sulfuric acid storage solutions?
Whether you're already familiar with storing sulfuric acid or you're just getting acquainted with it, you could save yourself some time and effort by reading this guide.
The Chemical Storage Guide for Wastewater Treatment
Build effective storage solutions for chemicals commonly used in the wastewater treatment process.
Chemicals are essential in wastewater treatment. Wastewater treatment requires even more aggressive usage and larger amounts of chemicals than municipal drinking water treatment. As a result, proper and safe storage of the chemicals used in the wastewater treatment process is always an important consideration.
This guide was developed to address common chemical storage challenges found in wastewater treatment and to provide cost-effective storage solutions. In the first section, we outline the five steps of a typical wastewater treatment process, as well as the common chemicals involved in each step. In the second section, you'll learn more about each chemical, along with its appropriate storage considerations.
Tech Talk Podcast Episodes
Tank Configurator

Find the recommended tank and system components for your chemical storage challenge.
Configure a Tank Package