Tank Expertise at the Click of Your Mouse
Poly Processing
For over 50 years, Poly Processing has been known as the trusted leader in the chemical storage industry. We've earned a reputation for technological innovation, which is built on a robust knowledge of chemical storage engineering and manufacturing.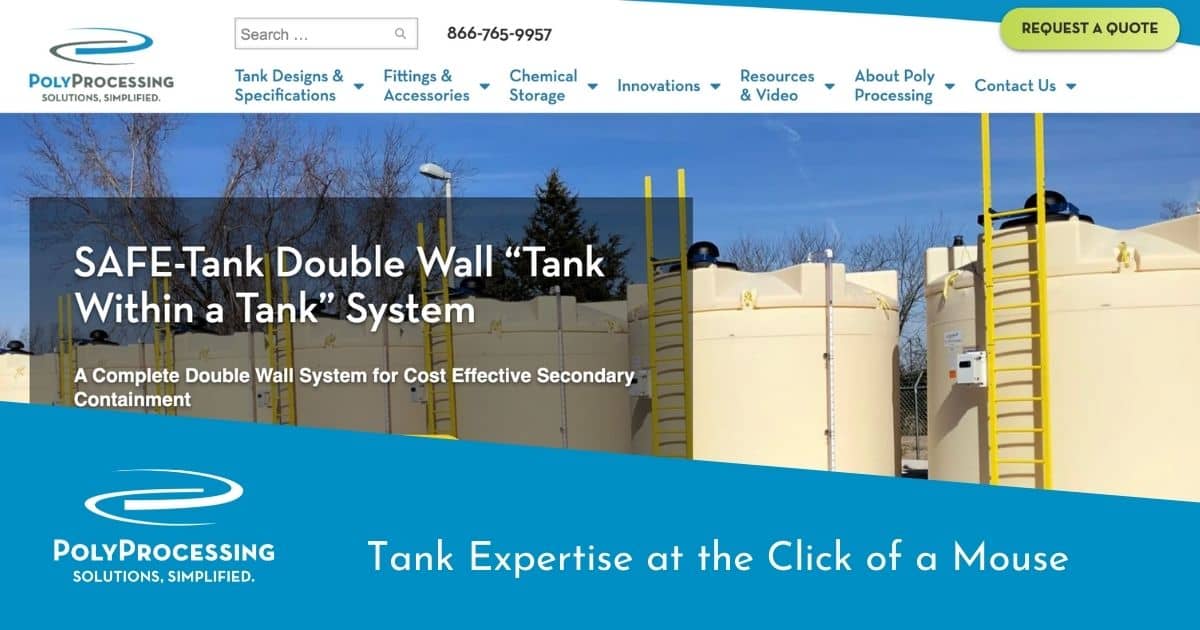 Our new website is dedicated to sharing that expertise with our customers. Because the more you know about the chemicals you're storing — and the tank systems you're using — the better equipped you'll be to protect your inventory, your workers, and your bottom line.
We've recently redesigned our website to help tank designers, engineers, and customers alike. Let's highlight some of the changes.
Meet Poly Processing's New Website
The new and updated Poly Processing website offers richer insight into Poly Processing Company's product offerings and technical support.
We're very happy with the new website and the robust information it provides for our customers and visitors. Explore around and you'll notice a clean and uncluttered design with improved functionality and enhanced content that's focused on your needs.
Some of the great new features you'll discover include:
A redesigned Home page. The Home page has been completely restructured and refreshed to help you find the right information faster and to give you a better browsing experience.

A new Innovation page that features our industry leading innovations all in one place. Use this place as your hub for finding the industry's cutting edge chemical storage solutions.


An updated chemical resistance guide that delivers current information and peace of mind at your fingertips. Get a better understanding of the compatibility of specific chemicals with our polyethylene tanks and accessories.


The latest product information, including:
Powerful search capabilities so you can find the answers you're looking for fast and easily.


Improved mobile compatibility. If you're like most of our customers, you need access to chemical storage information wherever you may be. Get the answers you're looking for at your desk or on the go.
Raising the Bar of Customer Experience
Poly Processing is dedicated to unparalleled storage safety that you can count on, as well as an exceptional customer experience. We're constantly striving to meet your chemical storage needs and to create better solutions that are safer and last longer.
Just as we continually raise the standards of the industry, we're also committed to giving you the best online experience. Our clients' needs and feedback drive our storage system innovations, and they drive our website as well. You have our promise to give you the best experience, whether you're speaking with our specialists or visiting us online.
Tech Talk Podcast Episodes
Tank Configurator

Find the recommended tank and system components for your chemical storage challenge.
Configure a Tank Package