For over 40 years, Poly Processing has been known as a trusted leader in the chemical storage industry. We've earned a reputation for technological innovation, which is built on a deep knowledge of chemical storage engineering and manufacturing.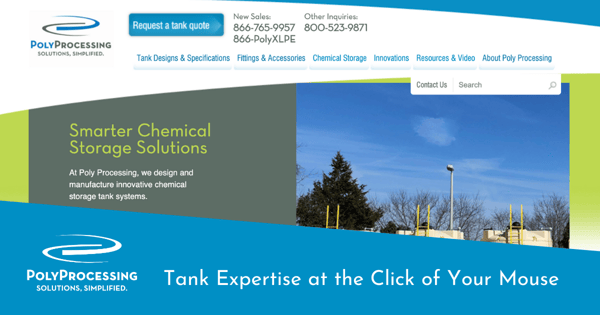 Our website is dedicated to sharing that expertise with our customers. Because the more you know about the chemicals you're storing — and the tank systems you're using — the better equipped you'll be to protect your inventory, your workers, and your bottom line.
We've recently made some new updates to our website that were designed specifically to help tank designers, engineers and customers alike. Let's go over a few highlights.
Tank Designs and Specifications
We've added Freight On Board information back to each tank, which you can see on the Tank Designs and Specifications tables. As an added bonus, our spec tables are now sortable for easier viewing.
Double Wall Tank System Information
We've added videos and updated links on our double wall tank system page.
Poly Processing's SAFE-Tank® double wall tank system is a "tank within a tank" that provides secondary containment to avoid damage to equipment or property, loss of chemical, or injury to employees in the event of a spill. The double wall tank replaces the need for concrete containment and frees up your chemical storage options.
Markets We Serve
Poly Processing chemical tanks aren't only used for water and wastewater treatment applications. Companies across a wide range of industries nationwide rely on our storage systems to protect their chemicals on a daily basis.
Check out the list of markets we serve to learn how Poly Processing's solutions can help your company find the right chemical storage solution within your industry.
Chemical Resistance Table
The more you know, the better your storage solution. Poly Processing is continually adding resources to help equip you to store your chemicals knowledgeably and safely. We've created a vast amount of content for the most common chemicals our customers interact with.
You can access chemical-specific content easily by selecting a chemical on our Chemical Resistance page. If the chemical has a hyperlink, you can learn more about the substance and download the chemical position statement.
Poly Processing is dedicated to storage safety, as well as operational- and cost-effectiveness. We're continually raising the standards of the industry and developing new and better storage systems that are based on client needs and feedback. We're constantly striving to meet your chemical storage needs and to create better solutions that are safer and last longer.