Poly Processing has just made our product line card available online. Newly updated with the latest information and our most popular core offerings, the product line card gives you an at-a-glance overview of the industry's most innovative chemical storage products.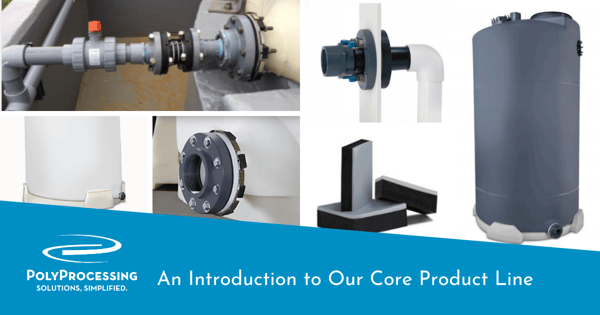 What's Included
The product line card comes packed with full-color photos, advantages that each product offers, and contact information for taking the next step. We've also added a QR code for each product, so that you can get more in-depth information in a flash.
Featured Products
Poly Processing's product line card features the following products.
Crosslinked Polyethylene
Crosslinked Polyethylene (XLPE) is a thermoset resin that's engineered to provide a broad range of chemical resistance, while simultaneously demonstrating the physical properties required to meet the most demanding installations.
Linear polyethylene molecules are connected like a rope—the individual threads of fiber are twisted together, but not tied. Cross-linked polyethylene is high-density polyethylene that has molecules that are linked together. Picture a chain-link fence where the metal links are actually bonded or welded together.
The result is a plastic that possesses impact resistance, tensile strength and resistance to fracture that linear polyethylene can't match.
IMFO® System
Poly Processing's Integrally Molded Flanged Outlet, or IMFO system, the flange is molded while the tank is processing, making it a stress-free part of the tank — not an accessory that's added after production. There are no internal leak points, and no metal fittings to make it susceptible to oxidation. Since the flange is at the bottom of the tank, full discharge is possible below the tank knuckle radius, which can eliminate the need to enter the tank for cleaning.
The IMFO System is available in a slope-bottom design as well.
SAFE-Tank®
The SAFE-Tank is a double walled tank that provides built-in secondary containment. This "tank-within-a-tank" system keeps contaminants from entering the interstitial area, allowing you to use any leaked material if you choose to. The system's secondary containment design ensures that any leaks won't cause damage to equipment or property, loss of chemical, or injury to employees in the event of a spill.
Enhanced Bellows Transition Fitting
The Enhanced Bellows Transition Fitting is designed for use with SAFE-Tank systems. The fitting gives you safe bottom discharge from the double-wall polyethylene tank, while maintaining the integrity of the containment. With the Bellows Transition Fitting, you have safe chemical discharge from the primary tank, while also allowing for tank expansion and contraction due to temperature variations and filling and emptying.
OR-1000™ System
Poly Processing's exclusive OR-1000™ system was specifically designed to address the aggressive oxidation effects of sodium hypochlorite, sulfuric acid, and hydrochloric acid by adding an additional chemical barrier between XLPE and the chemical. OR-1000's engineered system is specifically formulated to resist oxidation. Its outer surface is made of XLPE for superior strength. The two surfaces are molecularly bound together during the rotomolding process, creating a truly seamless bond between the XLPE and the inner surface.
B.O.S.S.® (Bolted One-Piece Sure Seal) Fitting
Designed specifically for the OR-1000, this one-piece sure-seal fitting prevents leaks and adds value to your tank installation. Available in PVC and CPVC back ring, its one-piece design reduces the seal point to a single gasket, and its polyethylene construction ensures chemical compatibility. Its back-ring design reduces stress on the fitting and makes it three times stronger than similar plastic fittings.
Discover the Poly Advantages
Learn more when you download Poly Processing's easy-to-share product line card. You'll get a quick introduction to each of these products and discover the advantages of each innovation.