Better Storage Solutions for Growing Craft Breweries
Poly Processing
Since 2015, the number of breweries in the U.S. has increased by almost 50% to over 5,500 breweries. As the industry becomes more crowded, the competition among beer makers is also increasing. That means craft breweries need to find more cost-effective ways to scale their business.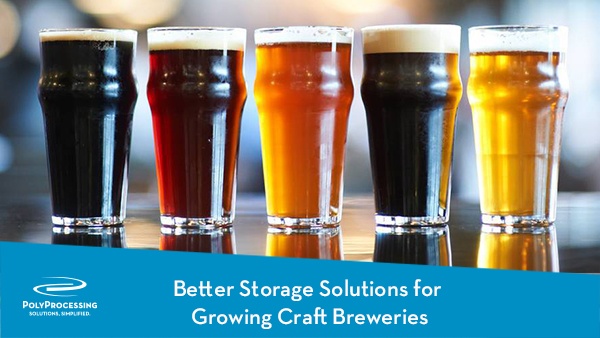 Stainless steel tanks are the traditional choice for storing the materials for making beer. But innovative breweries are beginning to realize the business benefits of polyethylene storage tanks.
Tank Solutions to Help You Scale Your Brewery
Looking for an affordable way to scale your business? Poly Processing's crosslinked polyethylene (XLPE) tanks provide an ideal storage solution for craft breweries. Our storage tanks give you more capacity than totes, at a fraction of the cost of stainless steel tanks. Tank sizes range from 500 gallons to 13,650 gallons—ideal for the needs of the small specialty microbrewery.
Successful craft breweries use Poly Processing tanks to store:
Water: Poly tanks store purified water and re-purified wastewater before it's released into the sewer system. To ensure water purity, your storage tank should meet ASTM and NSF-61 standards. Our high-density polyethylene tanks deliver safe storage of pure water without leeching.
Clean-in-place: High-purity acids and cleaning agents are needed to clean the brewing process equipment to ensure quality and prevent bacterial growth. Our XLPE, OR-1000™ and specialty food and beverage grade fittings give you a customized clean-in-place storage solution.
Dry ingredients: At the start of the process, Poly Processing tanks are used to store yeast, hops, barley and other ingredients.
Additives: Additives are used in the brewing process to adjust the pH levels of the water to maintain consistent quality. Additives are also used post-brew to balance pH levels for discharge into the wastewater system. Crosslinked polyethylene tanks provide affordable storage for decades.
Aren't Stainless Steel Tanks Better for Breweries?
Stainless steel tanks are popular with breweries because they look shiny if your customers will see them. But for the tanks that aren't in public view, XLPE is a smarter choice. Steel tanks are more porous than the OR-1000, and that means bacteria can find a place to grow in the tank. More importantly, our tanks can be drained completely. This makes it quicker and easier to get the next batch started, so you'll have a shorter production downtime.
Stainless steel tanks are also a greater expense. Polyethylene offers flexible, cost-effective storage to help you scale your business more economically. Here's why XLPE tanks make more business sense:
Initial cost—Polyethylene tanks cost on average one-fifth as much as a comparable stainless steel tank.


Scalability—Poly tanks are available in a variety of sizes, from 55 gallon to 13,650-gallon tanks. As your brewery grows, cost-effective tanks in a variety of sizes are available for fast delivery.


Mobility—Poly tanks are lighter and easier to move. For small batch, fast-growing craft brewery operations, this is a key advantage in responding to market demands.


Delivery time—A poly tank can be ordered and delivered typically within 4-5 weeks. A stainless steel tank requires 20 weeks or more for delivery.


Bacterial resistance—It's absolutely critical to prevent bacterial growth in your storage tanks and process equipment. Dry ingredients such as yeast, hops, and barley must be stored in full-drain tanks. Poly Processing's exclusive OR-1000™ system effectively minimizes bacteria growth within the tanks. As a result, these engineered polyethylene tanks provide the same quality as stainless steel storage tanks for a tenth of the cost.


Full-tank drainage—A Sloped Bottom IMFO® tank or a Vertical IMFO® tank gives you full-tank drainage for a more thorough cleaning without entering the tank. As a result, tank cleaning is safe, fast, and easy without the risk of confined space entry.

We can provide a more cost-effective solution for your craft brewery so you can scale up more easily and more quickly as your business grows.
Don't Plastic Tanks Change the Taste?
Some breweries are reluctant to use polyethylene tanks because they think that the plastic will give off a taste and aroma that gets absorbed into the product. Flavor is critical and it demands uniform taste and consistency in every batch of beer brewed.
The fact is, there is absolutely no difference in taste or aroma when you use an XLPE tank. And that's especially true with the OR-1000. The IMFO system also passes the purity standards required during the actual brewing process. We wouldn't be able to meet FDA requirements if our tanks affected your product in any way.
Handpicked related content: Dairy, Food, and DEF Storage Tanks That Outlast Other Solutions
The Right Storage Solution for Growing Breweries
Steel tanks have an aesthetic look that customers enjoy, but when it comes to storage tanks that aren't in public view, crosslinked polyethylene is a better business choice.
Find out more about how polyethylene storage tanks can be used for brewing processes. Contact a storage system specialist for a custom-tailored solution for your craft brewing operation.
Tech Talk Podcast Episodes
Tank Configurator

Find the recommended tank and system components for your chemical storage challenge.
Configure a Tank Package