Chemical Storage Tank Restraint Systems: How Important Is a Third Party Engineer?
Poly Processing
In locations where chemical storage tanks are subject to earthquakes and heavy winds, tank restraint systems are critical. A proper tank restraint system prevents the tank from sliding or tipping over. Tank restraints prevent against damage to the tank itself, and a potential costly environmental cleanup from a spill.
Support from a Qualified, Licensed Third Party Engineer
A qualified third party engineer provides the design and certification stamps of all Poly Processing tanks requiring a restraint system. Even in areas of the United States with minimal seismic or wind activity, we typically see specifications for restraints. Obviously, in earthquake prone regions, such as California, seismic restraints are a major concern.
A tank located outdoors anywhere in the United States will require the proper restraint clips and cables to prevent against wind damage. Wind restraint systems meeting 2012 International Building Code requirements withstand winds up to 150 mph.
Compliance with IBC Requirements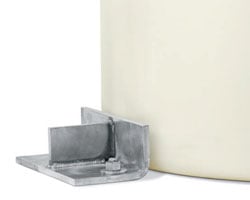 The International Building Code (IBC) replaced the Uniform Building Code (UBC) in the United States in 2006. The code requirements of IBC typically change every two to three years. Also, a particular state may have code requirements exceeding IBC standards.
For over twenty years, Poly Processing has used the same third party engineering firm to conduct seismic and wind restraint design and code stamps. The engineers are trained in reading and keeping updated in the code requirements. This is especially helpful as the code changes quite often. Wet stamped calculations can be provided for all 50 states.
Site Specific Solutions and Answers to Calculation Questions
Each restraint system calculation and design is conducted based upon the actual physical address where the tank will be installed. Unique scenarios, such as tanks located above grade, in tight confined spaces, and minimal concrete foundations can be addressed with special engineering and calculations.
Occasionally, a reviewer will have questions regarding the engineer's restraint system calculations. We are able to send these questions right back to the engineer who did the calculations. The third party engineer handles these inquiries directly and is able to clarify and respond to the request.
Two Final Questions
A question we hear is: "Why are the restraint systems so conservative? They seem like overkill." Based upon historical data of our tanks surviving several major earthquakes in California, we feel it's better to be safe than sorry. Our goal is to deliver an industry leading, long-lasting, safe chemical storage solution.
Finally, customers sometimes ask: "If I have a five year old tank and the IBC code changed in the past two years, do I need new restraints?" Typically, new restraints are not required. However, on any replacement tank, the restraint system may need to comply with the latest IBC code.
Proper seismic and wind restraints are a key component in operating a safe, long-lasting chemical storage system. The third party engineer ensures that the design meets the current IBC requirements to give the end user Peace of Mind. The third party engineer also backs the restraint system calculations, and handles any questions with the IBC reviewer.
If you have any questions about seismic or wind restraint system requirements, please contact a Poly Processing Company storage system specialist.
Tech Talk Podcast Episodes
Tank Configurator

Find the recommended tank and system components for your chemical storage challenge.
Configure a Tank Package