Discover the Most Comprehensive Video Library in the Chemical Storage Industry
Poly Processing is the leader in innovative chemical storage solutions, but our customers deserve even more. A quality product is only one important part of our service to you. We also take seriously our responsibility to equip our customers to be successful with the chemical storage solutions they purchase.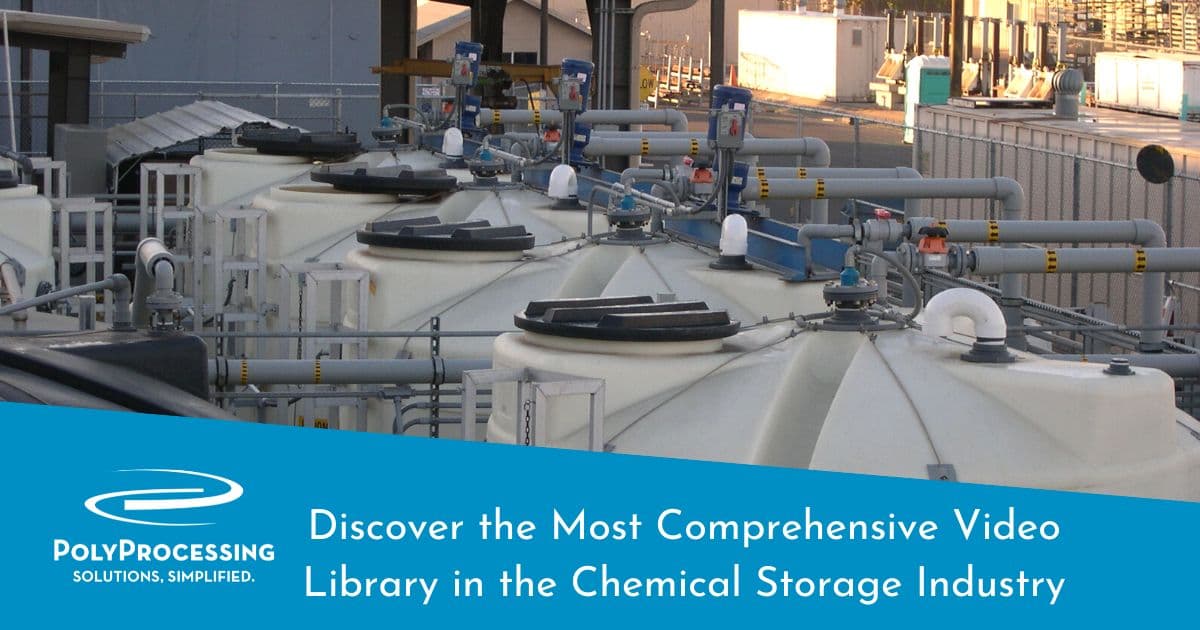 That's why we strive to be the leader in customer resources. The Poly Processing website is essentially a comprehensive resource library that's stocked full of industry-leading insights, drawings, and guides. We also provide the most comprehensive video library in the chemical storage industry.
The Poly Processing video library is loaded with more than 30 videos, and it's continually growing. It's our mission to give you the content you need for peace of mind and greater ease of use.
If you have a question about Poly Processing's tanks, installation, or maintenance, chances are we have a video that addresses your question.
Poly Processing's Top Videos
We often hear from customers that they love watching our videos. Not only do they appreciate the information, they're impressed by the product performance and the ease-of-use that the videos demonstrate.
Let's highlight some of our most popular videos:
Drop Test
The Drop Test video features three drop tests comparing Poly Processing cross-linked polyethylene tanks to a linear polyethylene tank. The 3,000-gallon rotomolded tanks were fabricated in accordance with the instructions and guidelines highlighted in ASTM D1998-15. This ensured that the tanks met the quality requirements of optimum cure and proper fabrication.
The drop test is exactly what it sounds like: tanks were filled with water and dropped from 15 feet and the cross linked polyethylene tank from 45 feet. The results are stunning and must be seen to be believed.
IMFO Fitting
This video introduces Poly Processing's Integrally Molded Flanged Outlet® (IMFO®) Tank. The IMFO is a homogenous flange system that is molded as part of the tank during the manufacturing process — not as an add-on afterwards. This unique process makes the fitting a stress-free part of the tank, because the flange is created from the same material as the tank.
SAFE-Tank
Meet Poly Processing's SAFE-Tank®, the double-wall tank system that's a "tank within a tank." The SAFE-Tank provides secondary containment to avoid the damaging of equipment or property, loss of chemical, or injury to employees in the event of a spill. With the SAFE-Tank, you don't need concrete berms, and the footprint is no larger than the tank itself. Contaminants can't enter the containment area, which means any leaked chemical can still be used.
SAFE-Tank Installation
This video makes SAFE-Tank installation crystal clear and easy for your facility to do it yourself, with confidence.
Quality Assurance Testing
Get a behind-the-scenes look at Poly Processing's quality assurance tests. Gain confidence and peace of mind that your Poly Processing chemical tank will meet the highest standards in the industry.
Get Equipped for Trouble-free Success
Recently a customer called with a question. He had a SAFE-Tank with a transition fitting and needed help with installation. We pointed him to the installation guide and the two-part installation video. Because the video is easy to view in the field on a mobile device, he was able to follow the step-by-step instructions as he watched. Afterwards, he sent us an email that said the installation was successful and trouble-free, thanks to the helpful video walkthrough.
We're continually looking for ways to bring the knowledge pile closer to our customers. It's one thing to have access to information — it's another thing for that information to be easy to understand, highly valuable, and easy to use. Our goal is to provide valuable knowledge, not just information.
Check out the video library today. If you don't see a video on your particular question or topic, let us know. We're continually working to build out the most comprehensive and valuable video library possible.

Tech Talk Podcast Episodes
Tank Configurator

Find the recommended tank and system components for your chemical storage challenge.
Configure a Tank Package