Crosslinked Polyethylene Storage Solutions For Your Industry - Part 3
Poly Processing
Chemical storage tanks aren't just for wastewater treatment plants. Poly Processing tanks are found in dozens of industries nationwide, from agriculture to manufacturing to pharmaceuticals and beyond. We work with almost any business that uses chemicals. We design and manufacture the right storage tank system for your specific application.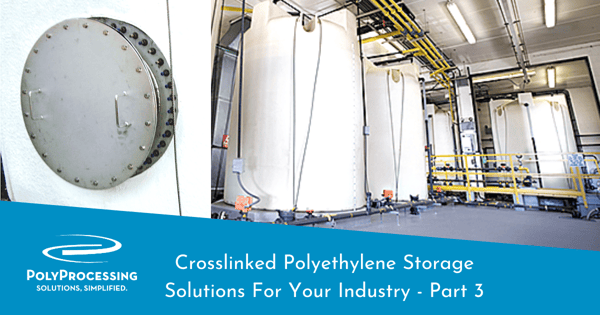 This is the third in a series of articles featuring the markets we serve. In this article, we highlight the storage solutions we provide for two industries:
Food Service

Fats, Oils, and Grease
Food Service Storage Solutions
Once your food production facility outgrows your 300-gallon totes, it's time to look into larger storage tanks for food storage and clean-in-place chemicals.
There are several options on the market to choose from, but you'll need to consider which storage tank can meet your greatest challenges: FDA requirements, full-drain capabilities, and cost-effectiveness.
Poly Processing manufactures industry-leading food grade tanks, including potable water storage tanks. Our cross-linked polyethylene (XLPE) storage tanks are unmatched in the food production industry.
FDA-compliant Storage Tanks
Customers often ask if our food grade storage tanks are FDA approved. The FDA doesn't approve equipment used in food processing, but it has a set of requirements that equipment used in food storage and processing must meet. Our tanks meet FDA requirements.
XLPE vs. Stainless Steel Tanks
Stainless steel is a terrific storage option if you aren't storing a harsh chemical. In many cases, stainless steel is also ideal for meeting pressure and temperature needs. But it's also significantly more expensive than an XLPE tank, and it requires ongoing maintenance. A 500-gallon stainless steel tank can be six times more expensive than a Poly tank, and a 15,000-gallon tank costs three to four times as much.
Standard stainless steel has a more porous inner surface than polyethylene with OR-1000™ and is more prone to bacteria growth, which is an ongoing issue in the food service industry.
Storing Fats, Oils, and Grease
Fats, oils, and grease (FOG) present a major challenge to municipal solid waste and wastewater treatment operations — but it's an issue for restaurants, too.
Many wastewater treatment plants use our tanks for fats, oils, and grease storage before they're processed in their system. We recommend using the IMFO® or Sloped-Bottom IMFO Tanks, with heating pads and insulation to keep the FOG warm enough to flow if necessary. Adding a side manway may make cleanout easier and gives you access to the inside of the tank from ground level.
The Sloped-Bottom IMFO Tank in most cases costs much less than a cone-bottom tank with a welded steel stand and basket, and it will cut the costs of tank upkeep and employee safety over the long-haul. Poly's sloped-bottom tank design allows chemicals and heavier substances, such as sludge and FOG (fats, oil, and grease) to drain more easily. And because it also incorporates the IMFO (Integrally Molded Flanged Outlet) drain at the very bottom of the sidewall, you'll get full drain capabilities. There are very few to no residual materials to clean out in most cases.
The Sloped-Bottom IMFO is a rotationally molded high-density cross-linked polyethylene tank. It is one single piece with no seams. Because the slope and flange are molded directly into the tank, there are no cut in drain fittings and less chance of leaks or stress cracking.
The one-piece construction also enhances the tank's long-term performance, since it doesn't compromise the tank hoop's integrity or structural design.
For more information on storing FOG, download our Fats, Oils, and Grease Guide.
Tech Talk Podcast Episodes
Tank Configurator

Find the recommended tank and system components for your chemical storage challenge.
Configure a Tank Package