Crosslinked Polyethylene Storage Solutions For Your Industry - Part 4
Poly Processing
Chemical storage tanks aren't just for wastewater treatment plants. Poly Processing tanks are found in dozens of industries nationwide, from agriculture to manufacturing to pharmaceuticals and beyond. We work with almost any business that uses chemicals to design and manufacture the right storage tank system for each specific application.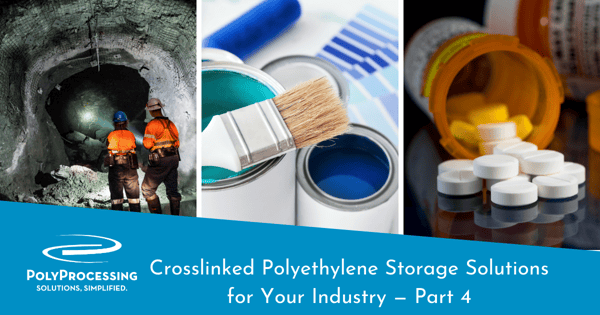 This is the fourth in a series of articles featuring the markets we serve. In this article, we highlight the storage solutions we provide for three industries:
Mining

Paints, coatings, and dyes

Pharmaceutical
Mining
When mining companies leach copper from oxide ore, they typically use concentrated sulfuric acid. This highly exothermic acid presents serious storage challenges, because it's an extremely heavy chemical that will test the mechanical integrity of any tank system.
Poly Processing's OR-1000™ System is built to handle the aggressive chemicals of the mining industry. The OR-1000 systems engineered inner surface is specifically formulated to resist oxidation. Its outer surface is made of cross-linked polyethylene (XLPE) for superior strength. The two surfaces are molecularly bound together during the rotomolding process, creating a truly seamless bond between the chemical storage tank and the OR-1000 system.
This solution provides four times the antioxidant protection, and was designed specifically for applications that use sulfuric acid and other oxidizing and aggressive chemicals.
Paints, Coatings & Dyes
Poly Processing has several engineered solutions that are optimal for paint, coating, and dye storage. The two most popular solutions are:
The IMFO Tank for paints and dyes
Poly Processing's Integrally Molded Flanged Outlet® (IMFO) System gives you a complete full drain of paint or dye. The flange is at the bottom of the tank and the tank floor is sloped, so you get complete full drainage, eliminating the need to enter the tank for cleaning.
Double wall containment
The SAFE-Tank double wall tanks system is our "tank within a tank." This tank option alleviates the need to build large, high-maintenance concrete containment areas. The double wall system features a protected containment area that will safely isolate paints, coatings, and dyes from contamination, protect your employees, and protect you from environmental remediation — all within the footprint of a standard vertical tank. The SAFE-Tank is also designed to accommodate double-contained piping.
Pharmaceuticals
The pharmaceutical industry typically uses expensive and high-maintenance stainless steel storage tanks, due to the belief that a polyethylene storage tank would allow leaching and bacterial growth. But stainless steel tanks have drawbacks. Because they can contain chemical attack points, steel tanks require expensive coatings and ongoing maintenance and inspection. Seams and welding spots are especially prone to compromise.
Thanks to advanced resin technologies, high-density crosslinked polyethylene (XLPE) tanks offer cost-saving advantages that are compliant with the FDA. These resins make Poly Processing Company one of the most trusted tank design and manufacturing companies for the pharmaceutical industry.
The top priority for pharmaceutical storage tanks is to keep stored chemicals debris-free and clean, and to prevent absorption into the tank. Our exclusive OR-1000 system helps prevent bacterial growth because there are no small areas inside the tank where bacteria could grow. During the manufacturing process, the crosslinking of the polymer chain essentially makes the XLPE tank one giant molecule—there are no seams or weak spots.
The OR-1000 system adds a protective barrier on the inner surface of the XLPE tank, which is molecularly bound together with the polyethylene. The result is a cost-effective solution, and the OR-1000 system requires very little ongoing maintenance or inspection.
Pharmaceutical companies across the nation are using Poly Processing tanks for every stage of production, including wastewater treatment.
There are several possible tank solutions available for pharmaceutical storage, but the two most popular solutions are the IMFO tank and the SAFE-Tank. Both systems are compliant with FDA regulations.
Our chemical storage tank experts can help you design the right storage system for your needs.
Tech Talk Podcast Episodes
Tank Configurator

Find the recommended tank and system components for your chemical storage challenge.
Configure a Tank Package