Custom Built Polyethylene Products: Where Do They Come From?
Poly Processing
With all of the uses for polyethylene, there are many companies and plants that need rotationally molded products not currently offered by manufacturers. Thankfully, working with a specialist to build a custom built solution is a viable option in order to manufacture a unique product that meets your exact specifications.
The Role of Latest Innovations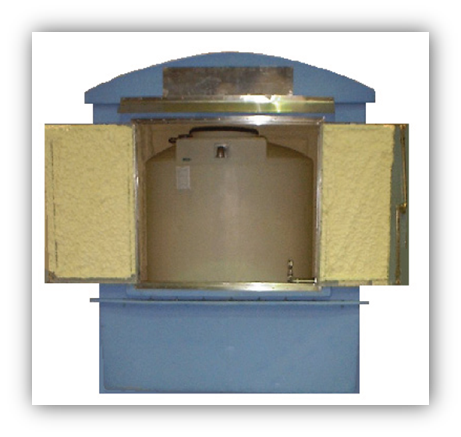 Today, rotationally molded products can be made from a variety of materials, using different technologies. In fact, the versatile plastic, also referred to as polyethylene, isn't the only material we use to manufacture custom product models. New materials, such as high-density cross-linked polyethylene (XLPE), allow us to build some of the safest and most durable tanks for storing chemicals.
Our in-house engineers can design and build nearly any custom product model from XLPE, proven to have 5 times the tensile and impact strength of linear polyethylene, and 20 times the environmental stress crack resistance, respectively.
High-density cross-linked polyethylene products aren't only more resistant, but also more cost-effective than their counterparts, such as products made of fiberglass reinforced plastic (FRP) or linear polyethylene (HDPE).
In order to support fastening where needed, we have adopted technologies that enable mold-in inserts. Additionally, we're able to produce double-wall custom product alternatives, which provide additional safety in handling hazardous chemicals, and even mold in your logo and labels, in durable, multicolor graphics.
Not Just Custom Tanks
While custom designed chemical storage tanks are certainly important, at Poly Processing Company we are also able to manufacture custom products that are not tanks. Any product that might require high performance polyethylene is a potential project we are excited to look at. In the past we've built boats for popular theme park rides and designed a pump house, as seen in the photo. A particularly interesting project to work on was the creation of a dump truck lining.
There are thousands of ways to incorporate XLPE into a unique solution. If it isn't chemical storage you are concerned with, our specialists have acquired years of expertise designing and manufacturing custom projects.
Design and Casting
Not only can our experts design certain custom models from your own specifications; they can also help you determine the right specifications for the products you need. As soon as your designs are finalized, we'll use special techniques to create the necessary molds. Since our manufacturing process employs multiple-cavity ovens and reusable molds, while facilitating quick mold customization, we're able to fabricate models with a short lead-time and at an extremely affordable cost.
Thanks to new technologies , even small production runs are economical. In addition, one-piece custom projects present a superior structural design, which makes them more durable and ensures better performance over the long term.
Sizes and Capacities
Regardless of the custom model you wish to pursue, it's important to know that we produce some of the most versatile rotationally molded products in the world, with capacities ranging from 55 to 15,000 gallons.
If you're looking for exceptional expertise in cross-linked polyethylene for a custom built rotationally molded product, we invite you to contact a Poly Processing specialist today.
Tech Talk Podcast Episodes
Tank Configurator

Find the recommended tank and system components for your chemical storage challenge.
Configure a Tank Package