Not Every Tank Manufacturer Meets ASTM Standards. Does Yours?
Poly Processing
At first glance, most polyethylene storage tanks look pretty similar. It's hard to tell the difference between a robust, well-designed tank and an inferior one. Over the years, we've found that many customers aren't aware of the construction standards for polyethylene tanks, or they believe that all tank manufacturers follow the same standards.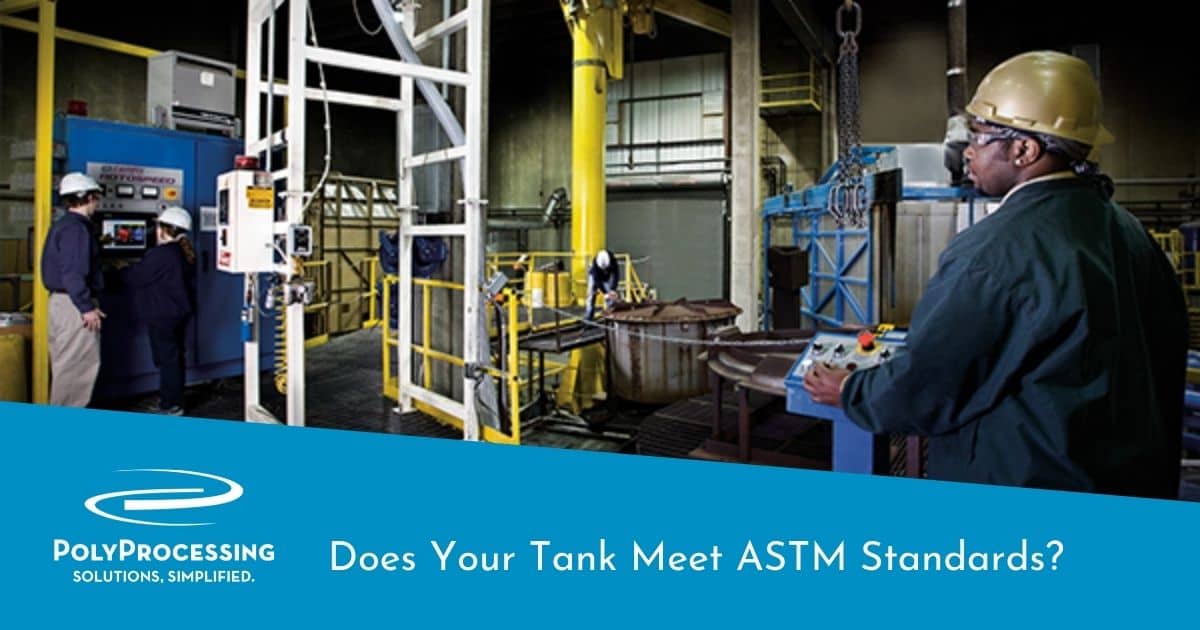 Unfortunately, not all polyethylene tanks are designed to meet industry standards, so it is critical to know what to look for and what you're purchasing. The most important standard for polyethylene tanks is the ASTM D 1998. Here's what you need to know about the ASTM standard.
The American Society for Testing and Materials (ASTM) is a scientific and technical organization dedicated to developing standards related to the characteristics and performance of materials, products, systems, and services. It's the world's largest source of voluntary consensus standards.
Because the standard is voluntary, not every tank manufacturer adheres to the standard's guidelines. And simply meeting the standard isn't everything — it's not an all-inclusive list. Consider the ASTM D 1998 as one of many qualifications when selecting the right tank and manufacturer for your application.
Meeting ASTM Standards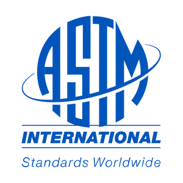 Don't depend on the manufacturer to certify their polyethylene chemical storage tanks. It's important to verify that your particular storage tank has been manufactured according to ASTM D 1998 standards.
Polyethylene manufacturers generate the mechanical properties of their resin from samples, which are compression molded. This optimizes the resin's mechanical properties before manufacturing a tank, but it doesn't represent polyethylene that has been processed using rotational molding. To understand the mechanical properties of a rotationally molded tank, you must test the tank after it has been manufactured.
To provide the proper safety factor, ASTM has determined allowable usable ratings. This gives you a margin of safety and peace of mind that your storage tank can withstand the following stresses:
Potential tank impacts
The weight of the chemical
Temperature fluctuations
The pressures of the chemical


What Are the ASTM Standard Guidelines?
The ASTM D 1998 standard determines through testing how various materials are processed together to form the finished rotational molded product.
For example, to determine acceptable tolerance levels, the mechanical properties of the resins used in polyethylene storage tanks are factored in to accommodate for the weight of the material being stored. ASTM calculates the maximum pounds per square inch of pressure at a real-life level to determine performance numbers.
It's important to examine and understand how stress is actually calculated, and to review wall thickness data sheets from the tank manufacturer to determine if that manufacturer is meeting ASTM D 1998 testing parameters.
ASTM Guideline Tests
The ASTM standard calls for several post-production tests, such as:
Wall Thickness Testing – When using a resin with a 1200 psi hoop stress value, manufacturers must use 600 PSI for a hoop stress rating at 100 F.
Impact Testing – ASTM is very clear about the thickness of the samples, the temperatures to test at, and the height of the impact dart.
Gel Testing – The minimum allowable gel percentage is 60% per ASTM.
The tank manufacturer you are considering should be able to give you these technical documents, data sheets, and manufacturing quality test certificates available for your verification, if required, so you are assured that the tank is designed and manufactured to the highest safety standards.
Poly Processing uses rigorous tests to ensure we meet and often exceed the ASTM standards. Check out this behind-the-scenes video to see what we do:
Know What You're Getting
Always check to ensure your tank manufacturer is using the proper design calculations for the resin and is derating it for higher temperature applications. For example, if they don't apply the standard, in theory they could select any hoop stress rating from 0-1200 PSI.
Saving a few hundred dollars on the upfront cost of a tank could end up costing you many more thousands of dollars if a catastrophic tank failure occurs because your tank was poorly engineered and constructed.
Tech Talk Podcast Episodes
Tank Configurator

Find the recommended tank and system components for your chemical storage challenge.
Configure a Tank Package