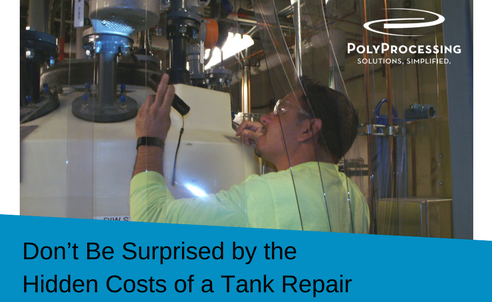 When you purchase a chemical storage tank, you're making choices that affect the cost of the tank. But, you're also making several decisions that could impact future expenses if a tank repair or replacement is needed.
No matter what tank manufacturer you use, there are costs to replacing a tank that go beyond the tank itself and the shipping costs. If you make the right choices when you buy your chemical tank, you can cut down on the expenses to repair or replace it down the road. That's why it's critical to start with the right tank for the right chemical.
There are several factors you might not consider that contribute to the cost of repairing or replacing a storage tank — no matter who your tank manufacturer is. Let's look at these sometimes overlooked factors that contribute to your total cost.
The Cost of Repairing a Chemical Tank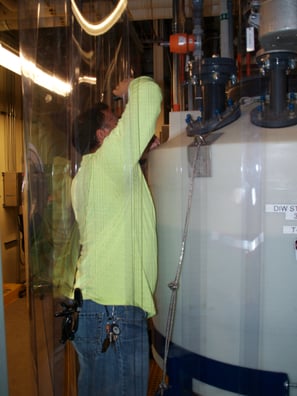 In general, repairing a chemical tank has fewer hidden costs than replacing it, but you should still be aware of them. Your tank manufacturer is likely to charge you these expenses:
Travel costs, including mileage or airfare

Travel time, if the travel is not local

Hourly time for onsite inspection and repair work

Parts not under warranty. Poly Processing's tanks are warranted for five years in general, but fittings are under warranty for 90 days. If your tank or the fittings aren't under warranty, then manufacturers will expect you to cover the cost of those parts.
Your downtime will be an indirect cost to you, as well. In almost all cases, you will need to drain and clean the tank before we can work on it. You'll need to move the remaining chemical to a tanker truck, another tank, or lose the contents of the damaged tank.
Tank Replacement Costs
The cost of replacing a tank can be much higher than the price of the replacement tank, especially if you don't purchase the right tank with the right installation. But if you work with chemical storage experts during the purchasing process, we can help you plan strategically so any future replacement costs are kept to a minimum.
These factors can add to your tank replacement costs:
Temporary day tank
Do you need a temporary tank to replace the old one? If you need the chemical on a daily basis, you should bring in a temporary tank while the new one is being manufactured and shipped. Often, you can purchase a smaller polyethylene tank as a temporary tank.
Backup tank
Sometimes we recommend purchasing a backup tank as well, to ensure that you have redundancy. This may include splitting the needed gallonage into two tanks instead of one large tank. If a failure occurs, you'll still have a tank online so that you can continue operations while the issue is resolved.
Tank removal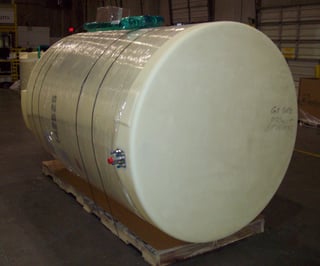 Getting the old tank out of the building can be a large undertaking. A crew will need to disconnect the piping, pumps, and other accessories. The tank will need to be pulled out of the building—or, if it's too large to pull through the doors, it will need to be cut and removed.
Installing the new tank
If the new tank is too large to maneuver through the entrances, you may need to remove the paneling or roofing, and lift the new tank inside the building with a crane.
Should You Repair or Replace Your Tank?
Usually, repairing a tank is less expensive than replacing it. But just because you can repair a tank, doesn't mean you should repair it. Once we've investigated the problem, we'll look at the repair options and determine how well it's going to hold up, versus the cost of replacing a tank.
If a patch will only last for a short time, you're probably better off in the long run by investing in a replacement tank. We'll give you an honest and dependable recommendation that supports your overall business and financial needs. The goal is your peace of mind.
Do It Right the First Time
Replacing a tank can be an expensive venture, but if you plan ahead you can keep your costs down. The Poly Processing tank installation guide helps you think strategically about every aspect of tank installation, including where you should be placing your tanks in your facility. Proper planning is critical to the overall success and longevity of your tank, and your overall costs.
Be sure you buy the right tank, with the right installation. Have conversations ahead of time with Poly Processing, the contractor, and the distributor about where the tank will be placed. All of these factors impact your expenses if there's a tank failure.
Need a chemical tank repair or replacement?
Talk to one of our storage tank experts today
.