Poly Processing works diligently to produce each and every chemical storage tank built to spec. But if a tank isn't installed correctly it could lead to damage, leaks, safety issues for personnel, and a shorter tank life. Everyone should take chemical tank installation seriously.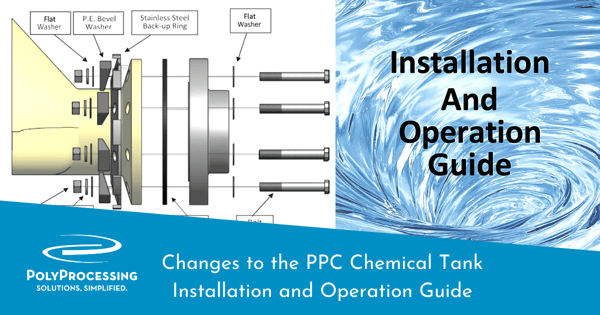 Our customers rely on our comprehensive Installation and Operation Guide to help them properly install each of our chemical storage tanks, and their fittings and accessories.
We've recently updated the chemical tank installation guide to include more detail and instructions. The new installation guide continues to focus on giving installers a simple, yet safe and effective way to correctly install and maintain a tank system.
Chemical Storage Tank Installation Guide Highlights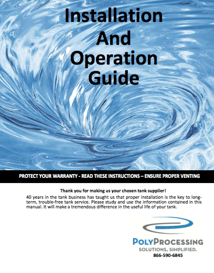 Here are a few important highlights from the Installation and Operation Guide that are critical to understand and follow.
Tank Foundation
When installing the IMFO® tank, only use a PPC polyethylene PolyBase, a polyurethane PolyBase or a monolithic concrete pad with finished edges to elevate the bottom of the tank above the primary floor surface. The pad must be at least 4 inches thick to provide full clearance for the IMFO® flange.
Use a polyurethane PolyBase or a concrete pad when storing fluids with a specific gravity greater than 1.65.
General guidelines to accommodate restraint clips and ladders:
Make sure the foundation is two feet larger in diameter than the diameter of the tank.
If using the IMFO tank, notch the foundation to accommodate the IMFO outlet. Make sure the IMFO neck is supported and there are no valves or heavy piping hanging off the IMFO.
If the tank will have a fixed ladder, include adequate landing for the ladder to prevent injury.
Flexible Connections
Fittings and connecting pipes installed on the lower third of the sidewall of a tank must have flexible connections with the lowest spring rates possible. This mitigates nozzle loading and allows the tank to expand and contract while protecting the tank from pump vibrations.
Pipe supports must be placed AFTER the flexible connection so the tank can properly expand and contract.
Pipes connecting to dome fittings should also be independently supported to eliminate nozzle load. Domes don't require flexible connections, since there is little to no movement on the tank dome when the tank is filled and emptied.
Offloading a Tank
We've added instructions to help you safely offload your polyethylene chemical tank from the freight truck. You can choose from several methods, including a crane or a forklift. Stay tuned for offloading blog coming soon.
Proper Venting
Polyethylene tanks are designed and rated for atmospheric pressure only. Proper venting alleviates pressure and prevents a vacuum from developing as the tank is filled and emptied. The tank installation guide provides configuration information and points to detailed venting guidelines for your chemical tank.
Vital Checklists
Once you've successfully installed your tank, follow the helpful checklists we've provided to ensure that you get the most out of your tank and extend its useful life as long as possible. These instructions are simple and easy to follow. They include:
Startup Checklist
Maintenance Checklist
Annual Inspection Checklist
Warranty Information
As always, reach out with any questions you have about the installation and maintenance of your chemical storage tank. Our goal is securing your personal safety, and ensuring the safety of your investment in a chemical storage tank system.