Chemical Storage: Polyethylene Vs. Fiberglass Reinforced Plastic Tanks
Poly Processing

When considering storage solutions for chemicals, two options available are Polyethylene (poly) and fiberglass reinforced plastic (FRP). FRP tanks are available with numerous interior coatings and a structural layer comprised of chopped glass fiber and resin. Polyethylene storage tanks are either linear polyethylene or high-density crosslinked polyethylene.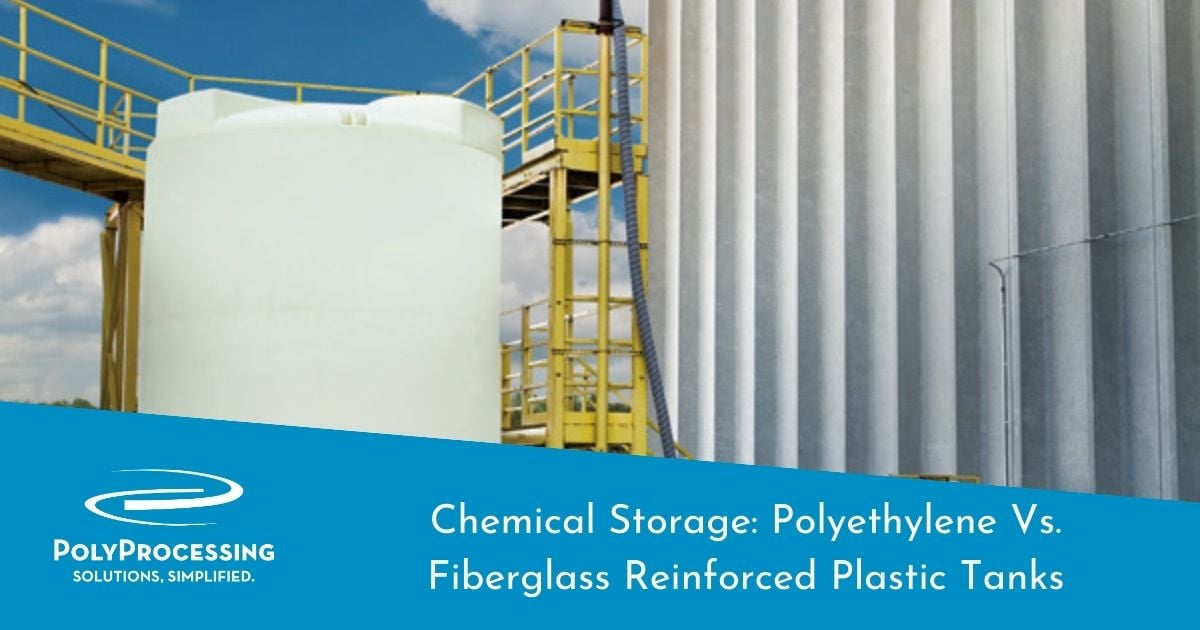 High-density crosslinked polyethylene, or XLPE, is a thermoset resin that is specifically engineered for critical applications like chemical storage. Both poly and FRP chemical storage tanks are available in a variety of sizes.
Let's explore the differences between these two storage tank options.
Fiberglass Reinforced Plastic Tanks
Contain seams - FRP storage tanks are not one-piece vessels, they contain seams. These are weak areas of the tank where leaks tend to occur.


Manufacturing challenges – FRP tanks are handcrafted in production, which is labor intensive and creates opportunities for human error.


Expense of materials – In addition to the challenge of controlling the quality of manufacture, FRP is expensive. Resin rich corrosion barriers designed for common chemicals can increase these costs significantly.


Require increased maintenance - Since FRP storage tanks are subject to leaks at seams and corrosion of the tank develops over time, careful maintenance and inspection of the storage tank is needed, often requiring confined space entry.
Polyethylene Tanks
One piece construction - With a seamless one-piece molded construction, polyethylene storage tanks lack seams where leaks tend to develop.


Ease of manufacturing – Engineered production is controlled by an automated process, eliminating the risk of human error.


Resistance to corrosion - Polyethylene storage tanks, especially high-density crosslinked polyethylene tanks, are highly resistive to break down from exposure to a wide range of chemicals. As a result, expensive coating applications are not required.


Less expensive - Due to lower cost of materials and expense of the manufacturing process, poly storage tanks are lower cost than FRP storage tanks.


Ease of maintenance - Without seams and different interior coatings, and given the corrosion resistance of poly storage tanks, maintenance and inspection to detect leaks is less of a chore.
Now you have the information required to compare fiberglass reinforced plastic versus polyethylene chemical storage tank options for your application. Check out our chemical storage tank buying guide for everything else you should consider when making your decision.
Need a customized solution to your chemical storage needs? Contact a Poly Processing storage tank specialist.
Tech Talk Podcast Episodes
Tank Configurator

Find the recommended tank and system components for your chemical storage challenge.
Configure a Tank Package