How To Find and Use Chemical Storage Tank Drawings
Poly Processing
When choosing and building a chemical storage tank system, design is a critical aspect of the decision. You need to know what your storage tank is going to look like and it's exact measurements for a multitude of reasons, including designing placement of the tank, coordinating fittings, manways, and ladder placement. Neglecting to consider these factors could cost you an extensive amount of money in the long run. We ensure that this is an easy process for you by providing easy access to various types of tank drawings.
We understand the importance of making sure that our clients are equipped with accurate, detailed drawings that are easy to read and interpret. We have the ability to provide drawings for all of our tanks, used to store a multitude of different chemicals.
There are three different types of drawings that we are happy to be able to provide for clients on our site. Let's take a look at each type of drawing, and explore where and how you can find each type of drawing.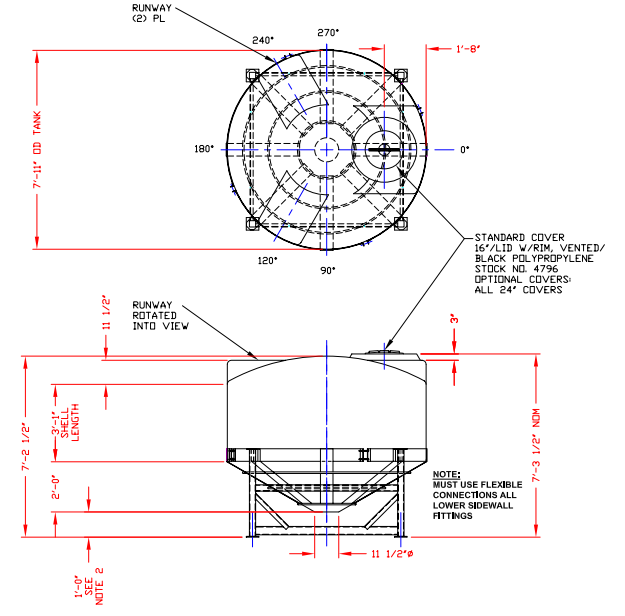 Stock Drawings
The simplest kind of drawing you can use. We've also made the easiest to find. Once you decide what type of tank you will be using (SAFE-Tank, Vertical with IMFO, Cone-bottom, etc.) you can see drawings for all sizes of tanks we have available. These kinds of drawings represent the stock specifications of each kind of tank that we carry. These drawings are excellent for those who want to acquaint themselves with the basic kinds of tanks that we offer, and to view basic measurements. We provide them in PDF or autocad format for your convenience.
Packaged Quote Drawings
If you were to know exactly the chemical you wish to store, as well as the size, and type of tank, but you are not completely sure about what you need for fittings, the packaged quote drawings will benefit you most.
We've gone through all of our Upright, SAFE-Tank, and Vertical with IMFO tanks and most of the major chemicals to compile precise drawings matching your specific chemical needs with your tank of choice. Once you request a quote for your tank, we not only offer you the price of the tank system, complete with the necessary fittings, but we also provide you with a specific tank drawing with those quoted fittings included in the drawing.
These drawings are common for clients who already have an idea of how much of a chemical they need to store or what size tank they are in need of. These are also common drawing types for our clients who are working on a long-term project, such as one that has to meet the storage tank requirements for a municipality or large agency.
Engineering Drawings
Engineering drawings are for customers who already have a strong idea of what type of storage tank is needed for the project. Besides already knowing the exact type and size of your tank, you know where you want your fittings to be located. Generally speaking, you will mark up or edit an existing drawing to show us how you'd like the chemical storage tank to be designed, and then our designers will create a custom drawing.
To complete this process, after you request an engineering drawing, our expert autocad department can usually turn a custom drawing around in three to five business days. With this approach, you get exactly what you need without having to worry about the exact needs of the project not being translated into the drawings.
Getting your drawings done properly is integral to successfully storing the chemicals you want to keep safe. At Poly Processing, we take pride in offering top-notch drawings for all types of clients with all kinds of chemical storage needs.
Get in touch with us today to see how we can help you design the right drawings for your specific storage needs.
Tech Talk Podcast Episodes
Tank Configurator

Find the recommended tank and system components for your chemical storage challenge.
Configure a Tank Package