Proper venting of polyethylene chemical storage tanks is vital for safe operation — it's also critical for maximizing a polyethylene storage tank's effective lifecycle.
Poly Processing's chemical storage tanks are designed to function at atmospheric pressure per ASTM-D 1998, the industry standard for producing vertical polyethylene tanks. During pneumatic offloading from a tanker truck, offloading pressures can exceed 30 psi, resulting in high ACFM rates.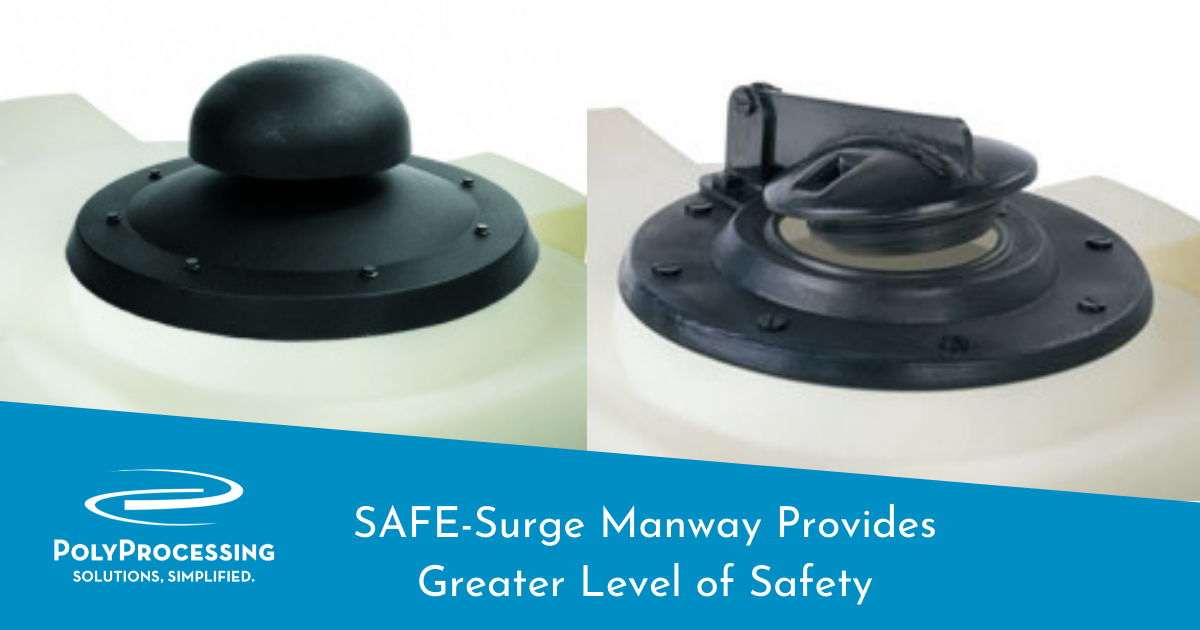 Under this scenario, standard venting designs aren't adequate to release the pressure. To protect against an over pressurized chemical storage tank, you should consider one of our innovative tank vent lid solutions.
Poly Processing offers two tank lids to alleviate chemical storage tank pressure: The SAFE-Surge® manway cover and the F.S. 2650® manway tank lid cover. This article looks at the SAFE-Surge tank lid.
Manufacturing Update
We know that delivery times are critical to our customers. That's why we are working diligently to ship every order within 8-10 weeks. FRP tank manufacturers and many poly tank manufacturers are giving their customers a 22-36 week plus shipping window based on lack of raw material sourcing, Covid-19, etc. At Poly Processing Company we deliver your product in one fourth of the time.
Before you order an FRP tank, make sure the manufacturer gives you the price and leadtime up front. If you don't get price and leadtime up front, you could be in for a rude awakening.
Trusted, consistent, and expeditious, Poly Processing's rotationally molded crosslinked tanks are by far the toughest polyethylene tanks offered to the chemical market. With our 8-10 week delivery window, we strive to deliver peace of mind and an ease of business to each and every customer. Call us at 866-765-9957 and let us help you, we understand response time!
---
SAFE-SURGE® Manway Cover Chemical Storage Tank Lid

The SAFE-Surge is an emergency pressure release lid designed specifically for pneumatically filled tanks. It's ideal for indoor tanks when standard venting is designed to evacuate fumes outside the building.
The SAFE-Surge lid is designed as a backup to your primary vent. It comes into play when surges in air pressure are strong enough to possibly damage the polyethylene tank. The system works by actuating a weighted lid on a swing arm when air pressure surges beyond .25 PSI.This ensures atmospheric pressure is maintained at all times.
While the tank is equipped with its own vent fitting, the SAFE-Surge chemical storage tank lid provides that added level of safety required for all pneumatically-filled tanks without scrubbers.
More than 7500 SAFE-Surge vent lids have been installed nationwide.
SAFE-Surge Performance
Poly's SAFE-Surge manway covers ensure that your tank maintains the proper ACFM at all times – even in the event of air surges that can't be handled by primary venting. This system was designed specifically for pneumatically filled tanks. SAFE-Surge:
Provides for an added level of safety to your primary venting.
Releases at a approximately 6-inch water column to prevent over-pressurization.
Features an easy inspection port.
Is available for 19- and 24-inch manways.
This cover is REQUIRED in pneumatic filling operations, excluding scrubbers and tanks with the F.S.2650 manway cover installed. Learn more about the F.S.2650 manway cover.

For tank venting specifics, please refer to these

tank venting requirements

.


For more information and questions about specific chemical storage tank venting requirements, contact a Poly Processing chemical storage system specialist.