When You Should Choose an F.S. 2650 Manway Cover
Poly Processing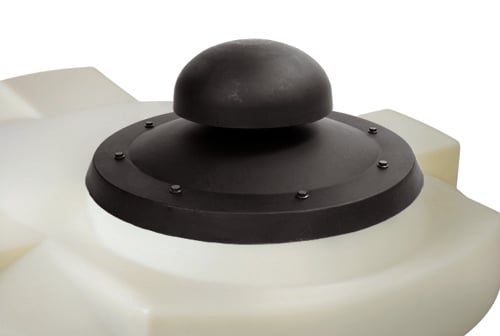 Pneumatically-filled tanks must be properly vented to avoid offloading pressures, which increase the tank interior pressure beyond the ASTM-D 1998 regulation allowances. The right manway cover can provide the venting required to avoid this situation, but it can be difficult to know exactly which type to choose.

Here at Poly Processing, we offer two manway covers that are applicable to this scenario - the SAFE-SURGE manway cover and the F.S. 2650. We've outlined the benefits of each, and we've talked about the features of the F.S. 2650, but let's explore when it's best to use one manway cover over another.
What These Chemical Storage Manway Covers Have In Common
Both chemical storage tank lids are designed to ensure the tank maintains atmospheric pressure and release the proper air per cubic feet per minute at all times. This is important, especially in the event of over pressurization, which normally occurs when pneumatically-filled tanks send air through the inlet. If the manway cover isn't designed to handle up to 30 psi of air, the tank can become damaged. Both the SAFE-SURGE and the F.S. 2650 provide venting to protect against the tank becoming over pressurized. There are differences and situations where the F.S. 2650 is a better choice. Let's take a look at the differences between the two.
The SAFE-SURGE Manway Cover vs. F.S. 2650
The SAFE-SURGE manway cover has many benefits, including:
offers easy inspection port into the tank
comes in different manway cover sizes
provides secondary venting for an added level of safety
However, the SAFE-SURGE manway cover cannot act as the tank's primary venting mechanism. This means that when this lid is in use, a vent will also have to be installed somewhere else in order to ensure proper ventilation.
The F.S. 2650 is a manway cover with a built-in vent that acts as primary venting. This solution is used to prevent over pressurization in tanks that store chemicals in locations where fuming is not a concern. The benefits of the F.S. 2650 are:
acts as primary venting as well as cover
provides access for tank inspection via the removable vent dome
includes a screen that prevents birds, bugs, small animals, debris and other things from getting into the vented section of the lid
Each of these manway covers are reliable and cost-effective solutions that aim to prevent over-pressurization of your chemical storage tank. After all, any lid or cover is much less expensive than replacing a tank that has failed due to improper venting.
To find out which manway cover is best for you and your specific application, talk to a chemical storage expert.
To get a closer took at the difference between the F.S. 2650 lid and the SAFE-SURGE lid, download our comparison brochure.
Tech Talk Podcast Episodes
Tank Configurator

Find the recommended tank and system components for your chemical storage challenge.
Configure a Tank Package