For nearly 50 years, Poly Processing has been the industry leader in chemical storage tank manufacturing. But until now, our customers were limited to tanks that were 13,650 gallons and that was from a single manufacturing facility.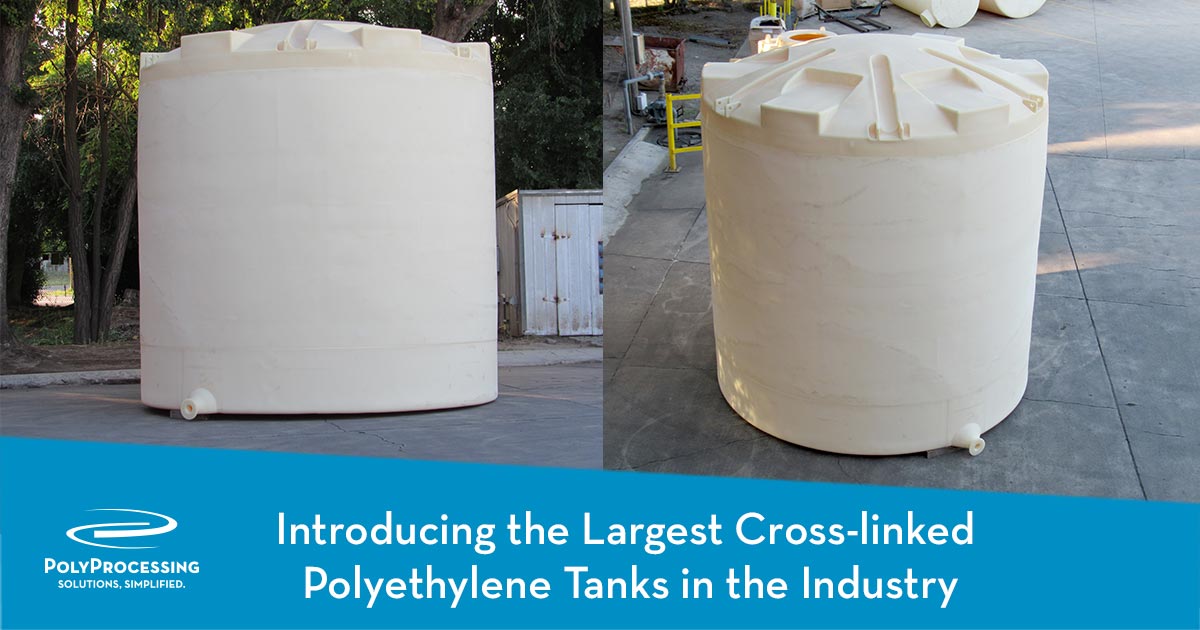 But not anymore. Poly Processing is pleased to announce a lineup of six new 13'-9" diameter tanks. These tanks represent the best engineering and design in the tank manufacturing industry, and they are covered under PPC's industry-leading warranty.
The following new sizes are now available:
15,500 gallon vertical tank


15,500 gallon vertical IMFO tank


15,000 gallon Sloped Bottom IMFO tank


13,650 gallon vertical tank


13,650 gallon vertical IMFO tank


13,200 gallon Sloped Bottom IMFO tank
View the specifications & Download the 13'-9" tank drawings
These are the largest cross-linked polyethylene tanks manufactured for chemical storage. When it comes to the Poly Processing robust tanks you have come to expect, these are built the same. When you combine the best cross-linked resin available with state-of-the-art molds and manufacturing machinery, nothing beats it.
Good News for the Industry
This announcement is good news for the industry for three reasons:
You asked for it. Our customers prefer cross-linked polyethylene (XLPE) over fiberglass chemical storage tanks. However, when the application required a larger tank, in some cases they had to settle for FRP. Now our customers have a choice.


The tanks are designed to last. These 13'-9" XLPE tanks are built for a long lifetime of reliability and usefulness. The diameter-to-height ratio is perfect for rotationally molded tanks. You can keep large amounts of fluid without too much head pressure or hoop stress on the tank wall. As with all of our products, our tanks are designed and built to handle your chemical storage needs.


You'll cut your ongoing costs. Upgrading to 13'-9" tanks allows you to get more product delivered. In some cases, the new tanks can hold 3-4 tanker trucks full of chemical depending on what material is being delivered and stored. That means fewer deliveries, and it saves you money.
In addition, the larger tank diameter allowed us to design the dome so that you can install multiple fittings, if necessary. This introduces a tremendous advantage to your chemical storage options.
Full-Drain Options
Need a full-drain chemical storage solution? Each of the 13'-9" tanks is available with the nationally recognized IMFO and Slope-Bottom IMFO fittings.
In addition to being easier and safer to clean, IMFO tanks are more reliable over time. IMFO tanks offer a low risk of compromise to the structural integrity of the sidewall. The flange is molded as part of the tank and not added on later like some bulkhead fittings or metallic inserts.
We recommend the sloped-bottom IMFO tank for heavier materials such as FOG (fat, oils, and grease) and sludge. The additional gravity feed allows these heavier substances to drain more easily, making cleaning even simpler because there's no need for a confined-space entry.
These 13'-9" tanks are available now. Check out the drawings and contact a chemical tank engineer to get started on your chemical storage solution.