What OSHA's New Fixed Ladder Requirements Mean for You
Poly Processing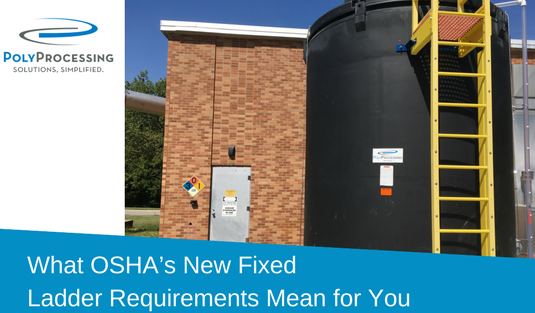 Some chemical storage tank applications require a fixed ladder to get above the tank for inspections, check gauges, and maintain level sensors or mixers. These fixed ladders connect to a walkthrough, or landing platform, allowing you to do your work. Poly Processing does not allow walking on the dome of the tank at any time due to it being plastic as well as a slippery and unstable surface.The Occupational Safety and Health Administration (OSHA) develops policies and regulations to help employers and employees keep workplaces safe and reduce on-the-job-injuries, illnesses, and deaths. OSHA has recently updated their standards for the fixed ladders that are used on chemical storage tanks.
Let's take a closer look at the new OSHA requirements and what they mean for your company.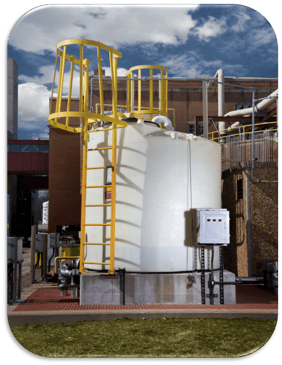 What Are the New OSHA Fixed Ladder Criteria?
The original OSHA requirements stated that the walkthrough at the top of a fixed ladder must have at least 18-inches from inside rail to inside rail. The new OSHA requirement states that the landing platform must have at least a 24-inch opening from inside rail to inside rail. These new substantial requirements will go into effect on January 1, 2018.
Why Is OSHA Making This Update?
OSHA has increased the space required for all workers to easily keep both feet on a solid structure. The average adult is larger than they were when the original fixed ladder requirement was written, and employees need more space to maintain a safe working environment. This will create a safer work environment, rather than having your employees carefully perform a balancing act while doing their work.
The increased space also accommodates extra layers of clothing during the cold winter months.

How Does the Requirement Change Affect Your Company?
The new regulations go into effect on January 1, 2018. At that time, fixed ladders purchased for your facility will need to meet the new requirements.Existing ladders won't need to be changed, so there is no need to retrofit any fixed ladders that are installed before January 1, 2018.
Where Can You Find the New Regulations?
You can find the updated OSHA regulations in Federal CFR 29 Section 1910.23(d). Note that this is a new location for the requirements—they were originally located in section 1910.27.
Have questions? Speak with one of our chemical tank experts to see if you might be affected by this new update.
Tech Talk Podcast Episodes
Tank Configurator

Find the recommended tank and system components for your chemical storage challenge.
Configure a Tank Package