Polyethylene Horizontal Storage Tanks: An Industry Perspective
Poly Processing
While most of the storage tanks that we sell are vertical tanks, we do offer several other options to customers. Vertical tanks simply are not the best solution for every circumstance. Let's look into the three main reasons polyethylene horizontal tanks are a key part of a storage solution and then expand on the use of these tanks in their most popular industry: agriculture.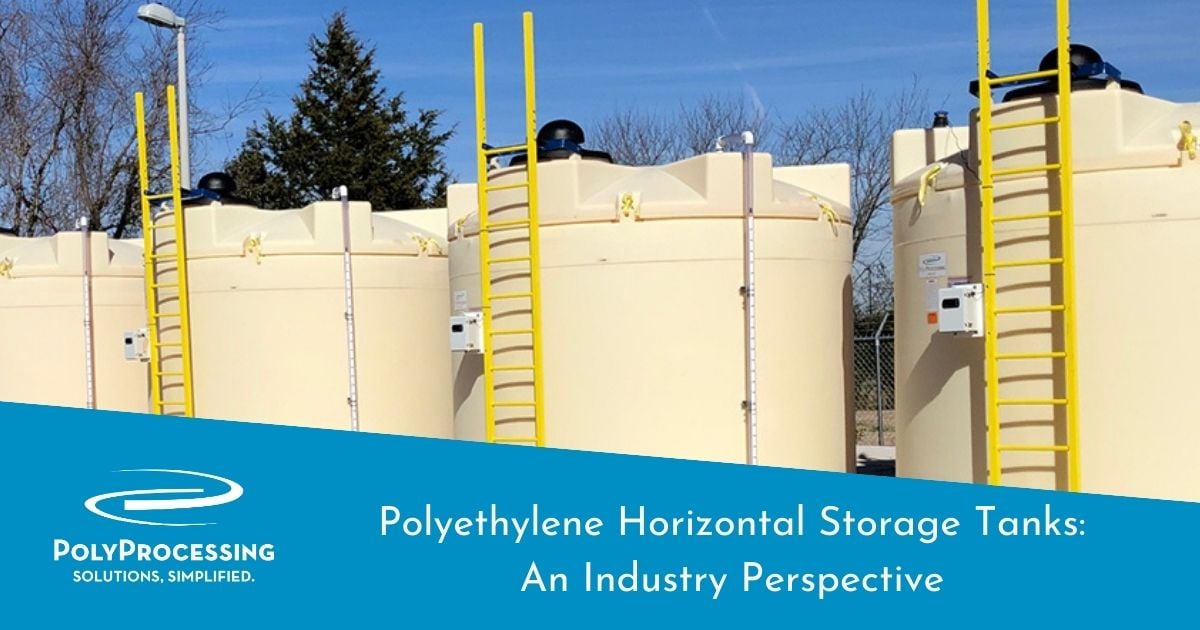 Why Choose A Polyethylene Horizontal Storage Tank?
While there are surely hundreds of reasons some people prefer to use horizontal tanks, most of these can be grouped into three main benefits:
High-density cross-linked polyethylene horizontal storage tanks provide a lightweight, robust material that is ideal when mobility is required, especially if moving the tank happens often.
Horizontal tanks eliminate concerns about height restrictions in confined spaces.
Horizontal tanks are most often the preferred choice for smaller applicator tanks because they are transported often.

Options When Purchasing A Polyethylene Horizontal Tank
Poly Processing offers horizontal storage tanks in a variety of sizes, with two different styles typically used in various industries. The two most common types of polyethylene horizontal tanks are referred to as horizontal leg tanks and standard horizontal tanks with metal stands.
The horizontal leg tanks offer molded in legs to keep the tank from rolling back and forth. There is no metal work and great for those who are cost conscious. The downside is that it is harder to get a full drain out of the tanks as the solution can sit in the tank's legs.
The horizontal tanks with metal stands sit in a metal skid, or saddle, to keep them secure. Although there is a requirement of additional care for the metal itself, these tanks provide easier full tank drainage since liquid is not trapped in the crevices of the molded legs.
Another option to consider is the color of your tank. Most horizontal tanks are used outside, so carbon black might be a viable option. However, a polyethylene horizontal tank in a more natural color is often preferred in an effort to remain cost-conscious. Having a neutral-colored tank means that workers are more easily able to measure the level of the chemical stored in the tank, without the use of a gauge. This is especially important as many horizontal tanks are used as applicator tanks, and have to be refilled from time to time.
Where are Polyethylene Horizontal Tanks Typically Used?
Horizontal tanks are most popular within the agricultural industry, largely due to the variety of benefits discussed. Within this industry, horizontal tanks are used to store and transport liquid fertilizer chemicals, water, and other liquid agricultural chemicals such as pest control applications.
Horizontal tanks are typically smaller sized tanks. This means that they can be mounted and moved easily. In the agricultural world, you can find horizontal tanks mounted on trailers, skids, trucks, or tractors for transportation to the site where the application is required. In addition, they might be mounted on specialty equipment in the field or at a facility.
So why does the agricultural industry love polyethylene horizontal tanks? The ease of transportation is a major factor, but contributing to that is the secure transportation. Our XLPE horizontal tanks offer a robust, impact-resistant material. While polyethylene is strong, it is also lightweight so it's easier to move around.
In addition to the popular and often mobile agricultural uses, horizontal tanks are used in stationary locations where height and space restrictions might dictate the tank size and shape.
The Poly Processing Advantage
Polyethylene horizontal storage tanks are strong and lightweight. They're the perfect durable, cost-effective option when mobility is needed, or small spaces are the only option. Poly Processing manufactures horizontal tanks for whatever your needs might be.
Please contact a Poly Processing tank specialist with any questions you have, or to design a horizontal storage tank system for your operation.
Tech Talk Podcast Episodes
Tank Configurator

Find the recommended tank and system components for your chemical storage challenge.
Configure a Tank Package