PolyGard: What Your Steel Tank Is Missing
Poly Processing
PolyGard™ is a seamless, corrosive-resistant polyethylene lining system for steel tanks and vessels. It's used as a barrier to protect the steel from the aggressive chemicals you're storing—even in the harshest of conditions. PolyGard lets you combine the chemical resistance of polyethylene with the durability and strength of stainless steel.
To truly understand how effective PolyGard is, let's examine what it is comprised of, how it is made, and how it is commonly used.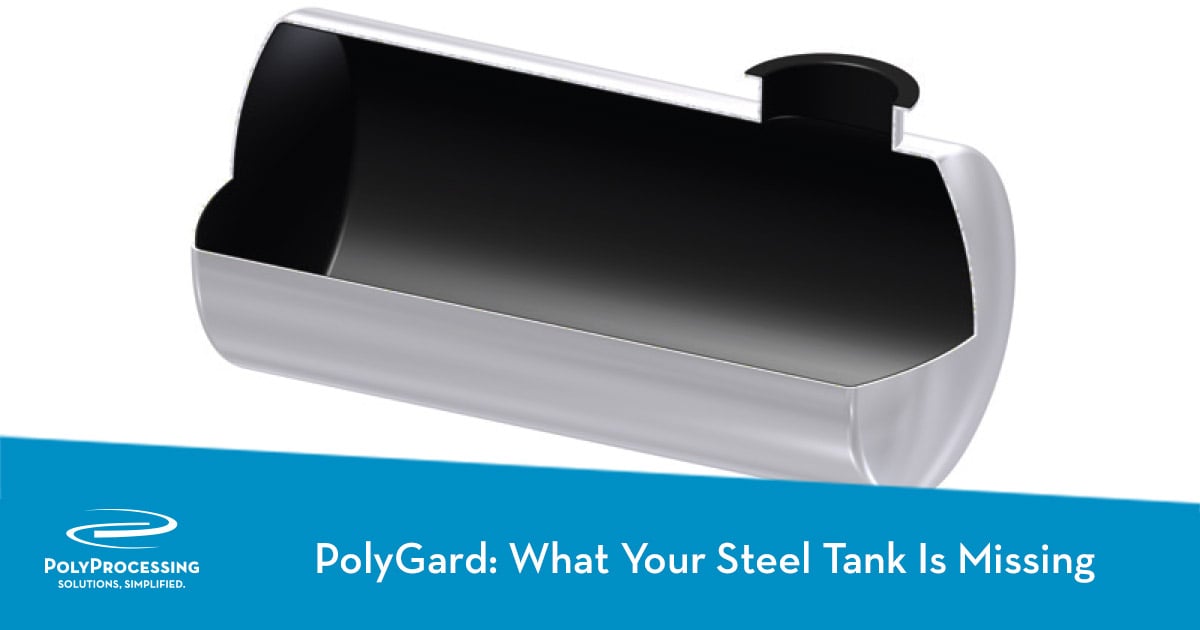 Taking a Closer Look at PolyGard
PolyGard is a medium-density polyethylene liner or coating that has excellent chemical resistance properties. When applied to steel tanks, this lining prevents highly-oxidizing chemicals such as sulfuric acid, hydrochloric acid, ammonia, and other compounds from attacking the steel surface.
As a result, the life of the vessel is extended. PolyGard is ideal for use in high-volume applications to safeguard the integrity of your steel tank, which can be expensive to replace.

How Is PolyGard Made?
We start the process of installing PolyGard liners by preparing the steel vessel to receive the liner. This involves ensuring the vessel is sufficiently clean and preheating it to the necessary temperature. To join the polyethylene to the steel, we rotationally mold and ionically bond a nominal 1/4-inch poly layer onto the inner surface of the steel vessel.
A spark test is performed to ensure no pinholes or voids exist on the coating. The overall process and testing ensures the storage tank stands up for the long run.
Applications for PolyGard
Not every steel tank needs PolyGard. Some common applications that are ideal for PolyGard include:
Storage vessels used in the gas and oil industry, where high-pressure and high-temperature substances are common
Offshore vessels and construction sites, to mitigate the risk of spills that could cause serious ecological damage to the environment
The lining of pipes with larger diameters, to help maintain the integrity of the steel pipe
D.O.T.-approved tanker trailers
The PolyGard medium-density high performance system is a cost-effective alternative to conventional liners like Tenemec, Phenolic and rubber spray-on systems. It's ideal for safeguarding tanks used in high-volume continuous applications, which can be very expensive to replace.
PolyGard FAQs
How long has PPC been lining steel vessels?
We began lining steel vessels during the mid-1980s with a patented process for a Tank Within a Tank using HDXLPE. An inherent problem with HDXLPE is that it would shrink, leaving an "air" gap between the liner system and the steel tank. We have been using PolyGard since 1997.
What chemicals are compatible with PolyGard?
Because PolyGard is modified thermoplastic polyethylene, the chemical resistance is equal to HDXLPE or HDPE.
Can I use different chemicals in the same vessel, like a chemical transport trailer?
Yes. Polyethylene offers a wide spectrum of chemical compatibility. This gives you the opportunity to use one asset to handle a variety of chemical applications. As always, you should follow proper safety and decontamination procedures before introducing new chemicals to your vessel.
Do you have special requirements for the steel tank before you apply PolyGard?
Yes we do. We have a written specification that addresses
Tank identification
Steel tank preparation
Radii requirements
Lining tolerances
Testing procedures
Inspection procedures
Do you provide steel tanks?
While we know plastics, we aren't steel experts. We have relationships with qualified steel suppliers close to our facilities to minimize your freight cost. No matter who builds your steel vessel, our design staff will work closely with them to provide a vessel designed to receive a PolyGard lining.
Is PolyGard impact resistant?
All polyethylenes have very good impact resistance. A 1/4-inch PolyGard sample exceeds 150 ft-lbs at -40º F impact. Many other liners are NOT impact resistant and become very brittle.
What are the temperature limitations?
-40º F to 170º F depending on the application.
What are the PolyGard pressure and vacuum limitations?
Pressure limitations are limited to the pressure rating of the steel vessel. The resin suppliers have not developed any data pertaining to vacuum nor do any of our customers pull a vacuum during their operations.
How do I get a quotation?
Provide a drawing to one of our customer service representatives who will provide you with your PolyGard quotation. This process will take 24 to 48 hours.
If you have a steel storage vessel and are interested in extending the tank life, download our PolyGard guide now.
Tech Talk Podcast Episodes
Tank Configurator

Find the recommended tank and system components for your chemical storage challenge.
Configure a Tank Package