Properly Storing Hydrofluoric Acid in Chemical Storage Tanks
Poly Processing
One of the most popular chemicals that Poly Processing polyethylene tanks store in the market is Hydrofluoric Acid. It's not only a commonly used chemical, it's also one of the more dangerous chemicals. That's why safe and proper storage is so important.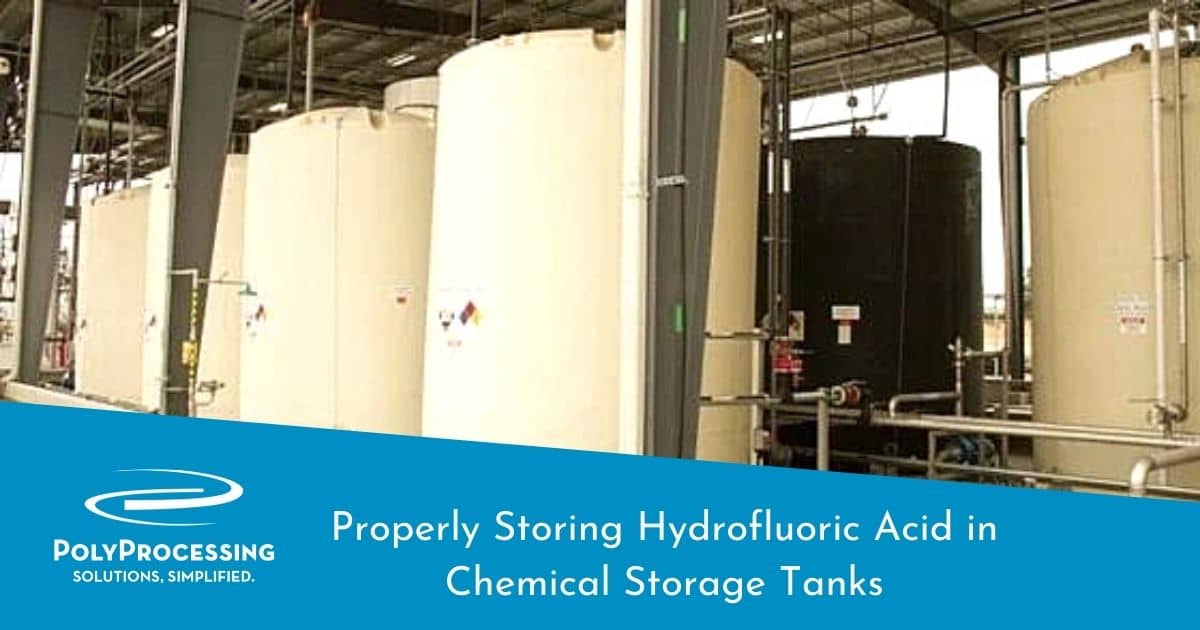 Here's a look at what you should consider when planning for hydrofluoric acid storage.
What is Hydrofluoric Acid?
Hydrogen fluoride mixes readily with water to form Hydrofluoric Acid. For all practical purposes, they are considered the same chemical. Hydrofluoric Acid is used extensively in the extraction, processing, and refining of metals, rock, brick, and oil.
It is an intermediate for many chemical reactions and syntheses. Hydrofluoric Acid is used to remove rust and to etch, polish, and frost glass. It is also used to manufacture silicon semiconductor chips. Lastly, Hydrofluoric Acid is used in commercial automotive cleaners, rust removers, and inhibitors for ceramics and fabrics as well as water spot removers.
In wastewater treatment, Hydrofluoric Acid is used to reduce pH and as an emulsion breaker. As with some of the above uses, the chemical is strong enough to be used on treatment pipes to clean up scaling or rusting.
Reducing Risks When Storing Hydrofluoric Acid
Given the ways it is used, it's no surprise that Hydrofluoric Acid is an extremely dangerous chemical that must be handled with the utmost care.
A corrosive liquid, it penetrates tissue more quickly than typical acids. Toxicity can occur through dermal, ocular, inhalation, and oral routes. Since it alters nerve function, accidental exposure can go unnoticed by the victim, delaying treatment and increasing the extent of injury. It can also be absorbed by the blood through the skin, reacting with blood calcium and potentially causing a heart attack.
The extreme nature of this chemical calls for superior structural integrity—the tank system integrity Poly Processing is known for. Learn how to properly store other corrosive chemicals in polyethylene tanks.
The Poly Processing Hydrofluoric Acid System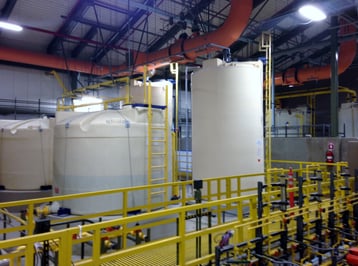 When people's lives are at risk, you cannot take any chances. You need a system that goes above and beyond to prevent contact with the chemicals, reduce leak opportunities, and is designed and engineered to be safe for the chemical stored in the tank.
That system starts with a high-density cross-linked polyethylene (XLPE) tank. XLPE is a thermoset resin that gives customers 20 times the environmental stress-crack resistance, 10 times the molecular weight, and greater impact and tensile strength compared to high-density linear polyethylene (HDPE). Our XLPE tank even carries a full five year warranty.
When working in close quarters, or looking to ensure containment, a SAFE-Tank can help reduce health and environmental concerns due to it being a closed containment system. If a SAFE-Tank is not a possibility, or a necessity, a Vertical or Slope-Bottom IMFO® (Integrally Molded Flanged Outlet®) tank can reduce hands-on maintenance, thereby reducing the risk to your employees.
As you can see, storing hydrofluoric acid properly is critically important. At Poly Processing, we are committed to providing comprehensive storage solutions for it and other potentially harmful chemicals as well.
Hydrofluoric Acid is an NSF/ANSI 61 approved chemical at 52% concentration or less for Poly Processing's tank systems. The tank system is a 1.9 spg. XLPE tank, Polypropylene Fittings, Viton Gaskets, and C-276 bolts.
To get more information on properly storing hydrofluoric acid, download our storage guide.
Tech Talk Podcast Episodes
Tank Configurator

Find the recommended tank and system components for your chemical storage challenge.
Configure a Tank Package