As industries develop innovative solutions to problems, many companies need polyethylene products that aren't being produced by manufacturers. These organizations turn to specialists to design custom-built solutions.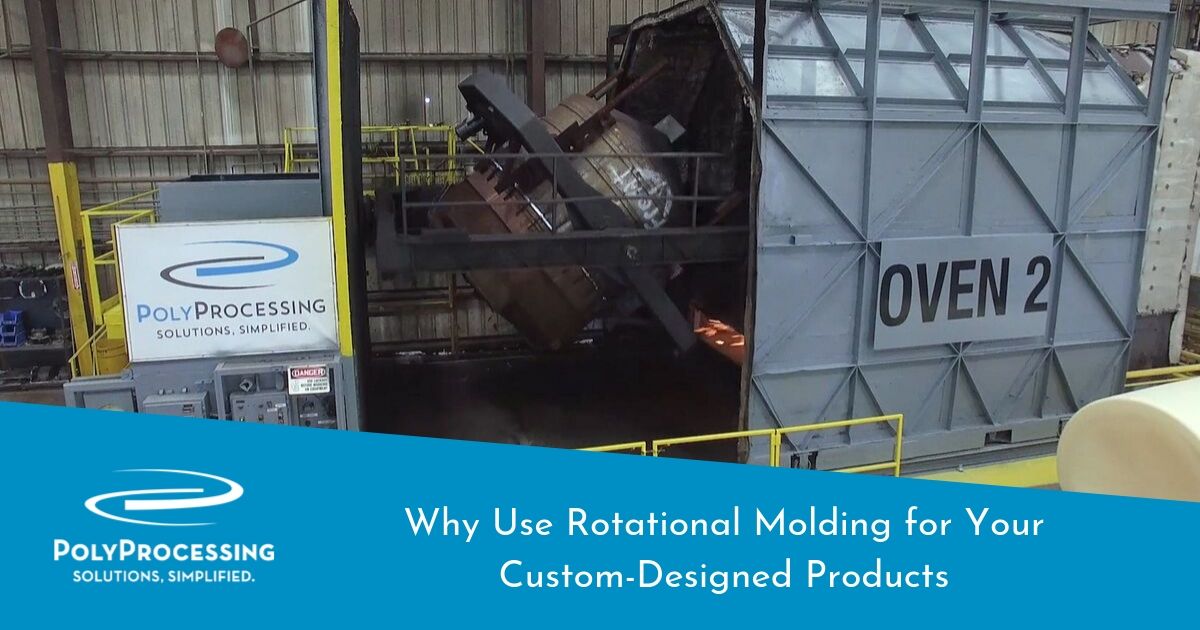 Poly Processing will work with you to create rotationally molded polyethylene products that meet your exact specifications for your unique situations. We have a dedicated engineering team that's ready to help you solve your toughest challenges.
Why Use Rotationally Molded Polyethylene?
Rotational molding involves a heated hollow mold that's filled with a predetermined weight of material. The mold is slowly rotated in an oven, causing the softened material to disperse and stick to the inside walls of the mold. Rotational molding ensures even thickness throughout the product, because the mold continues to rotate at all times during the heating and most of the cooling phases. The process also creates a seamless and stress-free product for greater strength and more durability.
Rotationally molded products can be made from a variety of materials. In fact, linear polyethylene isn't the only material we use to manufacture custom product models. High-density cross-linked polyethylene (XLPE) has five times the tensile and impact strength of linear polyethylene, and 20 times the environmental stress crack resistance.
Not only are XLPE products more durable, they're also more cost-effective than products made from fiberglass-reinforced plastic (FRP) or linear polyethylene (HDPE).
Our in-house engineers can design and build nearly any custom product from XLPE is it is feasible.
Not Just Custom Tanks
As a chemical storage tank manufacturer, we can custom design tanks to meet your specifications. But Poly Processing also manufactures other custom products for companies in virtually any industry. We can help you design and build products that requires high-performance polyethylene. Past projects include boats for popular theme park rides, a pump house, and dump truck beds.
There are thousands of ways to incorporate XLPE into your unique solution. Our specialists have acquired years of expertise designing and manufacturing custom projects.
As with all our solutions, our custom molded products offer:
High-impact strength
Long term durability
Greater chemical resistance
Greater corrosion resistance
Long term weatherability
Reduced maintenance compared to expensive alternatives such as stainless steel, alloy metals, and high-end FRP
Design and Casting
Not only can our experts design certain custom models from your own specifications, we can also help you determine the right specifications for the products you need. As soon as your designs are finalized, we'll use special techniques to create the necessary molds.
Since our manufacturing process uses multiple-cavity ovens and reusable molds, we can fabricate models with a short lead-time at an affordable cost. Thanks to new technologies, even small production runs can be economical.
We can also produce double-wall custom product alternatives, which provide additional safety for handling hazardous chemicals.
Poly Processing is an industry leader in cross-linked polyethylene innovations. For a top-performing custom-built product, contact a Poly Processing specialist today.