SAFE-Tank® Poly Tanks: Chemical Storage Safety Innovations
Poly Processing

When damage to equipment or property, loss of chemicals stored, and injury to employees from spills or exposure to toxic chemicals is a concern in your operation, the SAFE-Tank® polyethylene tank system is an ideal chemical storage solution. SAFE-Tank® provides a "tank within a tank" chemical storage system to safely store chemicals and prevent damage and injury from chemical exposure without the need for an additional containment unit.
How the SAFE-Tank® Works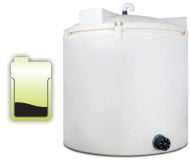 The SAFE-Tank® polyethylene tank within a tank system offers a system that provides a minimum of 110% secondary containment. The system works by allowing chemicals to equalize. This mean if your primary plastic tank has a leak, the liquid is captured by an outer sealed secondary tank. One main advantage is the chemical can be used until the primary tank is drained and inspection to determine the source of the leak can be completed. A unique bellows transition fitting enables the bottom discharge of the double wall polyethylene tank while maintaining the integrity of the containment. With the bellows transition fitting, safe chemical discharge from the primary tank occurs, allowing for tank expansion and contraction due to temperature variations and filling and emptying.
Why SAFE-Tank®?
The SAFE-Tank® poly tank system offers safe storage of a wide variety of chemicals without the expense of needing to construct permanent containment, such as a concrete basin or vessel. This provides flexibility for changing industrial applications. As assembly line configurations change to meet dynamic needs, the business has the ability to move chemical storage without incurring the expense of additional chemical containment structures. SAFE-Tanks are ideal for chemicals that have dangerous exothermic reactions to water that could occur in a traditional containment that will capture rain or wash water.
New SAFE-Tank® Options
Poly Processing has recently added two new SAFE-Tank® sizes designed to provide indoor chemical storage flexibility for changing industrial environments:
250 gallon- fits through a standard 5 foot door.
750 gallon- fits through a standard double door opening.
These tanks simplify installation when new inline chemical additions are required for a given process. Our 55 - 8700 gallon SAFE-Tank® sizes also remain available.
Take a look at the video below for a closer look at how the SAFE-Tank® system works.
Learn more about the benefits of a SAFE-Tank and double-wall piping in our guide.
Tech Talk Podcast Episodes
Tank Configurator

Find the recommended tank and system components for your chemical storage challenge.
Configure a Tank Package