Sodium Hypochlorite Storage - Reviewing Best Practices
Sodium hypochlorite is a well-known and aggressive oxidizer that is used in many applications. Our end-use customers often use "hypo" in the water treatment business to eliminate bacteria and viruses from water supplies.
Anyone looking to maintain a safe and secure storage tank system has three challenges to overcome: UV rays, off-gassing, and oxidation. Over the years, Poly Processing has established a set of industry leading best practices that represent an ideal sodium hypochlorite storage system for overcoming these challenges.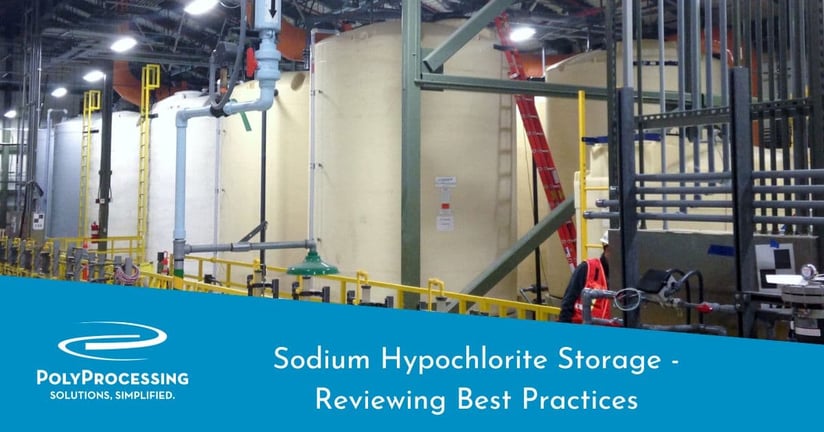 Sodium hypochlorite breaks down from exposure to elevated temperatures and ultraviolet (UV) light. The temperature threshold for breakdown of bleach is typically above 90°F. The hotter the temperature, and the more prolonged the exposure to the heat, the faster the chemical will break down.
In addition, extended UV exposure weathers your polyethylene storage tank prematurely. Without proper treatment or cover, the higher energy spectrum of the UV light causes a compound breakdown of the polyethylene elements, making the polyethylene tank material brittle.
When your chemical storage tank becomes brittle, it can cause micro cracks, which lead to leaks and potential failure of the chemical storage tank. But you can mitigate tank damage and chemical exposure to UV light.
Solutions to Reduce the Risk of Chemical and Tank Exposure to UV
Let's explore three different solutions to protect outdoor polyethylene storage tanks from UV damage.
Carbon Black Resin

Carbon black is a nearly pure elemental carbon. When used as a resin in the molding of the polyethylene tank, carbon black absorbs UV light. Carbon black is a simple, inexpensive solution that acts as an internal stabilizer to your polyethylene chemical tank. The resin absorbs UV energy, transforms it into heat, and dissipates it throughout the tank.
While carbon black polyethylene tanks tend to have slightly higher temperatures than lighter colored or white polyethylene tanks, the UV protection outweighs the effects of the small increase in temperature. Carbon black is the preferred pigment in higher-end applications, especially when storing harsh chemicals such as sodium hypochlorite.
Paint Your Own Tank
Some customers choose to painting their chemical storage tank. A painted tank can reflect the UV rays and help reduce heating. If you paint your polyethylene tank, it's best to do it on-site. This allows the surface to oxidize a bit and also protect it from potential scratches during transportation and installation.
We recommend lightly bead-blasting the tank surface before painting, to ensure the paint adheres. You can also set the tank in the sun for a few months to allow the outer surface to oxidize naturally, then apply the paint.
If you choose to paint your chemical storage tank, be sure to follow proper procedures and to use a paint that won't crack or flake with tank expansion. An acrylic or elastomeric paint is best, because it is elastic enough to expand and contract with the tank.
Painting a polyethylene tank is similar to painting the outside of a home or business. Paint can be applied in the traditional ways using airless sprayers, power sprayers, rollers, or even brushes — but surface preparation is key.
Download our guide for painting polyethylene storage tanks to get the most out of your painted tank.
Insulation and Paint
If you're located in a hot area like Arizona or Florida, we often have customers who insulate the tank to protect it from ambient heat. Insulation does an excellent job of blocking UV rays while maintaining a cooler temperature of the chemical being stored. We apply two inches of insulation and a coating of industrial grade paint at the factory before the tank ships.
This is often an ideal solution for chemicals that degrade under higher temperatures, such as sodium hypochlorite.
Best Practice Around Sodium Hypochlorite Off-Gassing
Sodium hypochlorite typically contains transition metals, such as nickel, iron, and copper. If these build up in a chemical storage tank, you run the risk of creating off-gassing, which can be dangerous to your employees, your environment, and your tank. The best way to prevent this build-up is with a tank that allows for a full drain. This can greatly increase the half-life of the chemical and allows the transition metals to be removed naturally.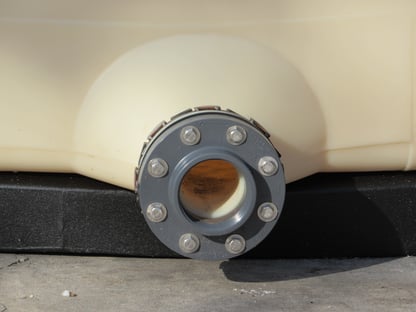 Poly Processing recommends a vertical tank with our Integrally Molded Flanged Outlet, or IMFO® system. The flange is at the bottom of the tank, achieving full discharge/drainage below the knuckle radius. We are able to do this by molding the flange as part of the tank itself during production. The design of the IMFO system contributes to the highest net positive suction head of any vertical non-conical tank.
There's one additional component you will need for your sodium hypochlorite tank in order to ensure it will hold up to the chemical and meet NSF/ANSI 61 certification. That is the OR-1000 system.
How OR-1000 Protects Your Sodium Hypochlorite Chemical Tank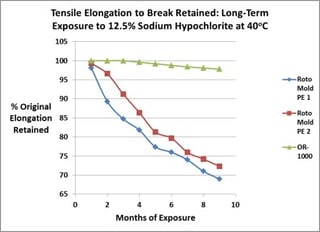 Sodium hypochlorite is an incredibly aggressive oxidizing chemical. Using an antioxidant barrier can more than double the life of your chemical storage tank system and help ensure the safety of the tank.
While traditional polyethylene tanks may fail if storing an oxidizer, an XLPE tank with an inner-surface engineered polyethylene system helps protect your investment long term. We call this our OR-1000 next-generation system, and it provides users four times the antioxidant power of a standard tank material.
OR-1000's engineered resin system is made of polyethylene, specifically formulated to resist oxidation. Its outer surface is made of XLPE for superior strength. The 2 surfaces are molecularly bound together during the roto-molding process creating a truly seamless bond between the XLPE and OR-1000 system.
Additionally, all wetted surfaces, including the IMFO® full discharge/drain, are also covered by this resin, thus eliminating the risk of a potential attack on the structural integrity of the tank system.
The OR-1000 system is an ideal solution to extend the life of your XLPE tank when storing sodium hypochlorite. The technology behind OR-1000 takes the guesswork out of choosing the right storage tank system, and it reduces the risks and maintenance costs of an FRP tank or a high-density linear polyethylene tank. The value, longevity, strength, and durability of the OR-1000 system can handle almost any chemical and stand the test of time.
We've been helping customers store sodium hypochlorite for several decades. Following these best practices will help ensure that your system is built to last and support your application.
Download our Sodium Hypochlorite chemical storage guide for highlights on each component of your tank that you might need.
Tech Talk Podcast Episodes
Tank Configurator

Find the recommended tank and system components for your chemical storage challenge.
Configure a Tank Package