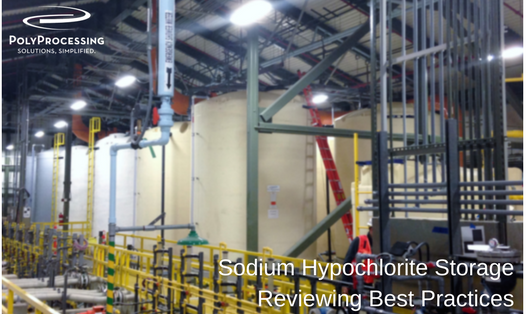 The well known and aggressive oxidizer, sodium hypochlorite, is used in numerous applications. Our end-use customers are often using "hypo" in the water treatment business to eliminate bacteria and viruses from water supplies.
Anyone looking to maintain a safe and secure storage tank system has three challenges to overcome: UV rays, off-gassing, and oxidation. Over the years, Poly Processing has established a set of best practices we feel represent an ideal sodium hypochlorite storage system that overcomes these challenges.
Protecting Sodium Hypochlorite from UV Rays
Of course, the threat of UV rays degrading your supply of sodium hypo is only a threat if your chemical storage tank is stored outside. However, because of its variety of uses it is common to store these tanks both indoors and outdoors.
The chemical structure breaks down when exposed to elevated temperatures (above 90°F) and UV rays. In order to prevent this break-down we recommend a change to the color of your tank. A carbon black tank helps to block out UV rays during the day and and doesn't increase the temperature of the chemical significantly. While this solution is effective for most climates, tanks in certain geographic locations like Florida or Arizona may benefit from additional precautions such as painting or insulation. Discuss your specific application with a chemical storage tank expert to determine the right course of action.
Best Practice Around Sodium Hypochlorite Off-Gassing
Sodium hypochlorite typically contains transition metals, such as nickel, iron, and copper. If these build-up in a chemical storage tank, you run the risk of creating off-gassing, which can be dangerous to your employees, your environment, and your tank. The best way to prevent this build-up is with a tank that allows for a full drain. This can greatly increase the half-life of the chemical and allows the transition metals to be removed naturally.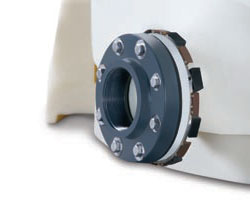 Poly Processing recommends a vertical tank with our Integrally Molded Flanged Outlet, or IMFO® system. The flange is at the bottom of the tank, achieving full drainage below the knuckle radius. We are able to do this by molding the flange into the tank during production. The design of the IMFO® system contributes to the highest net positive suction head of any vertical non-conical tank.
There's one additional component you will need for your sodium hypochlorite tank in order to ensure it will hold up to the chemical and meet NSF/ANSI 61 certification. That is the OR-1000 system.
How OR-1000 Protects Your Sodium Hypochlorite Chemical Tank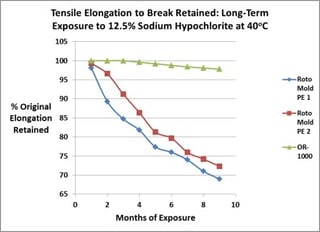 Because of the chemical formula, sodium hypochlorite is an incredibly aggressive oxidizing chemical. Utilizing an antioxidant barrier can more than double the life of the chemical storage tank system and help ensure the safety of the tank. Whereas traditional polyethylene tanks may fail if storing an oxidizer, an XLPE tank with an inner-surface engineered polyethylene system helps protect your investment long term. We call this our OR-1000 next-generation system, and it provides users four times the antioxidant power of a standard tank material. Additionally, all wetted surfaces, including the IMFO drain, are also covered by this resin, thus eliminating the risk of a potential attack on the structural integrity of the tank system.
We've been helping customers store sodium hypochlorite for several decades. Following these best practices will help ensure that your system is built to last and support your application.
We also recommend downloading our Sodium Hypochlorite chemical storage guide which highlights each component of your tank that you might need.