Storing Liquid Ammonium Sulfate
Poly Processing
Liquid ammonium sulfate (LAS) started as a liquid fertilizer that was applied to hard ground. Today, LAS has become widely accepted as a stable and effective source of ammonia for chloramination in wastewater treatment. Alternatives such as anhydrous or aqueous ammonia are hazardous, sometimes requiring pressurized storage tanks and special handling and safety procedures.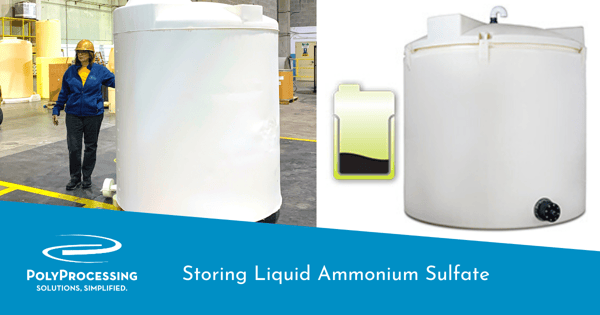 Unlike aqueous ammonia, LAS has a long storage life. It is odorless, and is non-toxic and non-irritating. LAS can be metered to deliver a precise amount of ammonia.
Tanks Built for Greater Useful Life Storing LAS
Poly Processing's cross-linked polyethylene (XLPE) storage tank systems are engineered for the specific LAS requirements of your wastewater treatment system. Our innovative Integrally Molded Flanged Outlet® (IMFO®) system is ideal for LAS storage. Because the tank drains below the knuckle radius, the full-drain tank gives you greater discharge control and makes cleaning easier than other storage tanks on the market.
The IMFO's flanged outlet fitting is molded into the tank at the lowest point possible on the sidewall, which avoids sediment buildup. Because the flange is molded into the tank during production, its one-piece construction prevents the leak points that can occur with mechanically attached fittings. IMFO tanks are available in Flat Bottom as well as Sloped Bottom configurations. Vertical Flat Bottom IMFO tanks are available up to 15,500 gallons and the Sloped Bottom IMFO tanks are available up to 15,000 gallons.
Poly Processing's XLPE storage tanks have 10 times the environmental stress crack resistance of high density linear polyethylene (HDPE) tanks. The rotomolded manufacturing process creates a seamless construction. This eliminates the potential for chemical attack points and bad welds or joints that may be found in fiberglass tanks and steel tanks.
Considerations When Purchasing an XLPE Tank for LAS Storage
When purchasing an XLPE tank for LAS storage, the tank components should include PVC fittings, 316 SS bolts, and EDPM gaskets. Learn more about the storage requirements for LAS — download Poly Processing's LAS chemical position statement. You can also refer to our chemical lookup table.
As with the storage of any chemical, it is important to consult with a chemical tank specialist to be sure your chemical storage tank is properly specified for your particular application. To get started today, contact one of our chemical tank specialists.
Tech Talk Podcast Episodes
Tank Configurator

Find the recommended tank and system components for your chemical storage challenge.
Configure a Tank Package