Get a 10x Value from Your Steel Tank Lining System
Poly Processing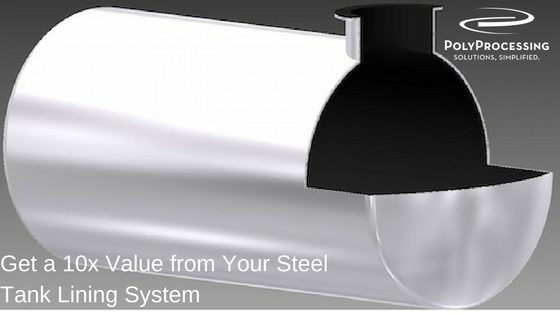 Steel tanks and vessels provide exceptional strength, but they're susceptible to chemical corrosion. Any steel tank used for storing harmful chemicals will need to be protected with some form of internal lining/liner. A polyethylene lining system is designed to protect your steel tank against the harshest chemicals to give you broad chemical resistance alongside the durability and strength of a steel tank.
Increasing Your ROI With PolyGard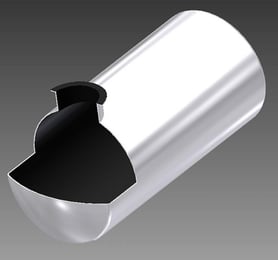 Not every polyethylene liner is created equal. Conventional spray-in liners provide an inexpensive solution to protect your steel tanks, but they typically only last up to three years—and sometimes as little as six months.
Our PolyGard™ medium-density high performance system provides superior protection that traditional rubber spray-on solutions can't match. The material's seamless design adds value and unmatched longevity to steel vessels. How many years can PolyGard add to the life of your steel tanks? We don't actually know the lifespan. We've been lining steel vessels for over 20 years, and we've yet to experience failure. So far, PolyGard provides as much as 10 times the longevity as other steel tank liners.
While PolyGard has a higher initial cost, the lifetime cost savings are sizeable. You won't have to take your storage tank out of service to sandblast it, reline it, and recertify it—which means you also won't incur loss of revenue due to operational downtime.
PolyGard is ideal for safeguarding tanks used in high-volume continuous applications, which can be very expensive to replace. It's popular in the following applications:
Gas and oil industry where high-pressure and high-temperature substances are common
Offshore vessels, Coast Guard approved vessels, and construction sites, to mitigate the risk of spills that could cause serious ecological damage to the environment
D.O.T.-approved tanker trailers
The lining of pipes with larger diameters, to help maintain the integrity of the steel pipe
A Better Process for Better Protection
The difference is in our proprietary rotational molding process. During the molding process, the polyethylene is ionically bonded to the steel, creating a homogenous and consistent product that outlasts other steel tank liners. The robust, seamless lining system prevents harsh oxidizing chemicals such as sulfuric acid, ammonia, and other compounds from attacking the steel surface of the tank.
Technical Details
1/4" nominal thickness
Temperature Threshold: -40°F to 170°F
Pressure Rating: In accordance with the steel vessel rating
Impact Resistance: Exceeds 150 ftp/lb at -40°F
Maximum weight capacity of total system: 10,000 lbs
Dimensional Capacity: 230" max
How to Get PolyGard for Your Steel Tank
To get an estimate for your PolyGard™ system, submit a drawing or questions to your Poly Processing customer service representative. We'll run the design through engineering for extensive review and put together a proposal to suit your needs.
Tech Talk Podcast Episodes
Tank Configurator

Find the recommended tank and system components for your chemical storage challenge.
Configure a Tank Package