What's Behind a Chemical Storage Tank Warranty?
Purchasing a chemical storage tank is a significant investment. You want confidence and reassurance that the tank will give you the dependability and longevity that was advertised. A strong and transparent warranty shows that the manufacturer believes in and stands behind their product.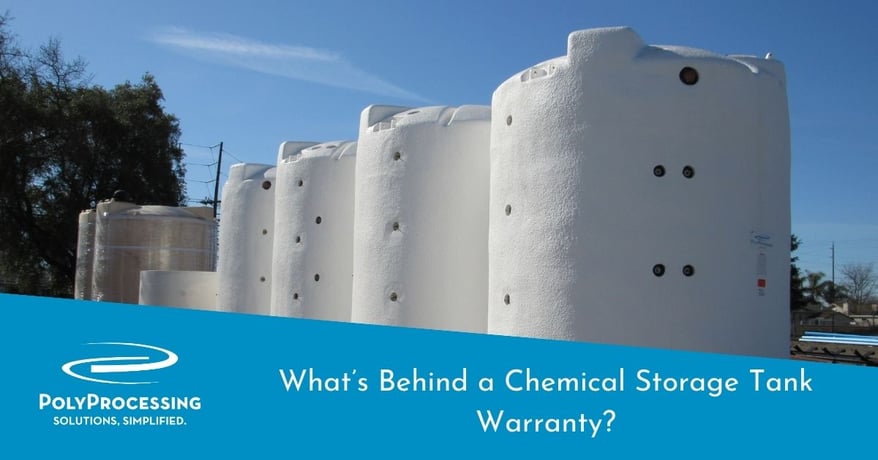 The Importance of a Good Chemical Tank Warranty

Manufacturer warranties vary from one chemical tank manufacturer to another, and it isn't immediately clear which warranty is the best one for your company. Fiberglass storage tanks typically offer a limited one-year warranty period. The industry standard for a manufacturer warranty on polyethylene chemical storage tanks is three years, unless you pay for an extended warranty.
The real test of any warranty isn't just the length of the warranty, but the service the manufacturer supplies if an issue occurs.
Not all manufacturer warranties are created equal. There are important differences between Poly Processing's standard warranty and other tank manufacturer warranties. Let's take a look at a few of the areas you should consider when evaluating a chemical storage tank warranty.
Decoding Extended & Prorated Warranties
Many tank manufacturers offer extended warranties and prorated warranties as add-on benefits during the original purchase of their products. But are they all they're cut out to be?
Extended Warranties
Extended warranties can be costly, and they have plenty of fine print. Never sign an extended warranty without reading all the details, and don't sign without doing the math on the chances that it will pay off for you. Otherwise, you could be throwing away good money.

More often than not, some tank manufacturers offer extended warranties as an attempt to remain competitive. They hope that the extended warranty will attract more customers.

A seven-year warranty, for example, may sound better than a five-year warranty. However, an extended warranty isn't truly about extended support. The manufacturer is making a bet that the tank will last long enough—if so, the extended warranty brings in additional income.
Prorated Warranties
Some companies also offer prorated warranties. In the case of a prorated warranty, you get a short-term full warranty for a year or two, or maybe 3, then the coverage gradually decreases over time. The goal is for the tank to last long enough so that the customer's portion of the prorated warranty will cover any of the manufacturer's replacement or repair costs.

From the manufacturer's perspective, the bottom line behind both an extended warranty and a prorated warranty is to simply cover the cost of a replacement tank. Neither warranty provides any protections that aren't already covered in the basic warranty. Most of the time, the customer is simply paying more overall for the tank system.

Does that mean the chemical tank warranty isn't valuable? Absolutely not. You just need to fully understand what is included.
Evaluating Your Chemical Tank Warranty
When it comes to chemical storage tanks, your manufacturer warranty is one consideration among many, including tank quality, fitness for a particular purpose, tank longevity, chemical resistance, and a solid engineering approach to the tank system.

Evaluating the warranty that comes with your chemical storage tank is one of the many important aspects of your purchase. Before purchasing your tank, you should understand what the warranty will cover, what the warranty options are, what they truly mean to you, and how the supplier you're working with will support it.
Ask your chemical storage tank manufacturer the following questions:
How will the warranty be serviced?
Will the manufacturer come out to the field to repair the tank?
Are we responsible for handling the repairs or service on our own?
What type of response time does the manufacturer offer?
And remember, the tank warranty is just one part of the repair or replacement costs associated with a tank issue. There's also the installation, plumbing, testing, on-site maintenance, and consequential damages that might be involved.

The real test of any warranty is the service supplied if an issue is encountered. From our customer support team to our top rated field service team, Poly Processing has you covered.
Exceeding the Industry Standards
At Poly Processing, we pride ourselves in having a 50-year-plus track record of backing the tanks we manufacture 100 percent. We look at warranties as an extension of our business, and we're proud to transparently offer one of the strongest warranties in the chemical storage tank industry.

We have a field service team that supports and reinforces our standard warranty. They will also instruct you on proper tank installation whenever it's needed. In addition, we have created an informative and comprehensive IOM manual that covers various installation instructions. This manual will serve as a valuable resource, directing you to helpful videos available on our website. These videos provide clear instructions, which simplify the process of tank installation and increase the chances of achieving successful results.
Poly Processing is the industry leader in the useful life of a tank. On average, our cross-linked polyethylene tanks last three times longer than linear polyethylene tanks that have the same application. Our goal is to help design a tank system that lasts well beyond the warranty and gives you a cost effective solution every time.

For more considerations when purchasing your chemical storage system, download our comprehensive Storage Tank Buying guide.
Tech Talk Podcast Episodes
Tank Configurator

Find the recommended tank and system components for your chemical storage challenge.
Configure a Tank Package