15 Poly Innovations in Chemical Storage
Poly Processing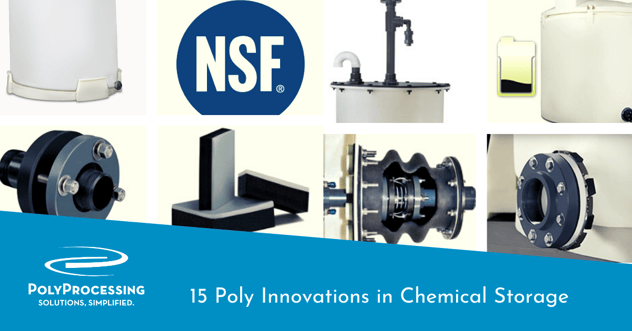 Poly Processing is a leader in building innovative solutions to complex chemical storage challenges. Far beyond simple plastic tanks, we have developed a fleet of products that address specific needs of chemical storage. The result for your business is ensured safety, easy tank maintenance, and extended tank longevity.

Let's explore 15 Poly firsts in chemical storage innovations.
1. Integrally Molded Flanged Outlet (IMFO®) – Traditional tank maintenance can be a challenge with many chemicals, so Poly has developed a unique system that helps minimize the hazards associated with traditional vertical tank maintenance. The Integrally Molded Flanged Outlet, or IMFO system, features a flange that is molded while the tank is processing, making it a stress-free part of the tank. The flange is created from the same material as the tank – it's not a metallic insert introduced during or post-production. This innovation allows for full tank drainage and reduces the risks associated with tank maintenance.
2. Sloped-bottom IMFO – Based on the IMFO tank, the Sloped-bottom IMFO allows the heaviest materials such as sludge, FOG, and thicker chemicals to discharge completely. The flange is at the bottom of the tank and the tank floor is sloped, therefore complete full drainage is achieved below the tank knuckle radius, which eliminates the need to enter the tank for cleaning. The Sloped-bottom IMFO tank is an industry standard due to its full drain capabilities and employee safety.
3. High Density Cross-linked Polyethylene - High-density cross-linked polyethylene, or XLPE, is a thermoset resin that is specifically designed for critical applications like chemical storage.
XLPE has 20 times the environmental stress crack resistance of HDPE.
It has 10 times the molecular weight of HDPE.
It has 3-5 times the impact and tensile strength of HDPE.
4. SAFE-Tank® – This "tank-within-a-tank" system offers secondary containment without the need for a separate containment vessel. This creates flexibility and reduces cost versus traditional containment options. In the event of a spill, the SAFE-Tank's double-wall containment area safely isolates chemicals in an interstitial space. The solution protects your employees from harm, preserves leaked chemicals, and protects you from environmental remediation, all within the footprint of a standard vertical tank.
5. OR-1000™ system – Poly Processing's exclusive OR-1000 system was specifically designed to address the aggressive oxidation effects of sodium hypochlorite, sulfuric acid, hydrochloric acid and other oxidizing chemicals by adding an additional chemical barrier system between the tank and the chemical. OR-1000's engineered inner surface technology is specifically formulated to resist oxidation and extend the useful life of the tank. Its outer surface is made of XLPE for superior strength. The two surfaces are molecularly bound together during the roto-molding process, creating a truly seamless bond between the XLPE and the inner surface.
6. Polyurethane PolyBase – One of our newer innovations, the PolyBase platform for our Sloped Bottom and Vertical Tanks with IMFO is a stronger-than-ever chemical tank pad that's engineered to handle more pressure and larger tanks. A typical rotationally molded PolyBase pad from us is rated at 12 psi, while this new foam PolyBase is rated at 48 psi—providing four times the service factor as our standard plastic PolyBase. The PolyBase is compatible with nearly every chemical that our cross-linked polyethylene tanks can handle—including the heavy and corrosive chemical sulfuric acid.
7. Bolted Flange fittings – With these fittings, all aspects of fitting maintenance can be done externally, with no tank entry required. These can be installed on the sidewall or dome. Bolt heads are encapsulated in polyethylene, providing chemical resistance. Available in PVC, CPVC, an other chemically resistant materials.
8. The B.O.S.S.® fitting – This one-piece sure-seal fitting reduces the seal point to a single gasket. It prevents leaks and adds value to your tank installation. Available in PVC and CPVC , its polyethylene construction ensures chemical compatibility. Its encapsulated metallic back ring design reduces stress on the fitting and makes it three times stronger than similar plastic fittings.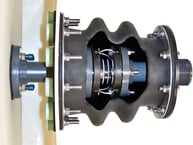 9. Bellows Transition Fitting – This fitting ensures a secure yet flexible, fully contained SAFE-Tank bottom discharge. By incorporating an expansion joint, the tank expands freely during loading and unloading, and it virtually eliminates damage from piping vibrations caused by pumps. With this performance-maximizing fitting:
Containment of the expansion joint eliminates the threat of uncontained chemical leaks and dangerous "spurts."

Piping layouts can be fully contained by connecting a dual-wall piping system onto the fitting. This can mean a safer workplace and less threat to the environment.

Unsurpassed containment of discharge is available on a SAFE-Tank.
10. PolyScrub Scrubber System – Poly Processing offers a cost-effective polyethylene chemical storage tank scrubber solution called PolyScrub™. As a wet scrubber, the PolyScrub system introduces water or a specific scrubbing solution through a submerged plenum. The fumes percolate up and through the scrubbing solution, then vent out of the top of the scrubber system. There is a manual scrubber system and an automated system called PolyScrub Plus. Go to www.polyprocessing.com/scrubber for more information.
11. Large capacity Poly tanks, up to 15,500 Gallons – These tanks represent the best engineering and design in the tank manufacturing industry and are the largest cross-linked polyethylene tanks manufactured for chemical storage.

12. PolyGard Lined steel vessels – Steel vessels are lined with a rotationally molded engineered polyethylene system known as PolyGard. They are incredibly durable and chemical and corrosion-resistant, making them ideal for transporting corrosives.
13. Universal ball and socket fitting for field alignment – This self-aligning dome fitting allows vertical plumbing on the dome of the tank.
14. NSF certification for chemical storage and potable water - Poly Processing is the only chemical storage tank manufacturer with a full system approach to NSF/ANSI/CAN Standard 61. Many tank manufacturers have certified tanks, but that doesn't mean their fittings and gaskets are NSF/ANSI certified. We provide entire tank systems that are certified for NSF/ANSI 61, including fittings, gaskets and specific tank colors.
15. SAFE-Surge Manway Covers - Poly's SAFE-Surge® manway covers ensure that your tank maintains the proper ACFM at all times – even in the event of air surges that can't be handled by primary venting. This system was designed specifically for pneumatic-filled tanks.
Each of these innovations is unique to Poly Processing. They were developed with you, the customer, in mind. We're constantly striving to meet your chemical storage needs and to create better solutions that are safer and last longer.
Tech Talk Podcast Episodes
Tank Configurator

Find the recommended tank and system components for your chemical storage challenge.
Configure a Tank Package