[Video] What Types of Fittings Are Safe for Chemical Tank Domes?
Poly Processing

Selecting the proper tank fitting—and location for the fitting—is an important matter. You need the right fitting for your application, and it's not always easy to understand which one is the best choice for your needs.
It's also critical to place the fitting in the best location on the tank. Only certain fittings can be added to particular parts of the tank, depending on the surface area shape and size. In this video, we detail dome fittings.
Poly Processing has a complete fitting and assembly department. We install products from small fittings to side manways, heat systems, to reverse float level gauges as well as many other fittings and accessories.
Bulkhead Fittings
Bulkhead fittings are an economical fitting well-suited for the domes of chemical tanks. They are available in PVC, CPVC and Polypropylene. The Bulkhead fitting is cost effective and works well on the domes of tanks for connections such as U-Vents, Reverse Float Assemblies, etc.convenient because it can be used as an overflow fitting with any chemical.
This video shows an installation of a 2" PVC Bulkhead fitting in one of the flat areas in the top of a tank.
Universal Ball Dome Fittings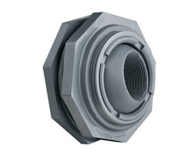 In some cases, a self-aligning universal ball dome fitting (UBD) is needed. UBDs have a moveable ball inside the fitting, allowing connections at angles up to 24 degrees. These fittings are ideal for vertical plumbing on the dome of the tank. They are available in a bulkhead style as well as a flange style.
A UBD is especially useful in two types of situations:
Ultrasonic devices—The UBD fittings allow ultrasonic level sensors to fit right into the threaded ball. This gives you a vertical plumbing for your ultrasonic level sensor at a much more economical cost.
Internal and external combination fill lines—UBD fittings allow the downpipe and fill line to attach to the top of the tank vertically.
Downpipes and Reverse Float Level Gauges

We also install downpipes and reverse float level gauges. Reverse float level systems can be used on most tanks, and allow at a glance level measurements without penetrating the tank or exposure to chemicals. Joints are dry-fit for easy replacement, and the float is effective with any chemical.
The video shows the installation of a reverse float level gauge with through-the-wall pipe supports. We use the flange style universal ball dome fitting, due to the location of the assembly on the dome of the tank. Through-the-wall pipe supports are used to help secure the downpipe and allow the float to operate freely.
Custom Vertical Fittings
If the project calls for larger PVC dome fittings, we can install custom-made vertical fittings to meet your needs. The video shows the installation of an 8-inch Schedule 80 PVC-made vertical fitting. This fitting lets you install an 8" PVC slip flange onto the vertical pipe to create a spool-style fitting.
Get the Right Fitting, Done Right
At Poly Processing, we take a proactive approach to designing chemical storage tank solutions. We customize every tank order to make sure that we meet your expectations on time, every time.
Get the right fitting for your tank—done right. For more information about designing a chemical storage system with the right fittings, download the Smart Fit Guide, or contact a Poly Processing Tank Specialist.
Tech Talk Podcast Episodes
Tank Configurator

Find the recommended tank and system components for your chemical storage challenge.
Configure a Tank Package